The Truth About Nate Oats' Wife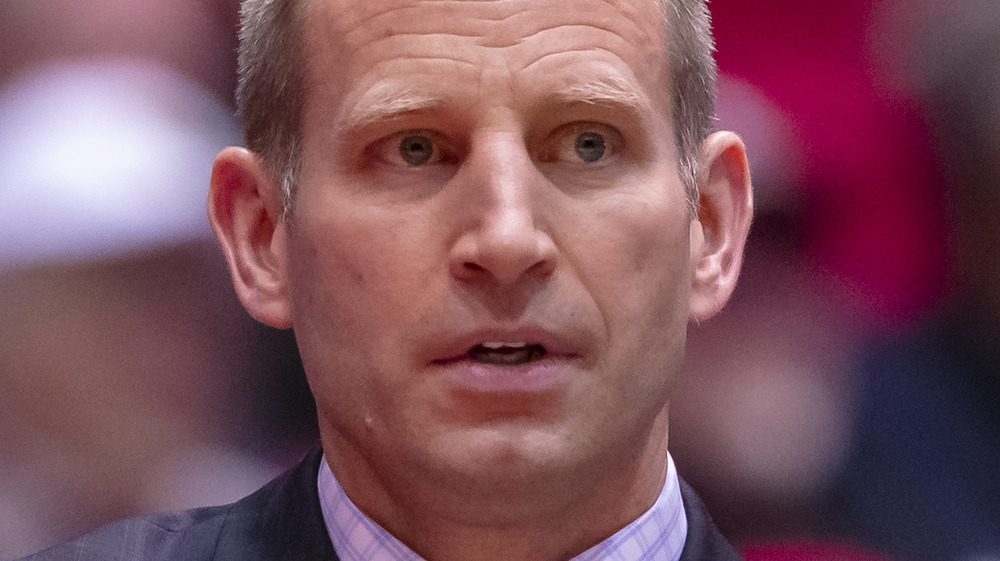 Michael Hickey/Getty Images
As the country finally gears up for the annual NCAA March Madness basketball tournament, delayed slightly this year because of the coronavirus pandemic, many are waiting (not so) patiently for the action to start. One of the figures being watched is the well-compensated Alabama Crimson Tide basketball coach Nate Oats. Nate's wife, Crystal Oats, is also a huge fan of the sport and often attends the games. The pair have been in the news lately because of a Twitter troll, responding to a tweet that may or may not have been about Nate.
When sports journalist Matt Norlander tweeted a photo he received via text from "a head coach in the East Region" complaining about the food NCAA basketball players have had to endure while on pre-game lockdown, many online sleuths guessed that the complainer was Nate. Rather than talking about the food (which didn't even look that bad), or Nate, or nearly anything else, one troll decided to drag down Crystal in a tweet that has since been deleted. Tuscaloosa News reports that the troll replied to a photo of the couple, making offensive fat-shaming comments we won't repeat here.
As if the fat-shaming wasn't bad enough on its own, there were circumstances around the apparently older photo that this commenter either didn't know or didn't care about. But Crystal clapped back with the truth about her situation. Keep reading and we'll reveal what she said, and why.
Crystal Oats had cancer for many years
It's difficult enough just living life without having to deal with obnoxious nobodies on social media. But Crystal Oats handled her critic by simply telling him the truth. "Dear troll," she wrote, quote-tweeting the since-deleted insult, "That pic was taken the day before I went in for my first round of chemo. My neck was swollen because I had large tumors pressing on my airway. It was a death sentence! I entered the biggest fight of my life and came out a winner beating cancer!"
Crystal had been diagnosed with double-hit lymphoma when Nate Oats started his first year as head coach for men's basketball at The University at Buffalo. Double-hit lymphoma is a particularly aggressive strain of non-Hodgkin lymphoma because, as Nate describes in a video for Max Effort it has "two proteins attached to the cancer cells:" one "makes [the cancer] multiply faster" and the other "makes it more resistant to chemo."
But Crystal did what she could to treat the cancer, going through chemotherapy (she had a wig made from her long hair), encouraging Nate to keep working because the games were a welcome distraction, and believing in the power of prayer (she and Nate are both Christian). Fortunately, WIVB.com 4 reported in August 2016 that Crystal was cancer-free after having "a successful stem cell transplant." She returns to the doctor for regular checkups and has been cancer free for at least five years. "I'm here," she told Max Effort, adding, "[God] chose to keep me here, and I'm super thankful that he did."