Meryl Streep To Speak At Carrie Fisher, Debbie Reynolds' Funeral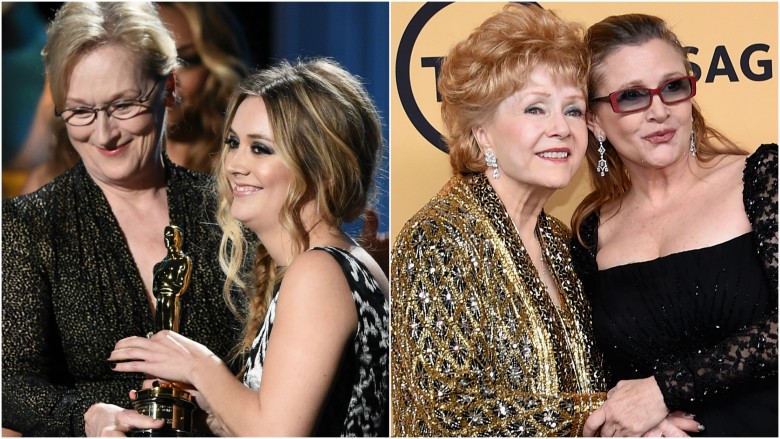 Getty Images
Star Wars icon Carrie Fisher and her mother, actress Debbie Reynolds, will be laid to rest on Jan. 6, 2017, following a private memorial service on Jan. 5, 2017.
People reported that an "ultra private service" will be held at the family's Beverly Hills compound, where Fisher and Reynolds were next-door neighbors. The pair will be buried at the Forest Lawn Memorial Park in Los Angeles, where Todd Fisher—Reynolds' son and Carrie's brother—says they will be "among friends," including the late actress Bette Davis and pianist Liberace.
TMZ noted that no celebrities will speak at the private memorial, though Fisher's daughter, actress Billie Lourd, may provide a eulogy if she's up to it. No date has been set for the public memorial, but TMZ says it will be "before [Lourd] goes full bore [in her grief]." The public memorial will be a "Hollywood event," featuring Reynolds' Singin' in the Rain (1952) and Fisher's Star Wars (1977) costumes. Meryl Streep has reportedly been tapped as a speaker, as well as Fisher's Star Wars co-star Mark Hamill. Star Wars creator George Lucas is expected to attend but not speak.
Fisher passed away at age 60 on Dec. 27, 2016 after suffering cardiac arrest on Dec. 23, 2016 during a flight from London to Los Angeles. Reynolds died on Dec. 28, 2016, at age 84 from a fatal stroke after reportedly telling Todd, "I want to be with Carrie."
TMZ reported that Carrie was cremated, per her request; Reynolds wished to be buried. To accommodate their requests, the family will reportedly bury a portion of the Star Wars icon's ashes next to Reynolds in their family plot.
"We're broken-hearted, those of us that are left behind. We also are happy that they're together," Todd said on 20/20. "It's horrible, it's beautiful, it's magical they are together, it's beyond words, it's beyond understanding."