Inside Bella Thorne's Engagement To Benjamin Mascolo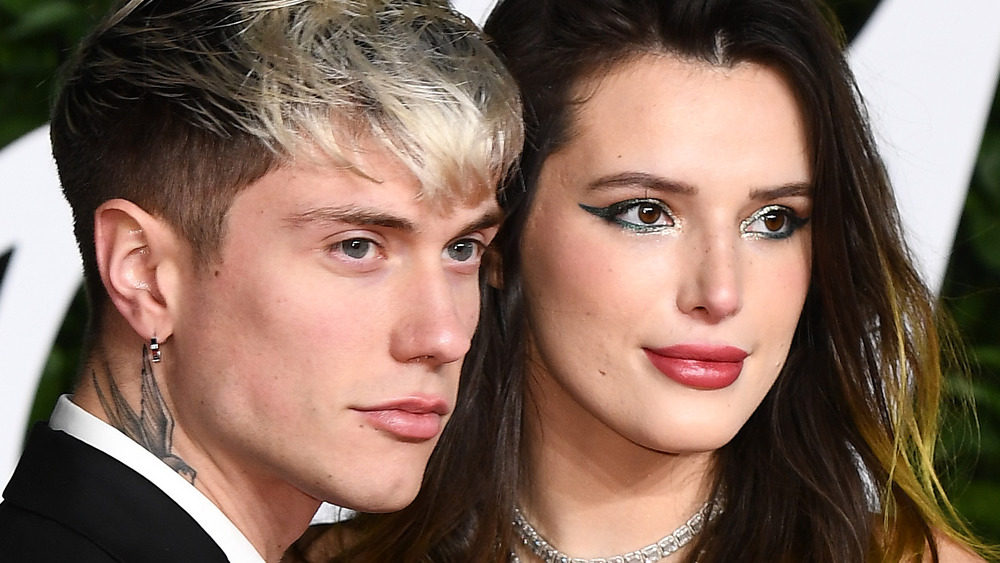 Jeff Spicer/bfc/Getty Images
Bella Thorne has scored some new bling — but this time in the form of a diamond for her ring finger. The former Disney star showed off her stunning pear-shaped engagement ring on Instagram after her Italian pop star beau, Benjamin Mascolo, proposed. The 23-year-old posted several stories about their exciting announcement, including one which complimented Mascolo's accessory taste that read: "he knows exactly my style." 
Mascolo also gushed over his girl when he shared an affectionate photo of them showing off the gorgeous ring, which he captioned, "she said YES." He also posted a number of pictures taken throughout their relationship to his Instagram Stories. The 27-year-old was also quite open about how he sentimentally popped the question to Thorne via a script on set of their upcoming teen romance movie Time Is Up. Mascolo said on his Instagram Story: "I wrote the love letter on the back of the script of our movie. At the end of the last scene, she was at (the) monitor watching with the director and ... surprise." The couple have been dating since 2019, after Thorne split from rapper Mod Sun, per CNN.
Bella Thorne and Benjamin Mascolo will celebrate in both Italy and America
Despite the happy couple having just made their engagement announcement, it seems they are already considering wedding locations. In an adorable video, which saw the pair trade "I love yous," Benjamin Mascolo subtly revealed via Instagram Story that Bella Thorne would "soon" walk down the aisle in both America and Italy. Mascolo can be heard saying, "Yeahhhhh, when are we getting married? Soon, I hope. Celebration in Italy and America, both." 
Mascolo, who normally resides in Modena, Italy — a small province between Milan and Florence — also previously lived in the city of Hobart in Australia, per E! News. Known as "B3NM" in the music world, Mascolo made his feature film debut in Time Is Up (also filmed in his native Italy) after Thorne convinced him to play her on-screen boyfriend. Likewise Thorne has also starred in Mascolo's material, appearing in his music video "Finché le Stelle non Brillano" ["Until the Stars Shine"]. 
The cross-continent couple first met at Coachella, with Mascolo telling Italian magazine Icon that Thorne quickly became his "muse," per E! He said, "We met at Coachella, and I immediately knew she was different from all the other women I met in my life." Thorne recently posted a clip of Mascolo's latest music video, where she wrote how "proud" she was and hilariously said: "I fell in love with an Italian popstar so I'm basically Lizzie McGuire." Previously, Thorne was linked to rapper Mod Sun, whom she and YouTuber Tana Mongeau both dated simultaneously as part of an open relationship, per 9 Honey.