Mariah Carey's Ex Husband Says She Needs Help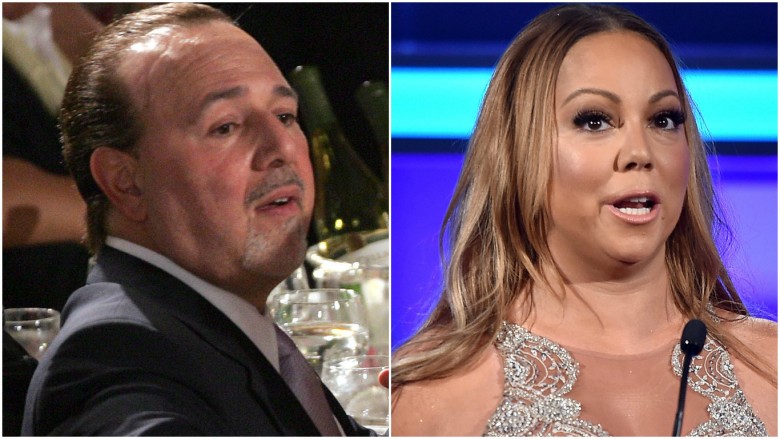 Getty Images
Even Mariah Carey's ex-husband, music industry executive Tommy Mottola, is weighing in on her disastrous performance on New Year's Rockin' Eve.
As Nicki Swift previously reported, Carey, 46, struggled to hear her inner-ear monitors during the show, missing her vocal and choreography cues. She barely sang at all and instead strutted around onstage, muttering, "It just don't get any better." She later said she was "mortified" by the incident, and her manager, Stella Bulochnikov, claimed that Dick Clark Productions "sabotaged" her. Producers of the show vehemently denied the allegations and called them "defamatory." Insiders have debated whether or not she showed up for soundchecks and rehearsals, with some insisting the entire debacle was her fault.
Mottola, 67, was sympathetic to his ex-wife, despite their acrimonious split in 1998. "MC is arguably the greatest pop voice to come along in the last three decades. She has had more number one hits than any pop artist in history," he told Page Six. "She is a global icon and a treasure with incredible talent not only as a singer but as a great songwriter. What happened on NYE could've happened to anyone! Yes, her technical people should've helped pay more attention to all of it so that there was no chance of that happening...It could have happened to anyone and it has, so everyone should just get off her back and leave her the Hell alone, and hopefully she will find her way to the right professionals for guidance. It's never about the fall, it's all about the recovery."
He claimed that such messes would not have happened under his watch (Mottola helped manage Carey in the '90s) and implied that her current team was largely responsible Carey's recent setbacks. "My only advice is that she should hire more seasoned and respected professionals to surround her and help her with her career! I would never have encouraged her or guided her to do something like a reality television show!!!!! I don't get it!! He added, "That does absolutely nothing for her integrity, her credibility, or her massive talent!! She should take a step back, think carefully and figure out what to do next. That is what she does best."
He noted, "Most certainly none of these issues or problems ever existed with her in her early days at Sony for the first 10 years when she skyrocketed to global superstardom!! Where absolutely meticulous and methodical attention was paid to every single detail and nuance that went on into her career!"
Bulochnikov sassed back, "Really? Tommy is a relic," she told Page Six. Did he give you that statement from a rotary phone?"
Maybe he's onto something.