JWoww's Latest Selfie Has Everyone Talking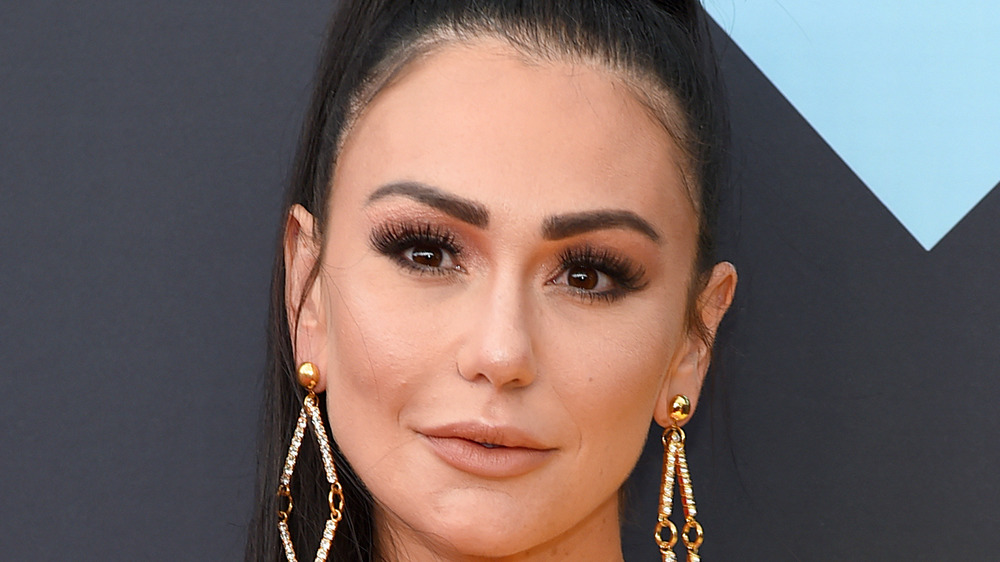 Jamie Mccarthy/Getty Images
Jersey Shore star Jenni "JWoww" Farley has always stood for keeping it real, but now she is extending her mantra to her selfies and she's encouraging others to do the same. The mother of two, who announced her engagement to longtime boyfriend Zack Carpinello in early March 2021, took to Instagram to slam overly edited photos. She posted an unfiltered selfie beside a highly photoshopped version of the same photo to illustrate the importance of staying true to yourself and apart from the catfish.
"Laying here bored and saw this app... so I said 'why not?' ...WTF," she captioned the side-by-side image, highlighting how drastically different photo apps can make us look. "I'd rather be old and ugly," she added with three sob emojis. "but seriously, don't do this crap to your pics... love yourself."
But while some cheered on the reality star for promoting self-love, with costar Mike "The Situation" Sorrentino commenting, "So gorg neighbor," other slammed JWoww for being hypocritical. Keep scrolling for more details.
JWoww slammed for being 'unrecognizable'
Despite advocating for self-love and unedited selfies, Jenni "JWoww" Farley was slammed for being hypocritical since she herself has undergone various cosmetic procedures. Jersey Shore costar Vinny Guadagnino, who has previously poked fun at the star for her ever-changing look, called her out by simply commenting a single "thinking emoji," on her selfie as a side-eye to her transformation, to which she replied, "LOL."
The playful banter lead to a flurry of criticism, with one person writing, "Love yourself....says the girl that's almost unrecognizable from the og days," while another added, "What! Your saying don't do this to your pics when u did all that work to your face!!!!! [crying laughing emoji] lmao."
However, others had her back with a third commenting, "lmao she didn't say 'be natural' she said 'love yourself' if loving yourself means having work done then what does it matter? Everybody on these comments mad cause she took her own money and did what she wanted. Half of y'all would do the same if you had the money."
Despite her haters, Jenni's use of plastic surgery is no secret. "I would do anything if it makes me feel good," she previously told People about her stance on cosmetic procedures, but she said she's cautious of going too far, joking, "I wouldn't go overboard and get that frozen face when you're trying to cry and look like you're smiling." Regardless of the critics, Jenni clearly knows how to make herself feel great.