Nicki Minaj And Meek Mill Split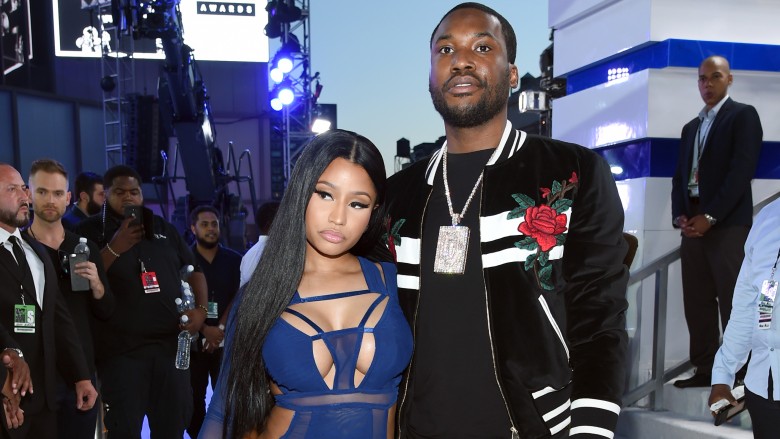 Getty Images
Nicki Minaj is a single woman.
The rapper and longtime hip-hop boyfriend Meek Mill have called it quits, with Minaj revealing the split on Twitter. "To confirm, yes, I am single," she wrote on Jan. 5, 2016. "Focusing on my work & looking forward to sharing it with you guys really soon. Have a blessed New year. Love u."
Speculation that the couple had gone kaput had been brewing for months. TMZ reported that Minaj and Mill avoided each other on New Year's Eve and were apart on Christmas. On Dec. 11, 2016, Minaj posted a photo of Chanel sandals with a caption quoting Beyoncé's hit "Best Thing I Never Had." Minaj wrote, "Thank God u BLUE it. Thank God I dodged the bullet. I'm so over u. Baby good lookin out. #BestThingUNeverHad."
Minaj, 34, gushed about her 29-year-old rapper beau in the April 2016 issue of Nylon. "He said that my third ring would be my engagement ring. But sometimes he calls me his fiancée, and I'm always trying to stop him, like, 'Nope! I ain't got that third ring yet!' We're just taking it one step at a time. And, you know, if that happens, if I get married, then I'll have a child, and that'll be fun, because I can't wait to hold my baby." She also claimed he was The One, saying, "When he and I were just friends, he would always say, 'You remind me of my mother, and I like that because you're like a dude. You're tough like a guy and you talk like a dude.' So, I always got the sense that me being tough and bossy was a turn-on for him. And it's important for me to keep my voice. Being in a relationship shouldn't mean that you lose your voice. Being in a relationship should mean that you've met a secure-enough man to allow you, in a sense, to remain a queen."
However, in the same month, Minaj may have foretold trouble. When talk show host Ellen DeGeneres asked her about her romance with Meek, Minaj replied, "I would rather not. You know, I used to be secretive...I used to say, 'I'm not in a relationship,' even though I was in a 12-year relationship [with Safaree Samuels]...Now I feel like just going back to that and saying, 'You know what? I'm single."
Looks like she can say that with confidence now.