Inside Frankie Jonas' Struggle With Sobriety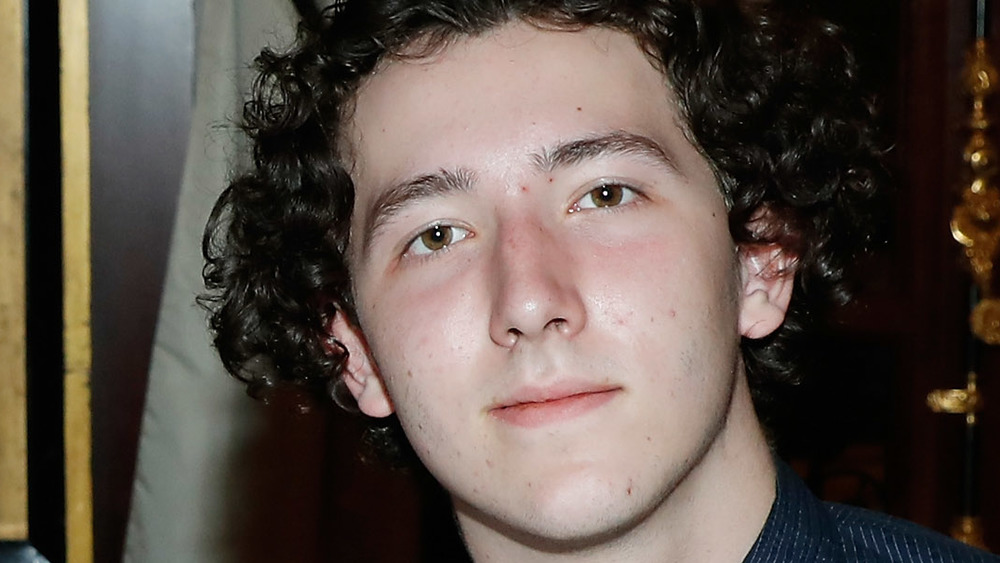 Bertrand Rindoff Petroff/Getty Images
The following article includes mentions of suicidal thoughts.
Being the younger sibling of global superstars isn't always easy. Just ask Elizabeth Olsen, MCU's WandaVision star and younger sis to multimedia empresses Mary-Kate and Ashley. As she told the Sydney Morning Herald (via SF Gate), she used her middle name as her surname in high school to throw the media scrutiny surrounding her sisters off her scent. "I knew I was always going to be introduced as 'the sister of' and I have no control over it," Olsen admitted. Younger brother to the Jonas Brothers, Frankie Jonas, seems to have enjoyed this anonymity by accident, being long left in the shadows by the press given the shine of his pop-sensation brothers.
In October 2020, Frankie rose to stardom on a trajectory of his own making — via the social media platform TikTok, reported People. As of December 2020, he had already accrued 20 million likes and 1.4 million followers. Additionally, TikTok users have taken to cheekily calling Frankie's older brothers his lesser-known siblings. In a December 2020 Nick Jonas video, for instance, a commenter mused, "You really used Frankie's last name for profit."
As hilarious as Frankie's TikTok antics have been to watch, there is one serious aspect to his life he had not shared in these videos. That is until March 2021, when he opened up via the platform about his recovery from drug and alcohol abuse. Read on for what Frankie had to say about the situation.
Frankie Jonas opened up about his mental health
In a March 22, 2021, TikTok video, after announcing a year-and-half of sobriety that month, Frankie Jonas was asked by a fan to elaborate on his path to recovery. "This is by no means the eloquent explanation I hope to one day give on a much more serious mode than this," Frankie began. He continued that alcohol and drug use were his manners of escaping from a life he "hated." In the most shockingly candid reveal of all, Frankie shared, "After many years of trying to kill myself accidentally, [I] came to a point where I was gonna do it for real, and something intervened."
After being cited for marijuana possession in 2016, per Us Weekly, Jonas shared in a March 10, 2021, TikTok that seeking professional treatment was "one of the biggest blessings." As he told fans, "the first step is acceptance," and offered that sobriety groups like Alcoholics Anonymous were easily accessible via Zoom or Intergroup online meetings. "You just have to accept that you need help and that there's other people who can help you."
Frankie certainly has his share of support in his life, with brother Nick stating during a March 7 appearance on The Kelly Clarkson Show that his little bro is "the star." He added, "We're all just Frankie's brother now."
If you or someone you know is struggling with substance abuse and mental health, please contact SAMHSA's 24-hour National Helpline at 1-800-662-HELP (4357). Additionally, if you or someone you know is having suicidal thoughts, please call the National Suicide Prevention Lifeline at 1-800-273-TALK (8255) or text HOME to the Crisis Text Line at 741741.