What You Need To Know About Prince Charles And Prince Harry's Relationship
Wpa Pool/Getty Images
When the global pandemic hit, literal escapes from the daily grind, such as travel and social interactions, were virtually shut down. With nowhere to go and too many stressful things to do, people used shows like Tiger King as a type of diversion balm for their wearied souls. Since then, the world has become enraptured with stories surrounding an actual future king, Prince Charles, and his family. To say that the House of Windsor had a moment in 2021 would be an understatement.
First, The Crown got everyone buzzing again about the British monarchy, and then Prince Harry and Meghan Markle added to the intrigue by "stepping away" from their senior roles within the royal family. The climax of our new aristocratic obsession occurred in March of 2021 when the Duke and Duchess of Sussex gave a shocking interview to Oprah Winfrey. During the explosive Q&A, Harry told Oprah that, for a time, his father refused to answer his phone calls. The duke didn't stop with that scandalous disclosure and said some more unflattering things about the future King of England.
Some praised Harry and Meghan for their honesty, while others criticized them for attacking a family known for its preference to keep such matters behind the palace walls. But there was one thing the interview left most royal-watchers wanting: more details about that apparently tumultuous father/son relationship. If you're keeping up with the drama, here's what you need to know about Prince Charles and Prince Harry's relationship.
Was Prince Charles disappointed that Diana gave birth to a second son?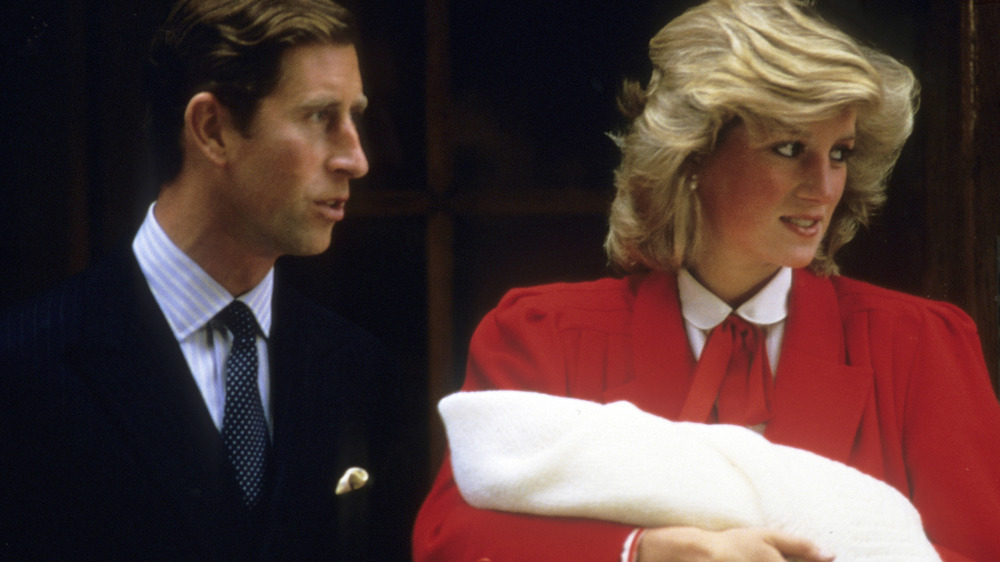 Anwar Hussein/Getty Images
Incredibly, it appears that Prince Harry's complicated relationship with his father may have begun the moment he was born. In Andrew Morton's Diana: Her True Story in Her Own Words, the Princess of Wales told the biographer that she and Prince Charles became "very close" before the birth of her second child in 1984. But Diana grew nervous as her due date approached because she knew that Harry was a boy, and Prince Charles wanted a daughter.
Diana claimed that her husband's first comment after Harry's birth was, "Oh God, it's a boy" and that he followed up with, "and he's even got red hair." The princess confessed to Morton, "Something inside me closed off." Charles' callous remark (along with the knowledge that he was seeing Camilla Parker-Bowles again) ended the couple's recently renewed affection for one another. Diana lamented, "Then suddenly as Harry was born it just went bang, our marriage, the whole thing went down the drain." 
Apparently Prince Charles still wasn't over the whole gender issue at Harry's christening. Diana alleged that Charles said to her mother, "I'm so disappointed — I thought it would be a girl." Let's just hope that the future king learned his lesson after Diana's mother "snapped his head off" and rebuked Charles for not being "thankful" that he had a healthy son.
The Prince of Wales wasn't the most doting dad
Clive Brunskill/Getty Images
Since their mother's tragic death in 1997, both Prince William and Prince Harry have spoken publicly about the late Princess of Wales. In documentaries and interviews, the princes have effusively praised their clearly adored mother. On the other hand, Prince Charles is rarely mentioned by his sons. One possible reason? Biographer Penny Junor told the Daily Beast, "Charles has always been quite a remote figure, he has always been consumed by work ... He made sure they were well looked after, but they are not as close as they might have been."
Harry himself admitted in the 2017 documentary Diana, Our Mother: Her Life and Legacy that he didn't get to spend enough time with his father as a child. The prince didn't mention his father's work, but instead blamed Charles and Diana's separation. Harry diplomatically described the travel involved with bouncing between parents as "an interesting way of growing up," but also added, "We never saw our mother enough or we never saw our father enough." 
One year earlier, in 2016, the Duke of Sussex joked about not seeing his father often in the documentary When Ant and Dec Met the Prince: 40 Years of the Prince's Trust. British television personality Declan Donnelly told the brothers in the film, "We've spent a lot of time with your dad over the last year." Turning to William, Harry muttered wryly, "More time than us." 
Has Prince Harry ever praised Prince Charles?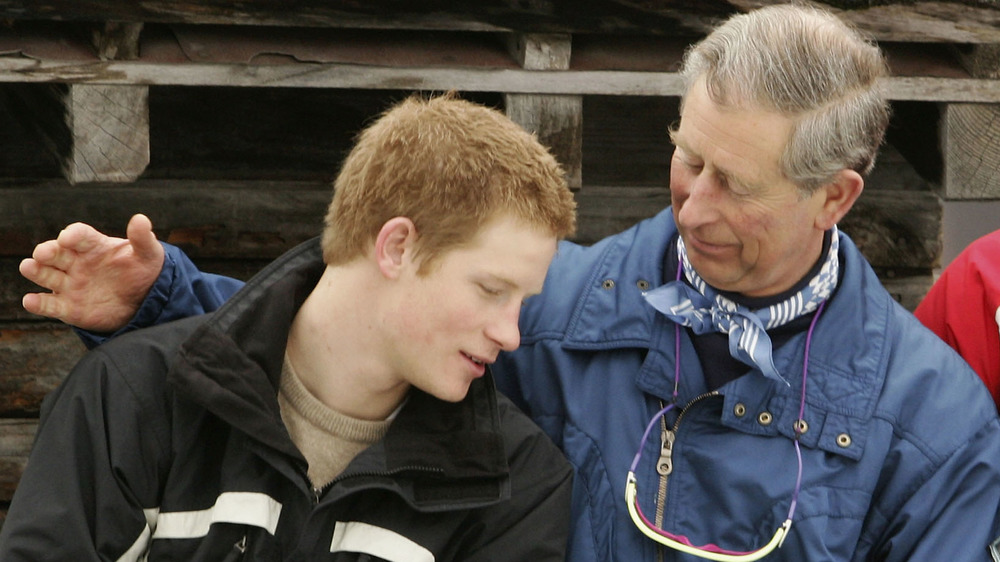 Pascal Le Segretain/Getty Images
While he doesn't discuss the Duke of Cornwall often, Prince Harry has occasionally praised his father in the media. In When Ant and Dec Met the Prince, the same documentary in which Harry joked about not seeing Charles enough, the prince also said some kind words about his dear old dad. Harry told the interviewers, "The advice that he can give us based on the contacts he's made over the years is incredible. You can actually ring him up and say, 'I'm in a bit of a pickle here,' or even better you can offload stuff."
In a different, very somber documentary, Harry discussed how the death of Princess Diana impacted the family. Diana, 7 Days premiered on the BBC in 2017, and at one point in the film, the prince revealed (via People), "[Our dad] was there for us — he was the one out of two left, and he tried to do his best and to make sure that we were protected and looked after. But he was going through the same grieving process as well."
Before things fell apart between Harry, Meghan Markle, and the House of Windsor, the Duke of Sussex gave a heartfelt speech at his father's 70th Birthday Patronage Celebration in 2018. Warmly calling him "Pa," Harry praised Prince Charles' extensive charity and humanitarian work. Harry told his father, "It is your selfless drive to affect change ... which William and I draw inspiration from every day." 
Prince Harry 'resented' the time Prince Charles sent him to rehab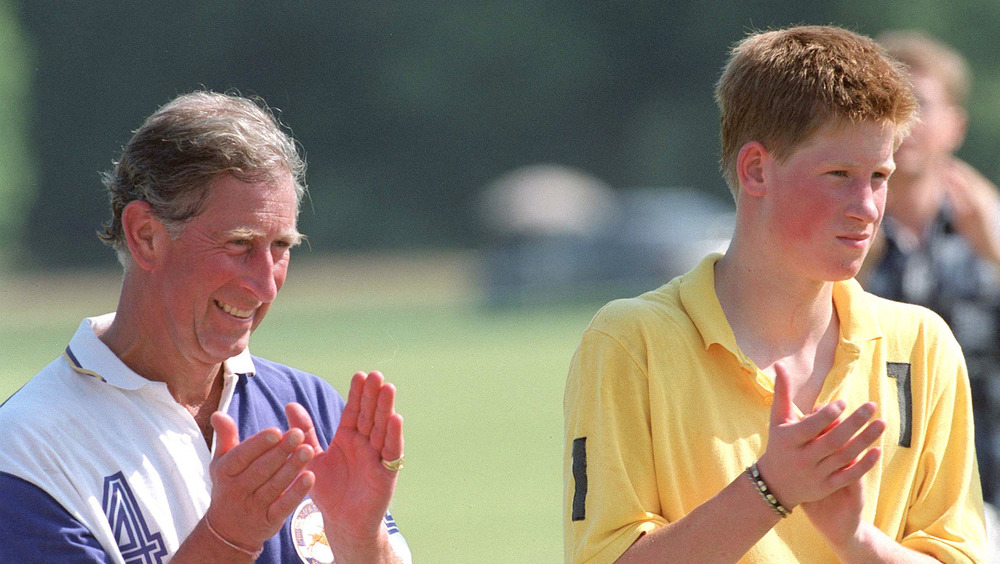 Uk Press/Getty Images
Prince Harry has repeatedly proved that redheads really do have more fun. Who could forget his infamous game of naked billiards? In 2002, a then-17-year-old Harry made tabloid headlines by allegedly admitting to underage drinking and cannabis use. Something certainly went down, as St. James Palace acknowledged (via The Irish Times) that it was a "serious matter" and police inquiries were made (although Harry was never charged with a crime).
While teenage experimentation is, unfortunately, pretty par for the course, the prince's actions brought embarrassment to the royal family. Soon after the scandalous headlines, the The Guardian reported, "Prince Harry was taken to a drugs rehabilitation clinic for a day after Prince Charles discovered he had been regularly smoking cannabis and drinking alcohol ... Prince Charles ... arranged a visit to Featherstone Lodge, a detox centre for heroin addicts."
Many in the public and media assumed that the rehab visit was Prince Charles' tough love approach in an attempt to help Harry mend his destructive ways. But royal biographer Penny Junor asserted in her 2017 biography, The Duchess, that the trip was a calculated PR move. Junor also claimed (via Express) that Harry was "furious" with his father adding, "Charles had no idea what either of his sons got up to, and Harry bitterly resented being made to look bad so his father could look good." 
The lighter side of Prince Charles and Prince Harry's relationship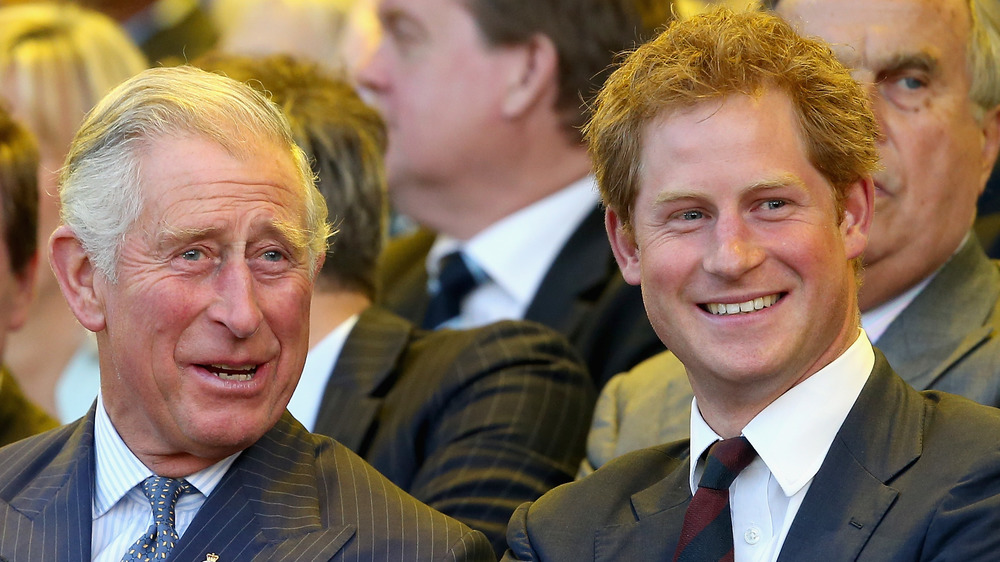 Chris Jackson/Getty Images
Despite Prince Harry's rebellious side and Prince Charles' alleged "remote" parenting, the father/son pair has had plenty of heartwarming moments throughout the years. A quick Google search turns up hundreds of pictures of Harry and Charles laughing together. And for the critics who accuse Charles of being a distant parent, photographers have also captured the future king tenderly embracing his sons on multiple occasions.
The Prince of Wales has also proven to have a typical sense of "dad humor." In a 2008 interview, the interviewers asked about father and son competing against each other in polo. Charles revealed that he was once knocked unconscious during a game and related, "This person here [points to Harry] told me later that he thought when I was lying on the ground, 'Oh, Papa's just snoring,' and there I was busily swallowing my tongue." In the video, the future king begins hysterically laughing at the memory as Harry blushes and smiles. 
In another super-relatable moment, Harry couldn't resist some lighthearted teasing directed at "Papa" in 2018. Harry and wife Meghan Markle visited Dublin on official royal business, and the prince was asked to give a speech at a garden party. He told the crowd, "As some of you may know, [the prime minister of Ireland] showed my father around his home city of Cork just a couple of weeks ago ... very nice to know he [Charles] didn't bore you senseless."
Did the Duke of Sussex shade his father in Newsweek?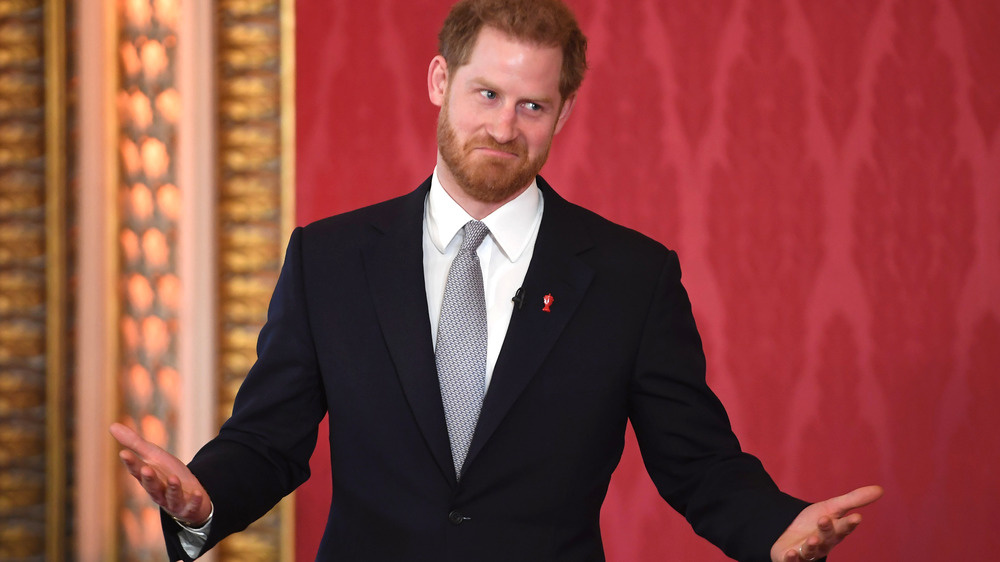 Wpa Pool/Getty Images
In 2017 Prince Harry gave an interview to Newsweek and opened up about Princess Diana's death, the future of the monarchy, and his passion for helping others. In the interview the Duke of Sussex comes across as both jovial and empathetic. But in regards to Prince Charles, some read between the lines that all was definitely not well.
Harry discussed how his mother's tragic death at the age of 36 caused him to emotionally shut down. Regarding the funeral he lamented, "My mother had just died, and I had to walk a long way behind her coffin, surrounded by thousands of people watching me while millions more did on television. I don't think any child should be asked to do that, under any circumstances. I don't think it would happen today." The Daily Beast wrote, "Although he does not mention his father by name in a new interview with Newsweek, there is little doubt who Harry is indicting." 
Later in the Newsweek article, the interviewer notes that when Harry was asked "about his family" the prince gushed about the queen and his mother. He went on to say a few words about his Prince William and Kate Middleton, but said "almost nothing about his father or his stepmother." Newsweek added, "The world now knows how unhappy that relationship made his mother, and her sons."
Before the rift, Prince Charles reportedly loved Meghan Markle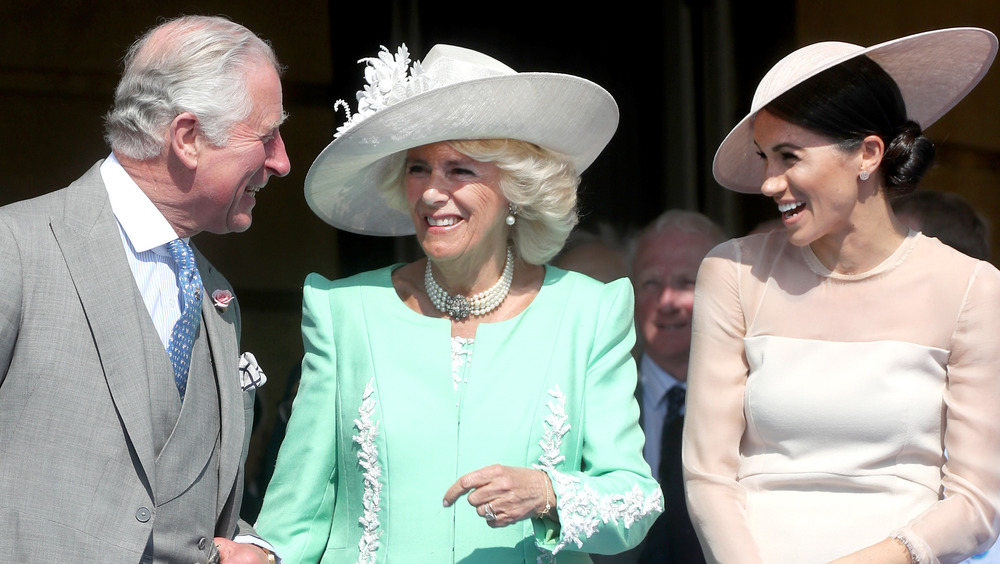 Chris Jackson/Getty Images
We may never know what happened behind closed doors, but before the Duke and Duchess of Sussex's falling out with the Windsors, it was widely reported that Prince Charles adored Meghan Markle. When Meghan's father, Thomas Markle, withdrew his plans to attend the royal wedding, Charles "immediately" agreed to act as a surrogate and partially walked Meghan down the aisle. Harry praised his "kind" father in the BBC's November 2018 documentary, Prince, Son, and Heir: Charles at 70 (via Vogue), saying that Charles told him, "I'll do whatever Meghan needs, and I'm here to support you."
Also in 2018, Vanity Fair reported that Charles, Harry, and Meghan became very close after a holiday in Scotland. An anonymous family member claimed that the Prince of Wales thoroughly enjoyed Meghan's company, adding, "Charles has been very supportive of Meghan and everything she is going through with her own father. He's got a real soft spot for her and thinks she's the best thing to have happened to Harry." 
When the book Finding Freedom was released in 2020, royal biographers Omid Scobie and Carolyn Durand spoke with friends and sources close to Prince Charles and the Sussexes. The authors discovered that, at the time, Meghan considered Charles to be a "second father." A friend of Charles told the authors (per Town and Country) that the Prince of Wales had "taken a real shine to Meghan," adding, "I can see why they've struck up a very quick friendship."
Prince Harry claimed Prince Charles 'cut him off financially'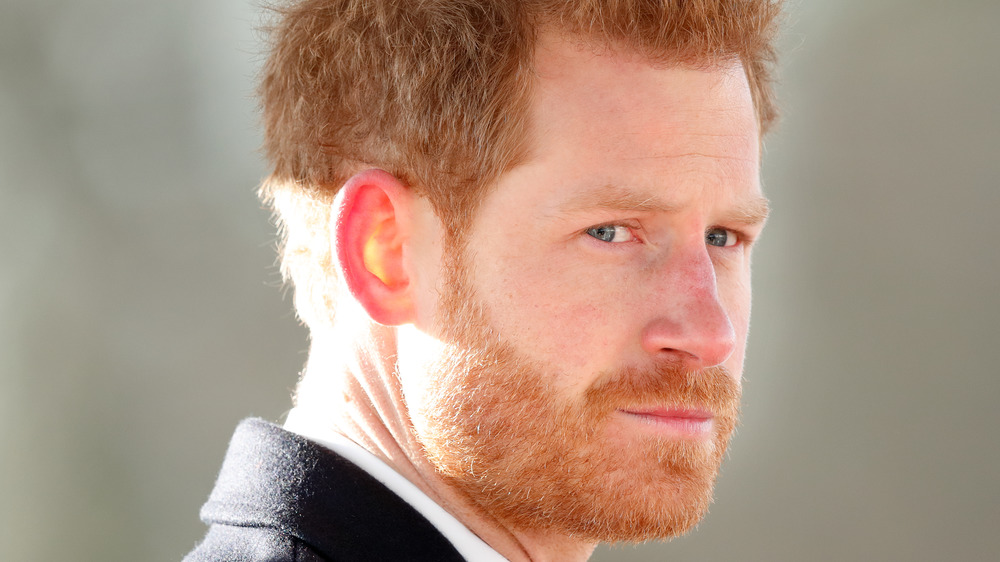 Max Mumby/indigo/Getty Images
When Prince Harry revealed to Oprah Winfrey that the royal family had "cut [him] off financially," people wondered exactly what that meant. The Sussex Royal website explains when the Duke and Duchess were still working members of the royal family, 5% of their income came from a "Sovereign Grant" and the other 95% "[was] derived from income allocated by HRH The Prince of Wales." Because they are no longer working members of the royal family, they are not eligible for the Sovereign Grant. In short? Harry's comment meant that Prince Charles had decided to stop giving the couple money.
Despite that loss of income, Harry told Oprah that he still had money from Princess Diana's will. A source told People in 2021 that the issue of money always complicated Charles and Harry's relationship, saying, "It's not a straightforward father-son relationship. He is their father and their boss, and they are beholden to him to fund their offices and lives."
If Harry was looking for sympathy over his money woes, the public refused to give him any. Express wrote, "Royal commentators have pointed out that ordinary people may struggle to have sympathy with a 36-year-old man who is a multi-millionaire in his own right complaining about being cut off financially by his family." The tabloid also pointed out that blaming Charles for cutting off funds seems hypocritical when the couple declared that they wanted to be "financially independent."
Prince Harry felt 'let down' by the Prince of Wales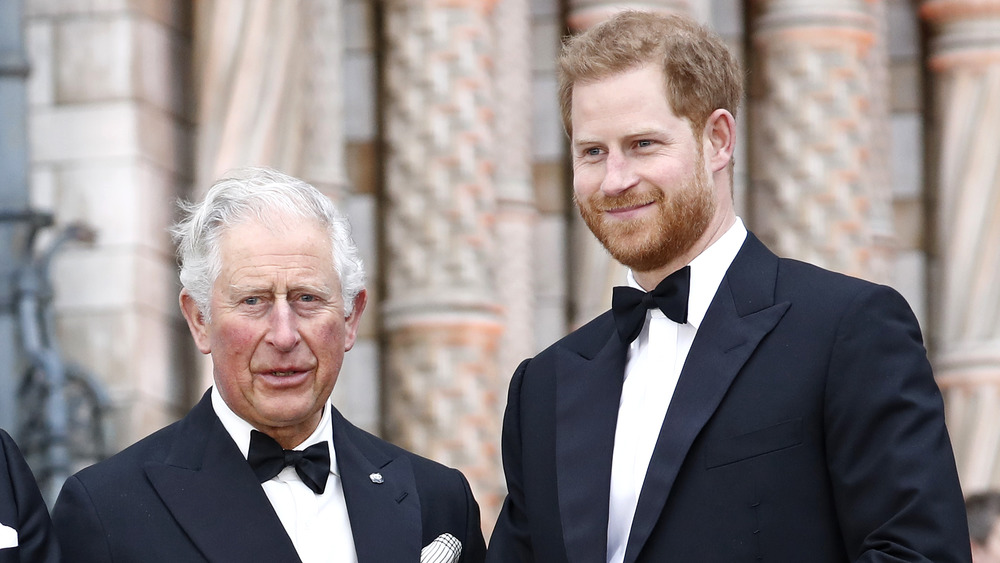 John Phillips/Getty Images
After his financial difficulties confession, Prince Harry wasn't done divulging personal family details on live television. The Duke of Sussex told Oprah that he tried to have multiple conversations with both the queen and his father before Charles stopped answering his phone calls. When Oprah asked why, Harry replied, "I took matters into my own hands." While Harry revealed that they two are speaking again, he admitted, "There's a lot to work through there."
Harry elaborated on where he stands with his father: "I feel really let down, because he's been through something similar. He knows what pain feels like. And Archie's his grandson." Despite his stinging words, the Duke of Sussex added, "At the same time, of course I will always love him ... And I will continue to make it one of my priorities to try and heal that relationship." 
What happened after the Oprah Winfrey interview?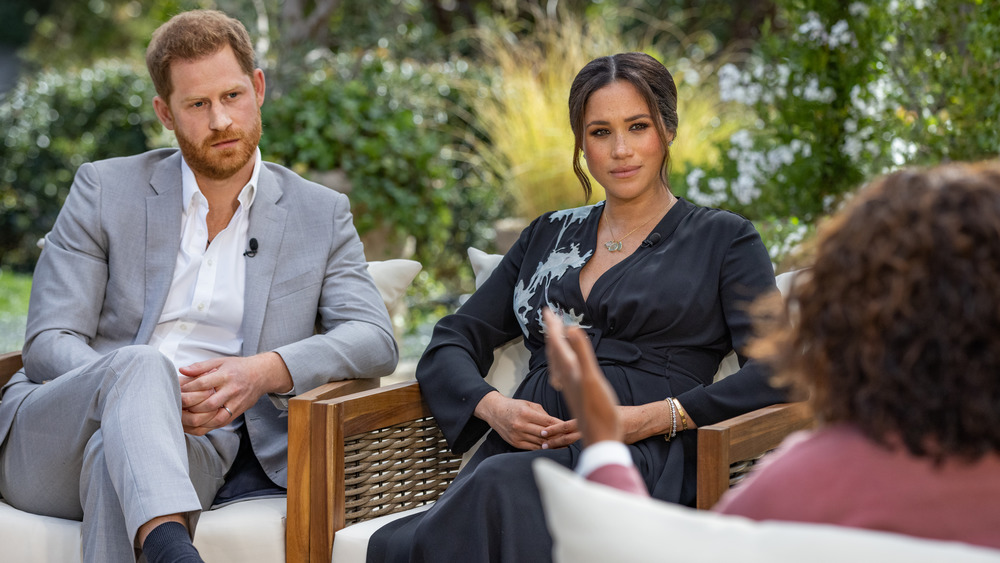 Handout/Getty Images
Of course the future King of England did not directly respond to Harry and Meghan's interview. But a royal editor wrote an article in Hello! magazine that explains why "he believes Charles formulated Buckingham Palace's response to his youngest son and his wife" (via Us Weekly). Many praised the royal family's response as measured and magnanimous. It reads, in part, "Whilst some recollections may vary ... Harry, Meghan and Archie will always be much loved family members."
After Buckingham Palace's official response, journalist Gayle King gave the world an update on Harry and Charles' current status. On CBS This Morning, King said that she had spoken with the Sussexes, who informed her that Harry had spoken with both his father and William after the interview. Unfortunately, King related that "those conversations were not productive," but added that the family is "glad they have at least started a conversation."