The Craziest Moments At The 2017 Golden Globes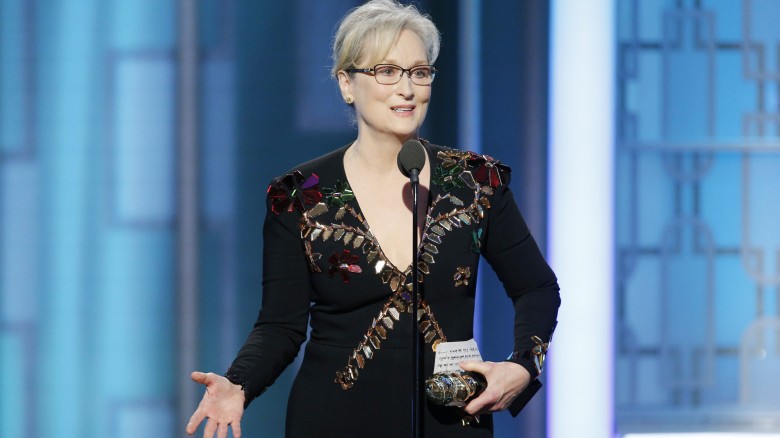 Getty Images
The Golden Globes are always full of surprises and lots of crazy moments—and year was no different. From Jenna Bush Hager's on-air flub to Meryl Streep letting us know just how much she despises Donald Trump, the 2017 Golden Globes didn't disappoint. Here are the craziest, wildest and wackiest moments that happened during Hollywood's biggest annual party.
Jenna Bush Hager awkwardly messes up movie titles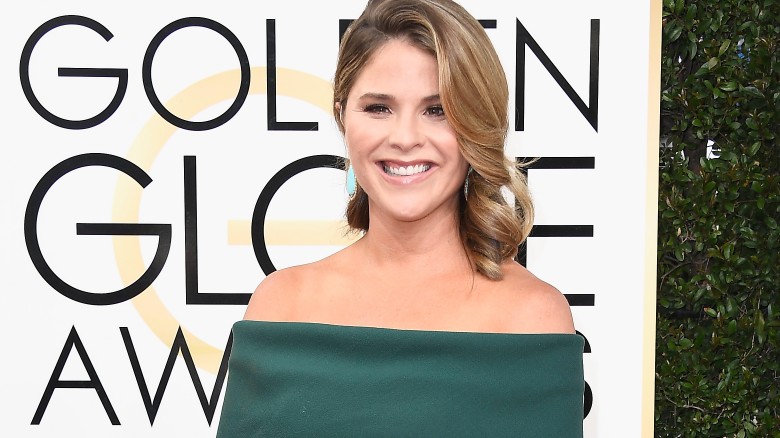 Getty Images
When it comes to live television, mistakes are inevitable—but that doesn't make them any less painful to watch. Take Jenna Bush Hager, for example, who embarrassingly combined prominent black movie titles Hidden Figures and Fences while interviewing Pharrell during NBC's pre-show. "You're nominated for Hidden Fences..." Hager said to a visibly confused Pharrell, who, for the record, was nominated for Hidden Figures, not Fences.
If it's any consolation: actor Michael Keaton reportedly made the same flub during the actual NBC telecast. But, yeah... awkward.
Jimmy Fallon's monologue gets off to an awkward start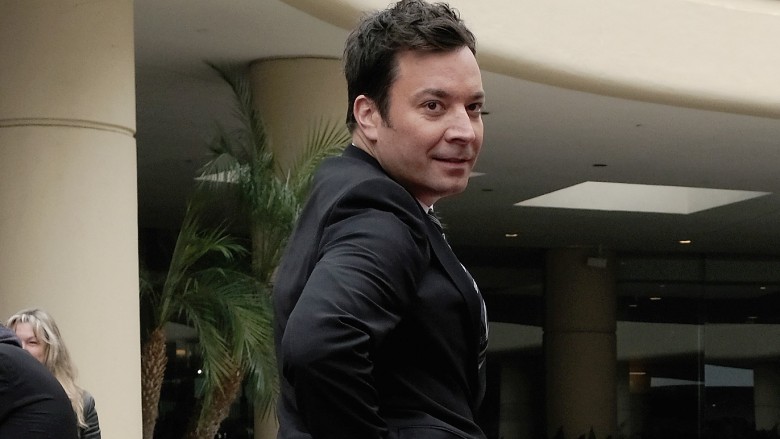 Getty Images
After opening the show with an elaborate, star-studded number, host Jimmy Fallon faced every live host's nightmare when the teleprompter containing his opening monologue suddenly didn't work. Fallon stumbled awkwardly on stage for what felt like hours as producers scrambled to get his lines ready and working again.
Of course, given that he's hosted about a million live shows before, Fallon eventually recovered with a quick jab at Mariah Carey's infamous and disastrous New Year's Eve performance and its subsequent fallout. "I just got off the phone with Mariah Carey and she thinks that Dick Clark Productions sabotaged my monologue." Something tells us she won't be singing Christmas carols on his show for years to come.
Hugh Laurie Slams President-elect Donald Trump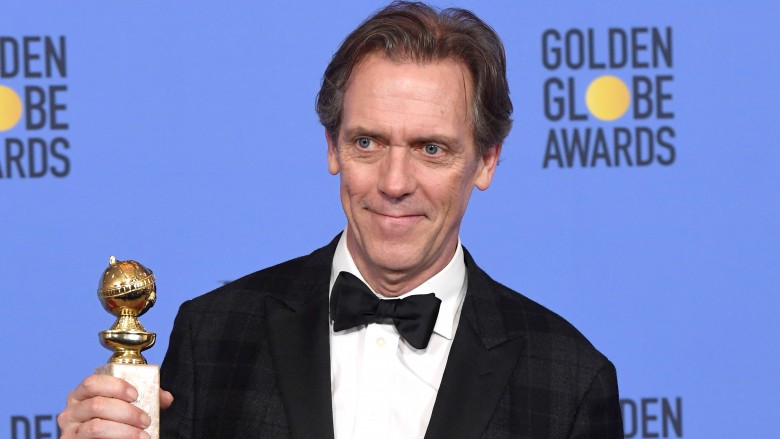 Getty Images
While accepting the award for Best Supporting Actor – Series, Miniseries or Television Film, actor Hugh Laurie joked that he was excited to win an award at the "last-ever Golden Globes." He then took his joke a little further by making a few not-so-subtle jabs at President-elect Donald Trump. "Hey, it has the words Hollywood Foreign and Press in it, and hey, to some Republicans even the word association is slightly sketchy." Before exiting the stage, the former House star declared that he "accepted the award on behalf of psychopathic billionaires everywhere."
Of course, this isn't the first time Laurie has publicly declared his hatred for Trump. During an October 2016 visit to The Late Show with Stephen Colbert, the famous TV doctor went so far as to self-diagnose Trump. "It may be too late, but for Trump I would suggest breastfeeding," he said. Ouch.
And then Meryl Streep did the same thing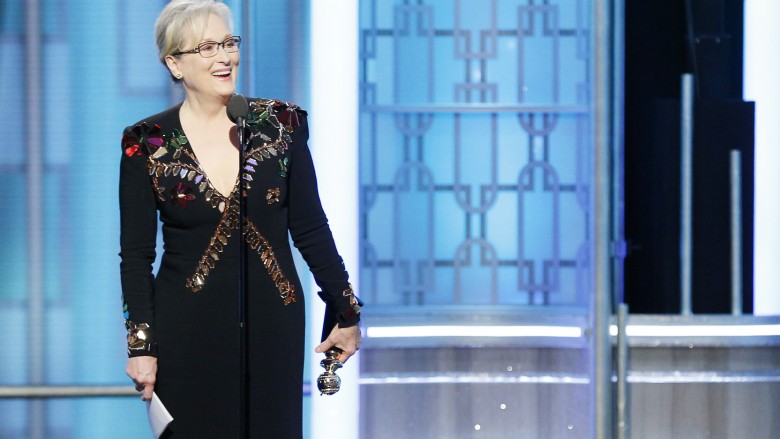 Getty Images
Instead of looking back on her illustrious, three-time-Oscar-winning career, Meryl Streep used her Cecil B. DeMille acceptance speech to essentially pick up where Hugh Laurie left off. Lamenting on the diverse makeup of Hollywood actors, Streep declared, "If we kick them all out you'll have nothing to watch but football and mixed martial arts, which are not the arts."
Without naming names, the eight-time Golden Globe winner then brought up her distaste for when President-elect Donald Trump allegedly mocked a disabled reporter while on the campaign trail in 2015. "It kind of broke my heart when I saw it, and I still can't get it out of my head, because it wasn't in a movie," she said. "It was real life. And this instinct to humiliate, when it's modeled by someone in the public platform, by someone powerful, it filters down into everybody's life, because it kinda gives permission for other people to do the same thing. Disrespect invites disrespect, violence incites violence. And when the powerful use their position to bully others we all lose."
Never being one to take a diss sitting down, Trump later dismissed Streep's speech by calling her a "Hillary lover," according to the Boston Globe.
Ryan Gosling thanks Eva Mendes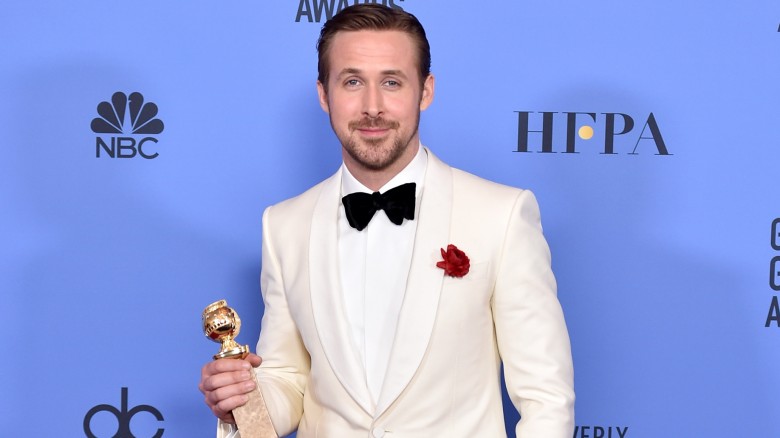 Getty Images
Ryan Gosling once again won over the hearts of women around the globe when he channeled Lindsay Lohan's tiara speech from Mean Girls while accepting the Golden Globe for Best Actor – Motion Picture Musical or Comedy. Seconds into his speech, the hunky La La Land star said he wished he could break his award into pieces and give one to co-star Emma Stone and a third to director Damien Chazelle, causing everyone watching at home to say, "Awww."
But perhaps the biggest surprise came when the notoriously private Gosling thanked his partner and baby mama, Eva Mendes. Referring to her only as "my lady," Gosling said, "While I was singing and dancing and playing piano and having one of the best experiences I've ever had on a film, my lady was raising our daughter, pregnant with our second and trying to help her brother fight his battle with cancer. If she hadn't have taken all of that on so I could have this experience, it would surely be someone else up here other than me ... So, sweetheart: thank you." Excuse us while we go cry, now.
Ryan Reynolds and Andrew Garfield make out
Perhaps because Gosling's speech was so touching, only the sharpest of eyes caught what may go down as the night's funniest, if strangest moments. As Gosling walked up stage to accept his award, fellow nominee Ryan Reynolds can be seen getting a consolation smooch from his seatmate, Andrew Garfield, according to TMZ. The jaw-dropping moment was surely just a gag for the cameras, as indicated by Reynolds' wife Blake Lively's boisterous laugh. But, hey: at least a fantasy for many was finally fulfilled.
Steve Carrell and Kristen Wiig bring some much-needed laughs
Just when the broadcast was getting somewhat snooze-worthy, Kristen Wiig and Steve Carrell came out and gave us some serious funny.
While presenting the award for Best Animated Film, Wiig asked Carell to share the experience of seeing his first animated movie. All was well and good—that is, until Carrell mentioned that the day he saw Fantasia was also the day his mother told his father he wanted a divorce. Naturally, Wiig immediately one-upped him when it was her turn to talk about her first animated movie, Bambi, aka the day she had to put her three dogs to sleep and never saw her grandfather again.
Of course, the whole thing turned out to be a joke. But, given Jimmy Fallon's lackluster performance as host, everyone at home wondered why Wiig and Carell weren't asked to take over the show from that point onward.
La La Land breaks all records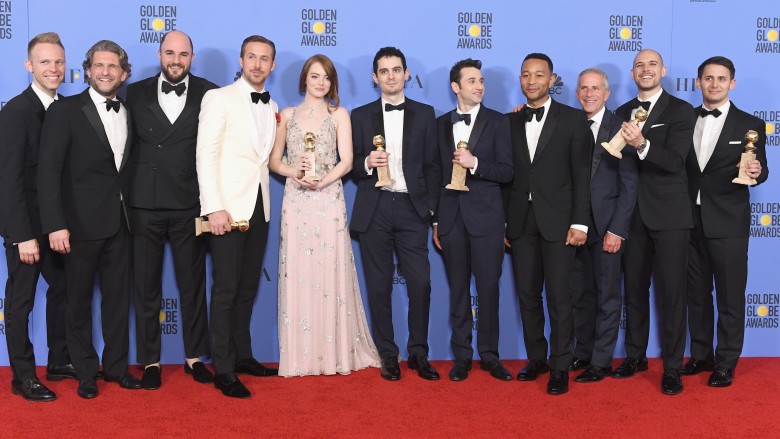 Getty Images
Sure, anyone who's ever watched the Golden Globes knows that the Hollywood Foreign Press Association can't resist a good musical. Still, many were surprised when La La Land swept all seven of its categories on its way to winning the most Golden Globes in history.
For the trivia players reading this at home: Billboard reported that the record was previously held by One Flew Over the Cuckoo's Nest and Midnight Express, both of which won six awards in their respective years.
La La Land, which earned prizes for Best Motion Picture – Musical or Comedy, director and screenwriter Damien Chazelle, stars Ryan Gosling and Emma Stone, among others, is still in the process of being released to more theaters, with an expansion expected over Martin Luther King, Jr. weekend as it gains more momentum leading up to the Oscars on February 26th.