Why Tori Spelling's Latest Public Appearance Has People Talking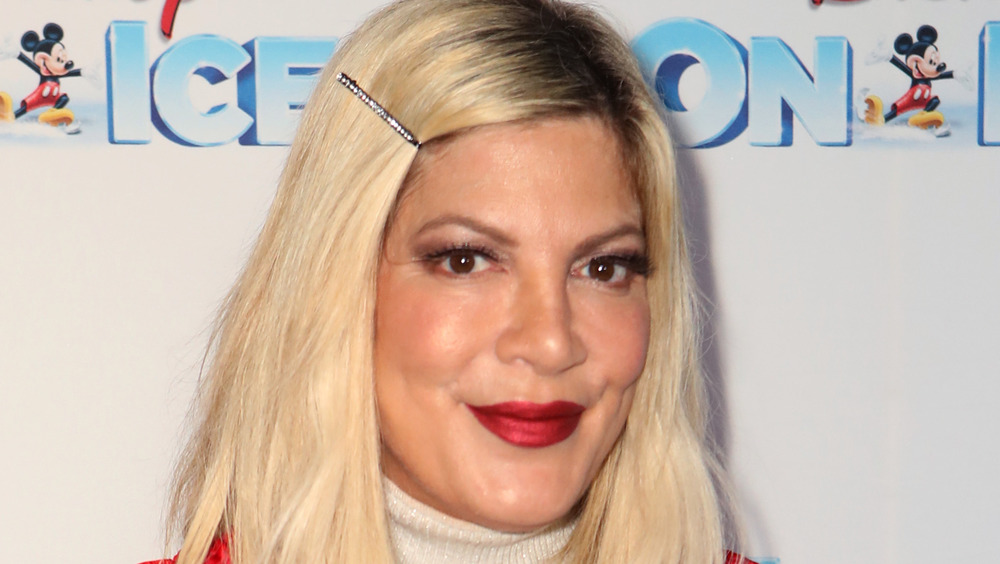 Ari Perilstein/Getty Images
Actor Tori Spelling's late March 2021 outing has fans wondering if her marriage is on the rocks again. The Beverly Hills, 90210 star has been married to Dean McDermott, Canadian actor and host of the cooking competition show Chopped Canada, since 2006. However, their relationship has not always been picture-perfect. On Spelling's reality TV series, True Tori, which ran from 2014-2016, McDermott revealed on the show that he had an affair. Viewers were then able to tune in and watch as the Hollywood couple tried to overcome their marital troubles, including McDermott's infidelity, with many thinking the duo were pretty much donezo. E! Online reported, "It seemed highly unlikely that their then eight-year marriage was going to survive either their issues or the cameras." 
The show lasted for two seasons before the couple decided to step out of the spotlight, which, E! reports, appeared to help save their marriage after all. Following their reality series, the couple went on to celebrate their 10 year anniversary, got matching tattoos, and even had another baby together. The couple now shares five kids together. 
Despite Spelling and McDermott appearing to have beaten the odds, split rumors are once again making headlines. Why? Keep reading to find out. 
Tori Spelling was spotted without her wedding ring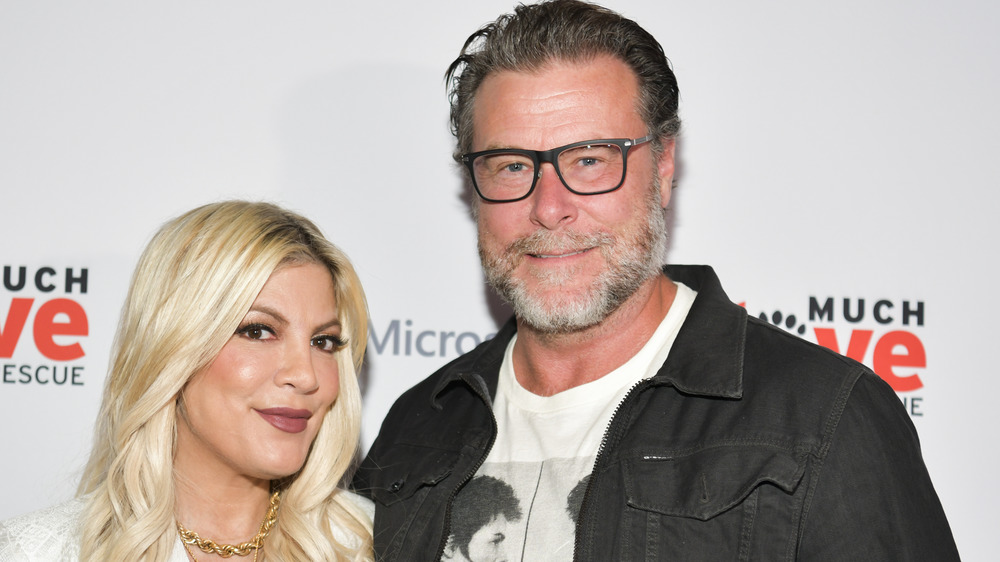 Rodin Eckenroth/Getty Images
Tori Spelling is sparking split rumors because of an outing she had with her children where she was seen not wearing her wedding ring. According to Daily Mail, "[t]he 47-year-old Beverly Hills, 90210 star showed off her bare ring finger while visiting Underwood Family Farms in Moorpark, California, a little over an hour's drive from Los Angeles" in March 2021. They add that she was with three of her kids, but her husband Dean McDermott was absent. He, per Daily Mail, has been spending the majority of his time in Canada filming the police series Lady Dicks.
However, it looks like McDermott's absence is not the sole root of their marital issues. In a Women On Top podcast interview that aired back in the summer of 2020, Spelling revealed that her children were starting to learn more about the 2013 affair. Spelling explained that at the time of their tell-all reality series, her kids were young enough that she and McDermott could shield them from some of the truth. She said, 'My kids have not seen clips [of the show], but they've seen something out there online and my daughter saw something." Adding, "It really upset her, and she said, 'Daddy I saw something online that said you cheated on Mommy.'" 
So, did Spelling ditch her wedding ring because of their kids learning about the affair? For now, these are all the clues we have on this rocky Hollywood relationship.