The Head-Turning Transformation Of Nicole 'Snooki' Polizzi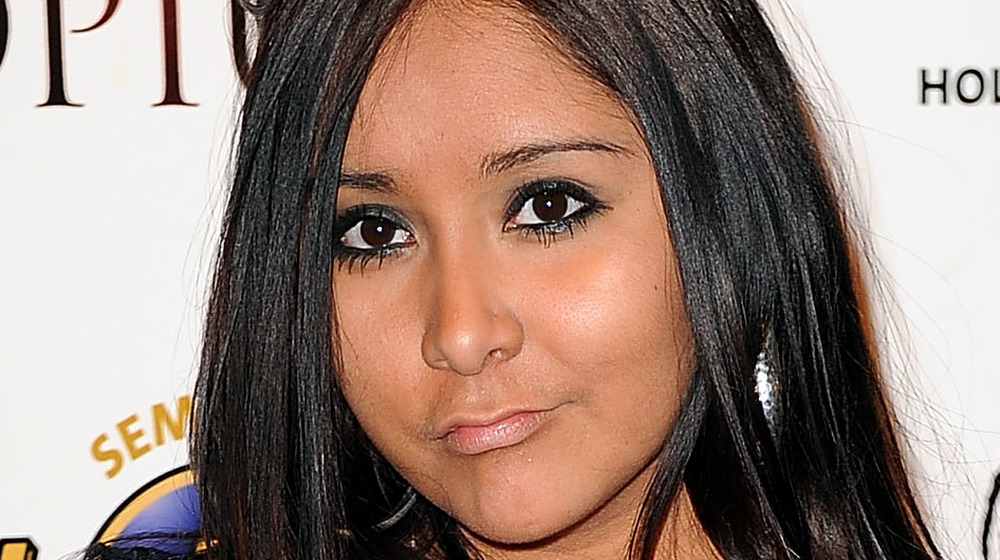 Gustavo Caballero/Getty Images
"Hello? PARTY'S HEEERRREE!" Reality star Nicole "Snooki" Polizzi first burst on the scene with her signature poof and extra dark spray tan in 2009 with the premiere of MTV's Jersey Shore, a reality show that focused on young 20-somethings working hard and partying even harder at — you guessed it — the infamous Jersey Shore in Seaside Heights, N.J. Let the drunken debauchery commence! 
In recent years, however, the once wild party girl has settled in to dare we say a life of domesticated normalcy? Well, as normal as one can get if they're Snooki, anyway! "You know in the fame, in that life, it can be so crazy, and then it dies down and then it's crazy again," she recalled about her life in the public eye during an interview with Good Morning America.
But what has Snooki been up to since her carefree days on the summer shore? Keep reading after the jump to find out!
Snooki fell in love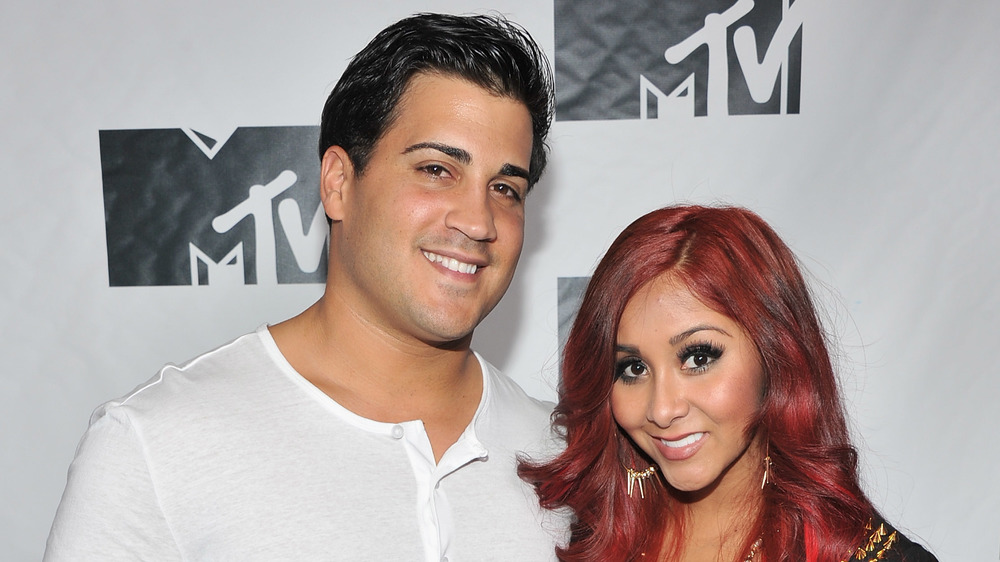 Theo Wargo/Getty Images
It's only fitting that a seasoned reality star like Nicole "Snooki" Polizzi would find her future husband while the cameras were rolling, and fortunately for viewers, that's exactly what happened! As Jersey Shore stans may recall, Snooki first met Jionni LaValle in 2010 while filming Season 3 of the reality series.
"I met this little Mario brother," Snooki famously said after not being able to recall her future hubby's name, per In Touch Weekly. As fate would have it, the two were destined to be together and after a whirlwind courtship the pair was engaged and expecting a little guido of their own in 2012. "It's meant to be," Snooki gushed to US Weekly about her new man. 
Per New Jersey Bride, the couple tied the knot in a traditional Catholic Mass ceremony on Nov. 29, 2014 in East Hanover, N.J. In attendance were 500 of their closest friends and family. Upon reciting their vows, the happy couple danced the night away at their Great Gatsby themed reception. Sounds like a fairytale, right?
Prior to her nuptials, Snooki went on the record during an interview with NJ.com stating that she intends to marry only once. "This is a one-and-done deal, I know Jionni is my soul mate and we're set for life with each other," she declared. Here's to wishing the lovebirds a lifetime full of love and happiness together!
Snooki competed on 'Dancing With the Stars'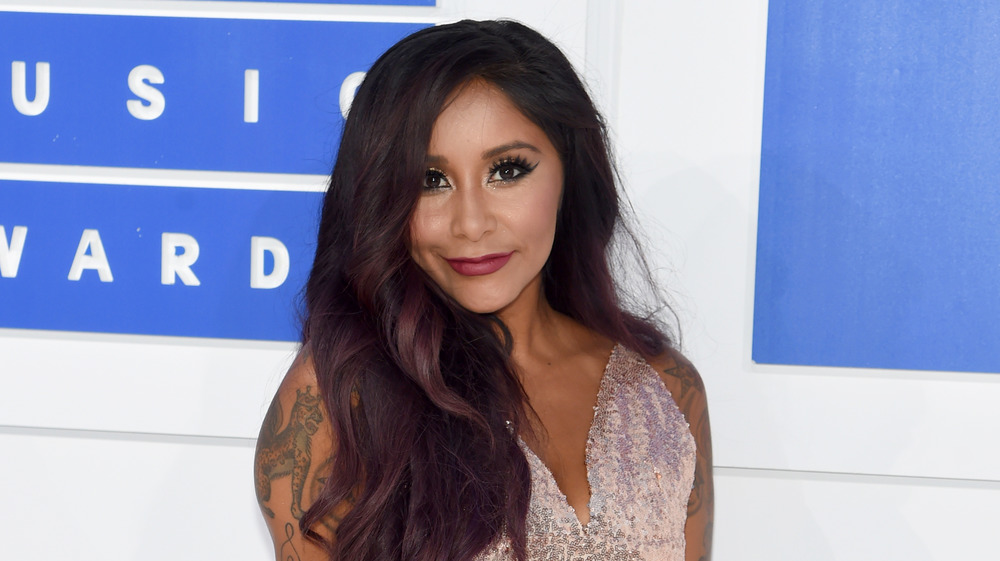 Jamie Mccarthy/Getty Images
Shortly after Jersey Shore wrapped, Nicole "Snooki" Polizzi traded in fist-pumping under flashing technicolor lights for Samba dances in the glow of the famous Mirrorball on ABC's Dancing With the Stars.
As reported by Dancing With the Stars Fandom, Snooki competed in the 17th season in 2013. Though she ultimately came up short, taking home eighth place, she garnered respect from judges, fans, and even her competitors. Unfortunately, no one was more shocked than Snooki when she and her dance pro partner Sasha Farber were sent home. "I definitely didn't think I was going to go home yet and I'm not ready to go home," Snooki said in a post-show interview, per Today. "This experience has been amazing."
But she wasn't the only stunned by the upset. Even fellow contestant Bill Engvall was certain he'd be the one to get axed. "When they said one of us on our team, which Snooki and I were both on, was going to go, I said to [pro partner] Emma [Slater], 'I'll buy you a drink on the plane to New York." Much to his surprise, however, it was Snooki and Sasha's name called. "But when they said 'Nicole and Sasha,' I said, 'No. This should be me.' My lovely partner and my producers explained to me that it's not just a dance competition. Staying on the show is about your fan base," he continued.
Win or lose, Snooki is still very much victorious in our eyes!
Snooki added 'mother' to her résumé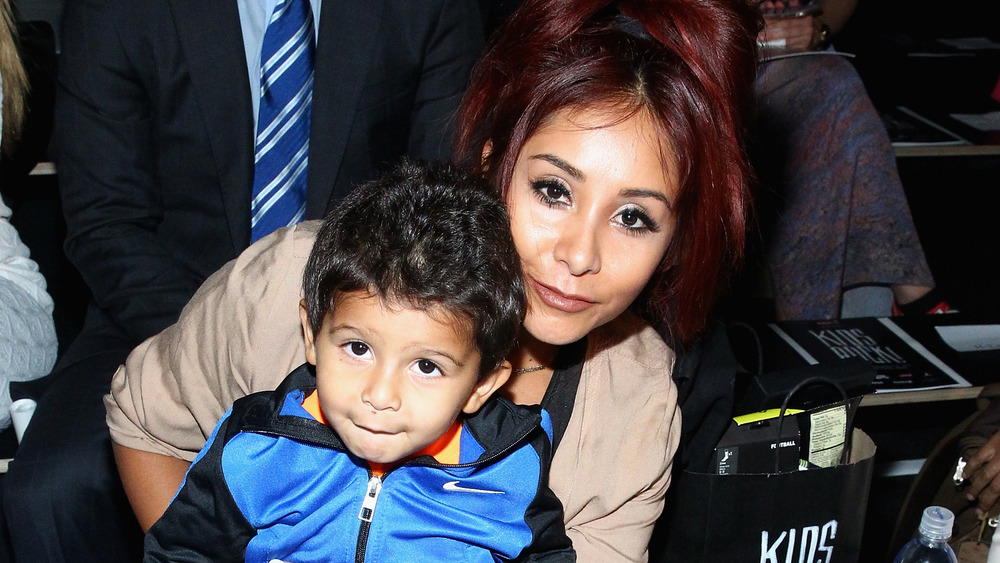 Astrid Stawiarz/Getty Images
Nicole "Snooki" Polizzi has definitely come a long way from her "gym, tan, laundry" days. As a mother of three, we can only imagine her day-to-day routine includes a lot more laundry and a lot less tanning — though it does appear she still makes time for the gym.
As reported by MTV News, Snooki dove head first into motherhood on Aug. 26, 2012 with the birth of her first child, a son named Lorenzo Dominic. Soon after the new mom took to Twitter to deliver (see what we did there?) the good news. "I am SO IN LOVE with my son Lorenzo Dominic ! I had my little man last night, healthy at 6lbs! HE'S MY WORLD!" she penned. 
Soon after, she welcomed two more to her growing brood. Per In Touch Weekly, Snooki added a precious baby girl, Giovanna Marie, to the mix in 2014 and another baby boy, Angela James in 2019. But even Snooki admits that she didn't have it all figured out at first.
"I was super nervous because it was my first child," she confessed during a candid interview with Good Morning America about her first pregnancy. She is adamant, however, that new mothers shouldn't worry. "I think it was the immaturity of me that was nervous... and then, once I had Lorenzo, I knew what to do," she maintained. "I would tell myself to not be so nervous and stop stressing out because 'you're going to be fine.'"
Snooki adopted a healthier lifestyle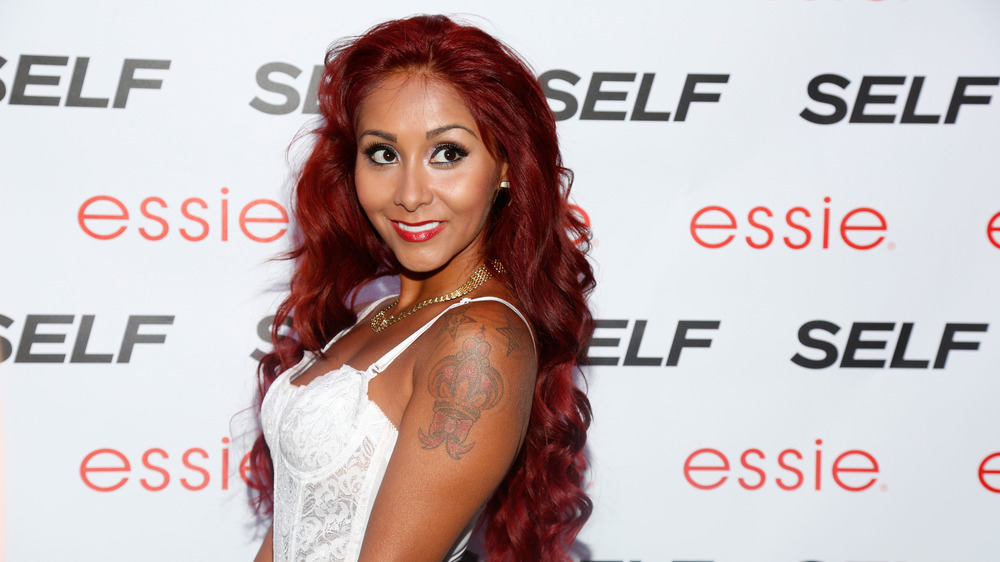 Cindy Ord/Getty Images
After the birth of each of her children, Nicole "Snooki" Polizzi was determined to make fitness a priority. "Even though I want to be healthy for myself and it feels great to be healthy, I mainly want to do it for my kids," Snooki explained during an interview with People. "I just really want to be a fit mom. I want to be able to keep up with them, run after them."
But how did she lose the weight? According to Snooki, she always carves out time for exercise. While she's not able to fit in a work out every single day of the week, she does make it a point to do 45 minutes to one hour of exercise with her personal trainer at least four days a week. "I would try and go every single day but it's just hard with the kids," she confessed.
Snooki also dished that she steers clear of carbohydrates, and instead opts to incorporate lean meat and veggies into her meals. "I eat a lot of grilled chicken and vegetables," she said before admitting that she's a sucker for turkey burgers as well. 
But make no mistake about it — Snooki allows herself a treat every now and then. "A scoop of peanut butter is actually good because it's high in protein," she gushed about her favorite guilty pleasure. "I'm addicted to peanut butter right now, I don't know why."
Snooki launched her own business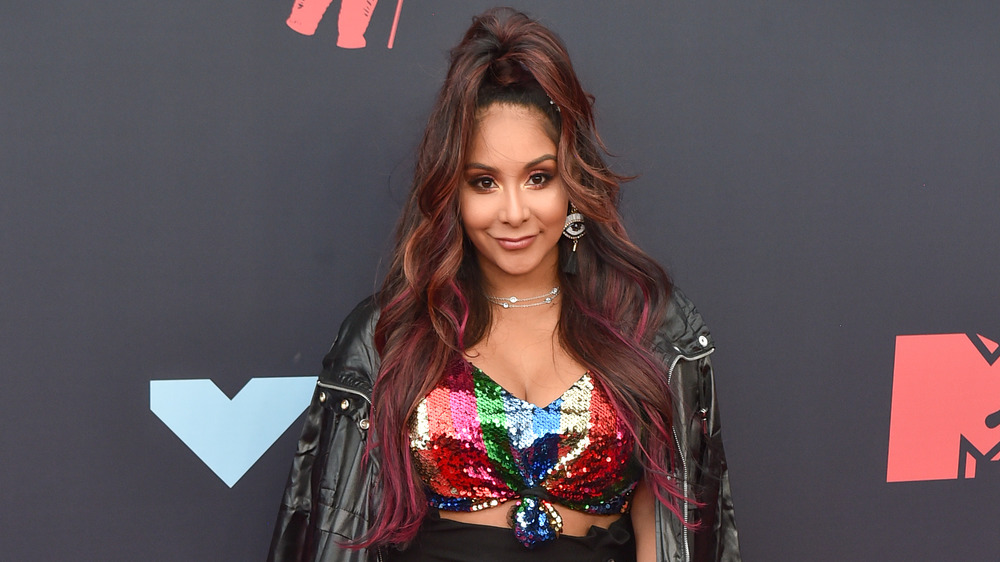 Aaron J. Thornton/Getty Images
Marriage... check! Babies... check! Dancing With the Stars... check! Business woman... CHECK CHECK CHECK!
Reality star Nicole "Snooki" Polizzi re-invented herself yet again in 2018 when she opened up her very own fashion boutique in Madison, N.J., aptly titled The Snooki Shop. "I always wanted to do my own store, I just never had the time," Polizzi dished to ABC News. "I love clothes so I thought just opening my own store would be a dream come true," she added.
But what kind of clothing can one pick up at The Snooki Shop? According to Snooki, she caters to the 18- to 30-year-old demographic and she works hard to keep her prices affordable. "I made sure the prices were affordable because a lot of boutiques have crazy out there prices," she explained. "I know kids are in school, they have bills to pay — I get it," she continued. Per the store's website, there's even a $9.99 sales rack! Sign us up.
When asked what advice she would give to other hopeful business owners, Snooki was adamant that one must not "overthink it." "With [The Snooki Shop] I just didn't even think about it and I just went in and it's more successful than I thought it was going to be. So, don't overthink what you want to do and just go for it," she declared. Noted!