Why Jaden Smith's Tweet About Justin Bieber Caused A Stir
Pascal Le Segretain/Getty Images
We love all of the anticipation around an album release. And you know an album is really good when the hype continues for weeks. This is exactly what's happening with Justin Bieber's Justice, which dropped on March 19, 2021. The album is awesome and marks an epic return to Bieber's pop roots, while also offering some soul.
In fact, Bieber spoke about his intentions in the creation of Justice with DJ Khaled on the latter's podcast, The First One. "This album is meant to encourage people," Bieber said of Justice. "In the mission statement for the album I talked about how music is such a great way to connect people and bring people together, and remind people they are not alone ... [and] provide that safe space, the music that is comforting and makes you want to move and groove." Sounds epic.
Well, one week after the album drop, Bieber announced in his Instagram stories, according to Rap-Up, that a deluxe version, Justice (Triple Chucks Deluxe), was dropping on the evening of March 25, 2021 — with six bonus tracks. And a little tweet from Jaden Smith got fans even more hyped about the release.
Fans go wild over the Bieber-Smith collab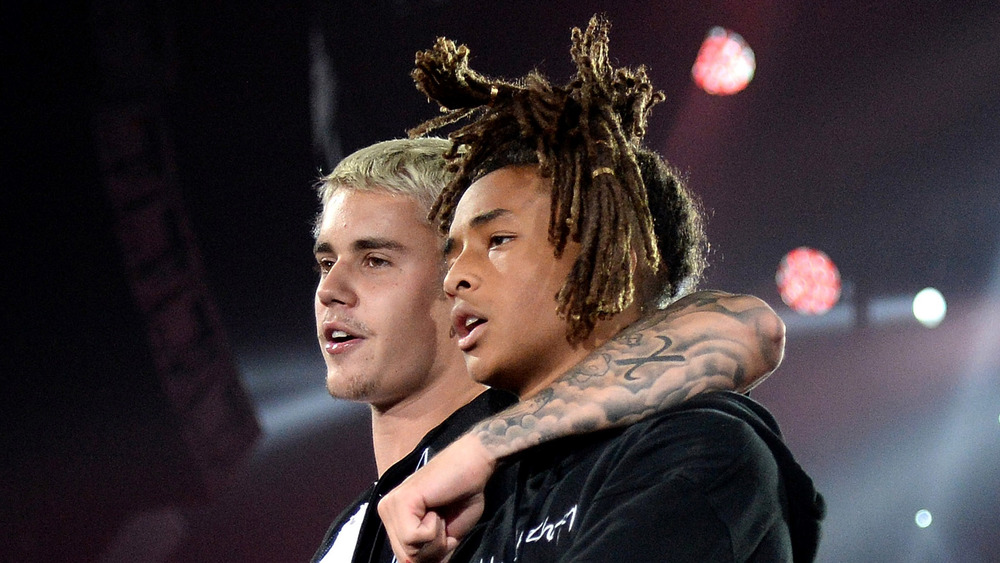 Kevin Mazur/Getty Images
One week after the drop of Justin Bieber's album, Justice, the pop star notified fans via social media that a deluxe version would be released on March 25, 2021. Well, Jaden Smith tweeted a cover of the album on March 25, 2021 and captioned it: "Triple Chucks Deluxe Coming Soon." JB's manager, Scooter Braun, replied to Smith's tweet, saying: "Tonight."
Obviously, since Smith shared the album cover in a tweet, people went wild for the idea of a collaboration between the two artists. Making a play of both of their first names, one fan tweeted: "JADENSTIN IS BACK." Another fan tweeted: "WE ARE EXCITED FOR ANOTHER JADENSTIN COLLAB." It seems like all caps were the order of the day! Someone else tweeted, "our faves are collabing."
True to their word, Smith is featured on the deluxe album — specifically on the track, "I Can't Be Myself." And fans were even more excited after hearing the song.
"justin and jaden again!!!" exclaimed one user. "i prayed for this." "I can't be myself is a bop ngl," posted a second fan. "the fact is justin and jaden never make a bad song together," shared another.
It's true: In 2010, Bieber featured Smith on his hit, "Never Say Never," which hit one billion YouTube views in March 2021, according to Billboard. Plus, they also duetted on Smith's song, "Falling for You." Clearly, the duo is dynamite!