The True Value Behind Those Dream Home Makeover Houses, According To An Expert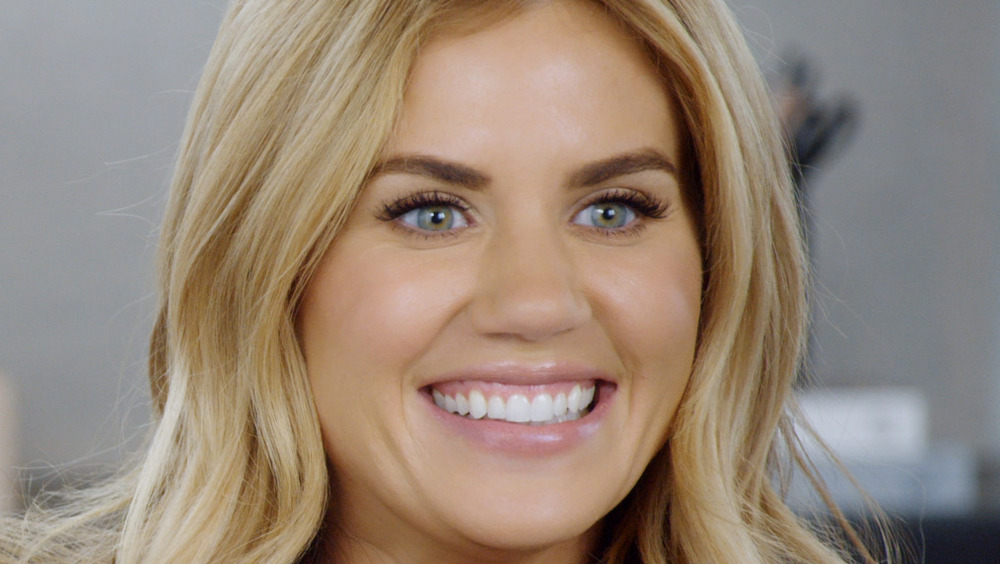 Netflix
Homeowners everywhere are raving about the hit Netflix show, Dream Home Makeover, in which talented interior designer Shea McGee and her businessman husband, Syd McGee, reinvent properties that leave viewers swooning. The series, a la HGTV home makeover shows such as Fixer Upper, focuses on the Utah couple as they tackle challenging areas in their clients' homes and transform them into unbelievable living spaces. As Syd puts it (via Oprah Daily), "Shea's superpower is her undying love for design." Indeed, Studio McGee creates enviable interiors by combining functionality with luxurious yet casual aesthetics for the way that people live today. 
While the majority of the homeowners who appear on Dream Home Makeover plan to stay in their newly designed spaces, the show offers insight for those who want to update the homes to put them up for sale. The series highlights the current trends in the property market and helps potential sellers to maximize the value of their homes. 
Corey Weinstein, an agent at Red Oak Realty and designer for Red Oak's Enhance Program, talked to Nicki Swift about the value of these home makeovers, looking specifically at a few episodes from the Netflix show that has taken the world by storm.
These Dream Home Makeover homeowners added value by splurging on the kitchen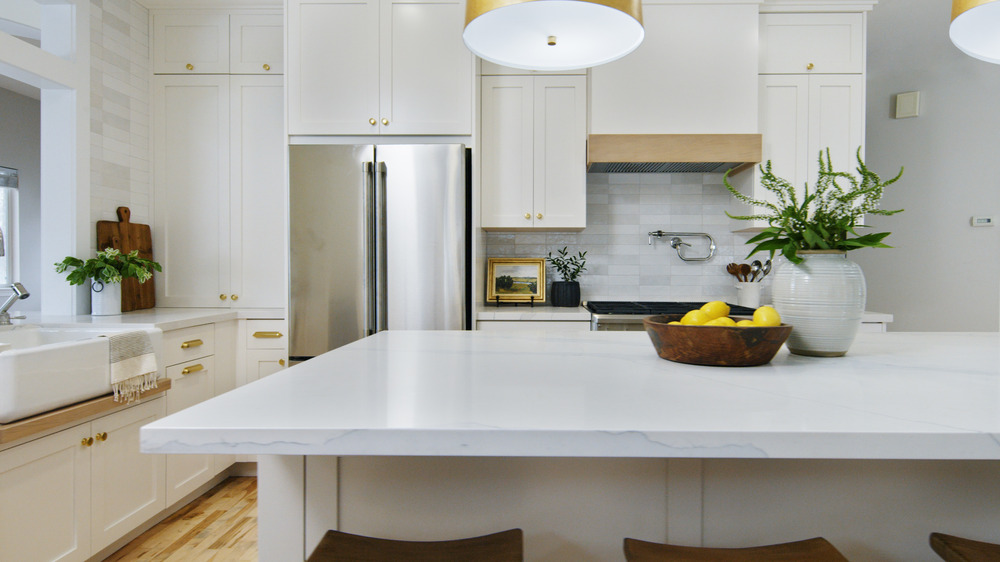 Netflix
When Shea and Syd McGee sat down with People TV in October 2020 to speak about Dream Home Makeover, Shea revealed her favorite makeover: "I loved all of them. But probably my favorite reveal is Lozano's at the very end." The episode, featured in the first season of the series, put the McGees' remodeling skills to the test. They opened up a cramped kitchen to the rest of the living space and created a clear sightline to the outdoors. By removing an angular peninsula, pantry, and adding a window, they transformed the tight space into a light, airy kitchen.    
Real estate agent and designer Corey Weinstein also gushed about this particular property and called it a "dream kitchen." She loved the added storage, extra prep spaces, and the way that the polished finishes contrasted "with warm wood and touches of gold to offer layers of visual interest and character." 
Weinstein went on to rave, "Investing in a remodel like this one would make a huge impact on the sale of your home — and easily return double to triple your investment as well as make it sell faster and with more competition." 
Budget updates can give bang for one's buck in living areas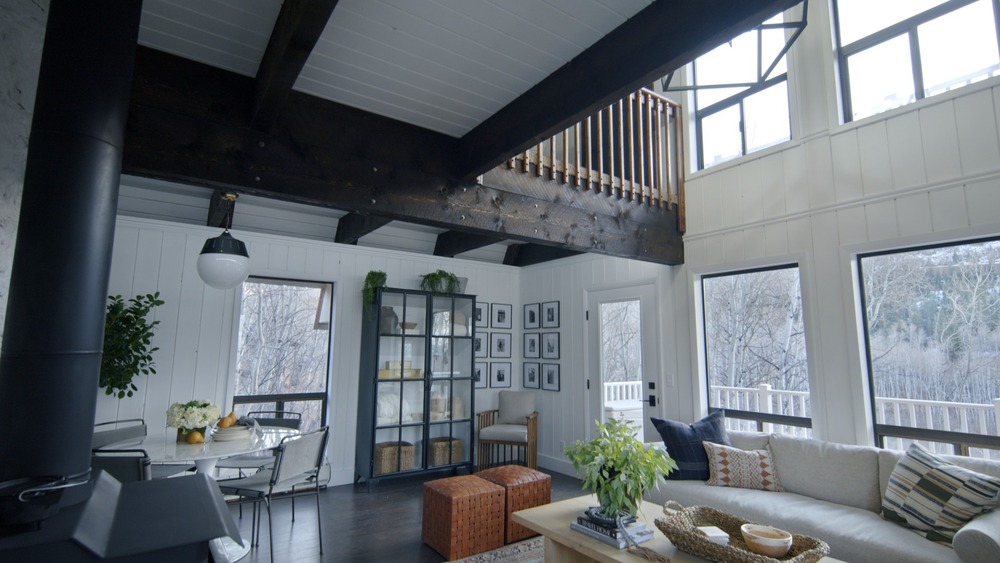 Netflix
The fifth episode of Dream Home Makeover's Season 2 showed how simple yet crucial changes can totally transform an area in a home. Shea and Syd McGee were invited to remodel a dark cabin in the woods that was lacking in design. 
In the living area, a grotto-style hearth surrounded their wood stove and dated their home, but the parents-of-two worked with a limited budget and still managed to pull out all the stops. In addition to re-plastering the area around the stove and painting it for a modern touch, the McGees added a stunning light fixture to the room. By painting the entire space white, they emphasized the dark wood of the high ceiling beams and made that the room's standout feature.
Corey Weinstein was similarly impressed by the makeover. She felt that it "really shows the power of thoughtful design and how making a few key choices will add up to a welcoming, stylish space." Weinstein also told Nicki Swift that these minimal changes could add 10 to 20 percent to the sale price of a home. Talk is cheap, but paint... that's a financial investment!
Dream Home Makeover showed how to create a bathroom oasis for a return on investment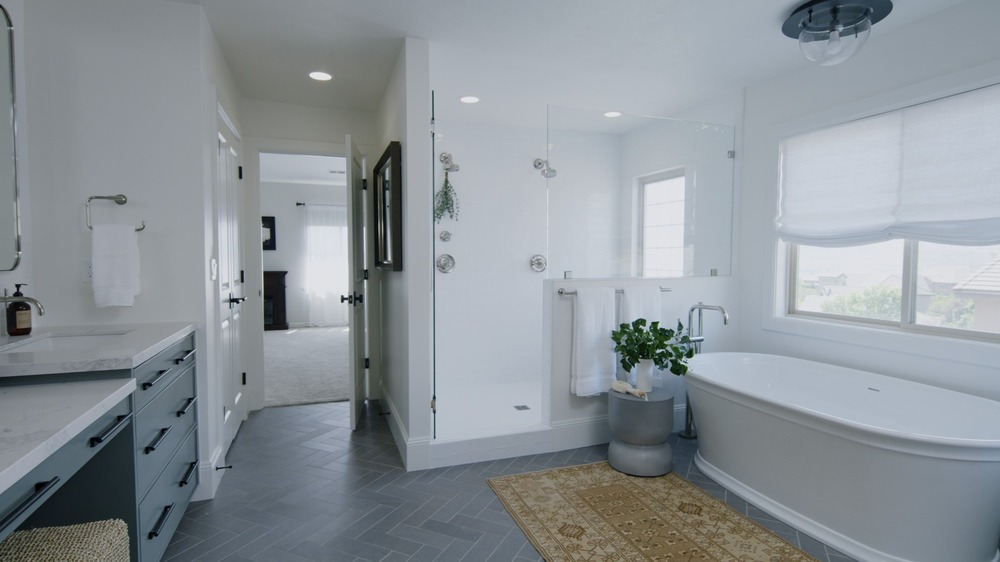 Netflix
Real estate guru and home designer Corey Weinstein was blown away by a bathroom makeover on the second season of Dream Home Makeover. The third episode showed Shea and Syd McGee taking on a bathroom. The area had so much potential because it was spacious and had a functional layout, yet a wall-to-wall shag carpet did the bathroom no favors. To make matters worse, it didn't have a door! 
Thanks to Shea's designing skills, the whole space was transformed into a Zen-like oasis. The rug was replaced with gray tiles laid in a herringbone pattern. The soft seafoam vanity, up-to-date hardware, and free-standing tub were classic and timeless. By adding white to the walls, the bathroom felt brighter and more inviting. Viewers and Weinstein alike were smitten with the end result.
Weinstein noted, "Bath updates like this one, even in a smaller bathroom, add a ton of value to a home and would bring in at least twice the cost of doing the work." The expert also added some words of wisdom for those who are getting ready to put their property on the market. "I always advise my clients to focus on their kitchen and bathrooms, as well as integrating the spaces with paint and lighting," she shared. And if you're caught watching Dream Home Makeover again, you could always say that you're just researching the best way to invest.