Justin Bieber's Mom Had An Eyebrow-Raising Reaction To His New Ink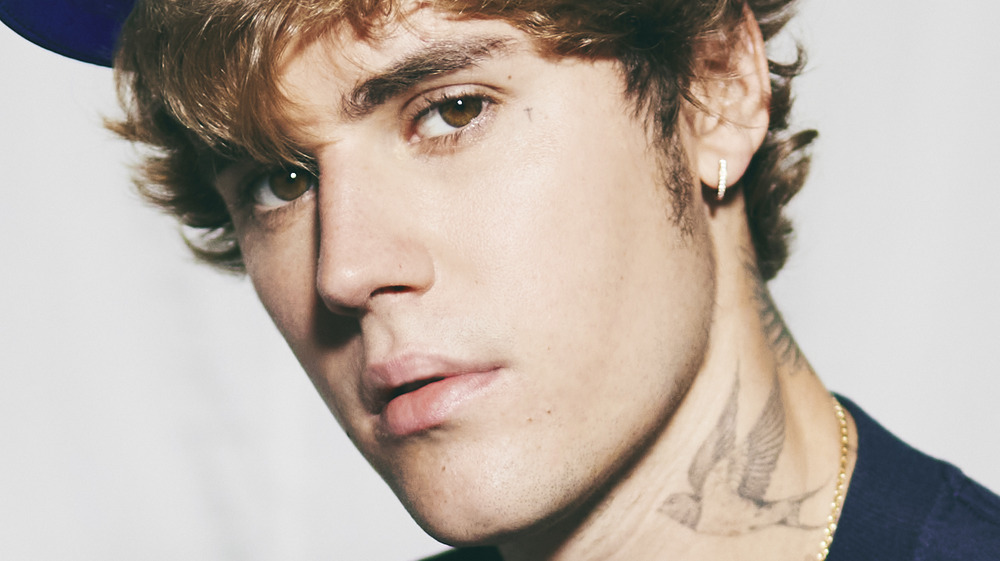 Mike Rosenthal/Getty Images
Justin Bieber just got inked and he's proudly showing it off. The 27-year-old took to Instagram on March 28, 2021 to flaunt the latest addition to his body art. In the first photo of the multi-slide post, the Lonely singer rested his face on a cushion while tattooist Dr. Woo inked his neck. The following snap showed the finished tattoo, a peach, nestled between a bird and the word "Forever." 
Apparently, Bieber has at least 60 tattoos, per People, and wanted to celebrate his latest achievement with something memorable. According to Billboard, JBiebs made history yet again. His red-hot album Justice somersaulted to the top of the Billboard 200 chart in the week ending March 25 after debuting on March 18. Bieber is also the youngest solo artist with eight No. 1 albums to his name, dethroning The King, Elvis Presley, from his long-held record.
The Bieb mentioned the possibility of getting a new tattoo when he appeared on SiriusXM Hits 1. "Maybe I'll get like a small peach on my body somewhere," he teased. Of course, "Peaches," which is featured on Justice, is actually an ode to his wife, Hailey Bieber. While his fans loved the artwork and waxed lyrical about it in the comments section, his mom had concerns of her own.
What Pattie Mallette, Justin Bieber's mom, really thinks about his tattoos
Mike Rosenthal/Getty Images
Justin Bieber was raised by a single mom, Pattie Mallette, and they've always had a tight relationship. In fact, he even has at least two tattoos honoring his mother. But that doesn't mean mom approves of all her son's inks. The 45-year-old also responded to her son's Instagram share with a typical mom one-liner. "Don't you have enough yet?" Mallette asked before adding a weary-face emoji. It seems as if Bieber's mother just doesn't get why he continues to collect tats. Maybe she doesn't get that he may have been trying to be romantic.
Bieber may have some explaining to do because this is not the first time Mallette has seemingly poo-pooed his tats. When he got ink of a long-stemmed rose on his neck in September 2020, she reacted with "Why" and a crying-face emoji on his IG share, per Justin Jared Jr. 
But Mallette should find comfort because Bieba Baby has set some limits when it comes to inking himself. As he told SiriusXM Hits 1, "I promised myself, like, I didn't want to get tattoos on my hands... Something about just being able to wear a suit and not having tattoos on my hands, I don't know," he explained. Don't worry mom, you've got that promise in black-and-white!