The Movie Demi Lovato Credits For Her 'Sexual Awakening'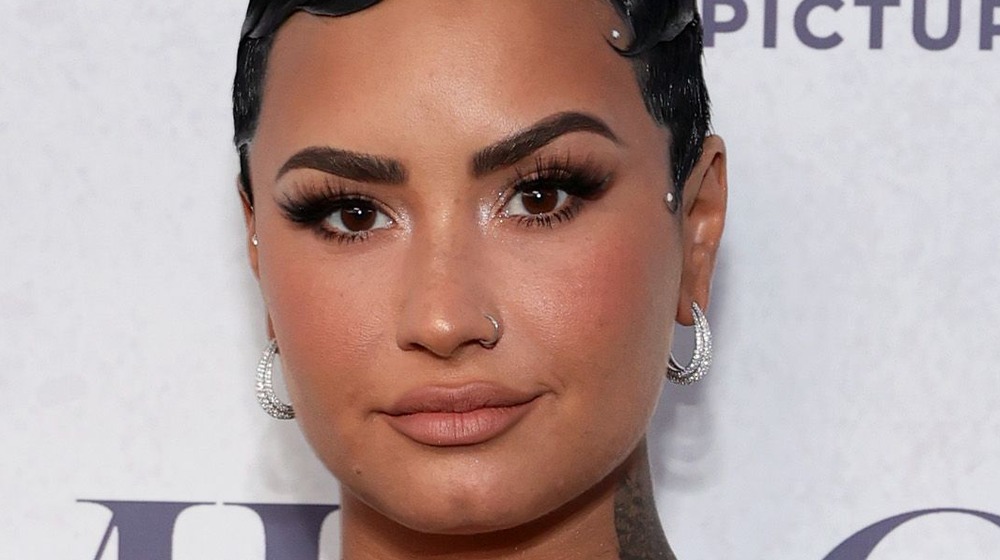 Rich Fury/Getty Images
While some of us dream of recreating our favorite saucy movie scene or cute kiss — Demi Lovato says one film was a source of sexual enlightenment for her. Lovato, who was briefly engaged to actor Max Ehrich in 2020, recently opened up about her sexuality during a March 2021 episode of The Joe Rogan Experience.
The singer has been doing the press rounds ahead of her Dancing with the Devil... the Art of Starting Over release, revealing tidbits about what fans can expect from her seventh studio album. Lovato told Rogan she now identifies as pansexual as she's attracted to both and women and "anything" in between, per People. "I'm so fluid now, and a part of the reason why I am so fluid is because I was, like, super closeted off," she said.
Lovato said she previously felt ashamed about her sexuality, but is now "proud" of who she is and what she stands for. "I heard someone call the LGBTQIA+ community the alphabet mafia," she recalled to Rogan. "That's it! That's what I'm going with. I'm part of the alphabet mafia and proud."
The "Anyone" singer explained she had a Southern religious upbringing — so any intimate feelings she had toward women weren't processed — but that didn't stop her from discovering what she liked. Lovato said after watching the 1999 teen romantic drama Cruel Intentions, she gained a sense of "sexual awakening."
Demi Lovato said the infamous kiss scene in 'Cruel Intentions' sparked her sexuality
Demi Lovato told Joe Rogan during his podcast that she knew she was attracted to women, even as a child, after watching Cruel Intentions. The 1999 cult teen drama sees step-siblings Sebastian (Ryan Phillippe) and Kathryn (Sarah Michelle Gellar) make a bet on whether Sebastian could seduce the headmaster's innocent daughter Annette (Reese Witherspoon).
While the film is fairly provocative throughout, the particular scene that inspired Lovato's sexuality was between Gellar and Selma Blair, which sees the pair steamily practice "first base" — in other words, make out. In June 2020, Gellar and Blair recreated the infamous kiss on Instagram. "I was like, 'Oh, I like that,'" the singer recalled to Rogan. "But I felt a lot of shame because growing up in Texas as a Christian, that's very frowned upon," per People.
Lovato was engaged to Max Ehrich for just two months in 2020 before breaking up in September. They were together for a total of six months. She told Entertainment Weekly the engagement gave her a "false sense of security," and it wasn't until after they called it quits that she realized she was "too gay to marry a man right now."
But Lovato doesn't have any regrets, telling Glamour the short-lived engagement was a "huge sign." She said, "I thought I was going to spend my life with someone. Now that I wasn't going to, I felt this sense of relief that I could live my truth."