Khloe Kardashian Reveals Her Favorite Trait She Inherited From Kris Jenner
Kevin Mazur/Getty Images
Khloe Kardashian and her famous siblings all appear to be the perfect combinations of their respective parents. For example, Khloe along with her sisters Kim Kardashian and Kourtney Kardashian, and their brother Rob Kardashian are a blend of their mom, Kris Jenner, and their late father, Robert Kardashian Sr. Meanwhile, Khloe's half-sisters, Kendall Jenner and Kylie Jenner have striking features that resemble both of their parents, Kris Jenner and Caitlyn Jenner. 
As the Keeping Up With the Kardashians stars get older, they are noticing that their looks are changing, and Khloe feels like she is constantly being told that she looks more like her mom. "It's so funny. The older I get, the more everyone tells me I look more like my mom," she told People magazine. Khloe is included in the outlet's 2021 "Beautiful Issue." In her interview, she talked about the one thing that she knows that she inherited from her mom, and admits that, while it once bothered her, she has grown to embrace it. Keep reading to find out what part of Khloe's body she feels is just like her mom's!
Khloe Kardashian credits her mom Kris Jenner for her cheeks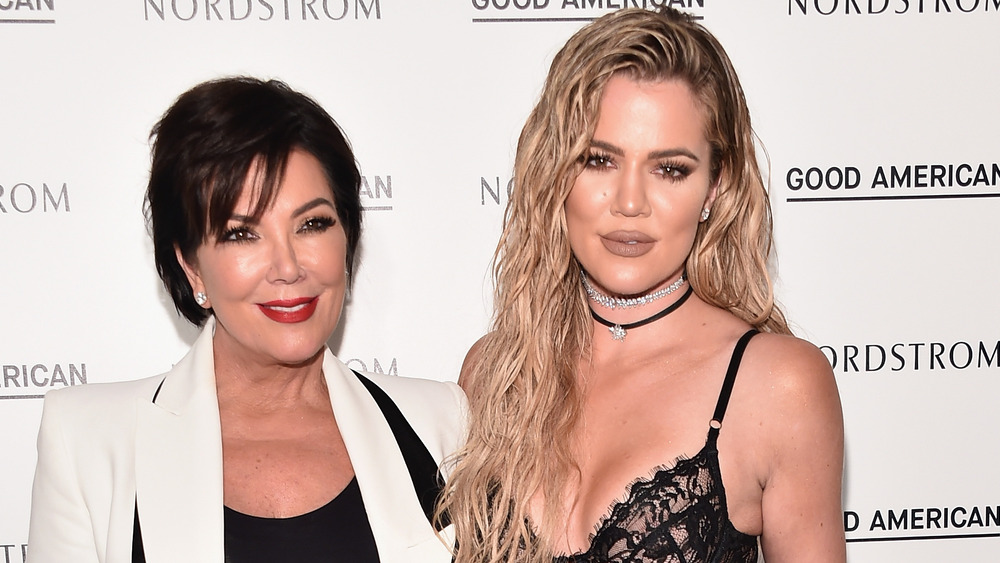 Alberto E. Rodriguez/Getty Images
Khloe Kardashian told People that she and her mom are being compared more and more as she gets older. The Good American cofounder loves when people tell her that she looks like her mom, and she takes it as a major compliment. But there is one feature in particular that Khloe is really proud of: her cheeks! "I didn't realize how much she and I have the exact same cheeks — I have really big cheeks! When we smile, we kind of have these big balls," Khloe told the outlet. She added that she used to get made fun of for having "chubby cheeks," but her face has since thinned out — and now she's thrilled with how her cheeks look. 
Khloe has been accused of having plastic surgery on her face on more than one occasion. In fact, in November 2020, Insider published an article in which a plastic surgeon commented on Khloe's face. The article suggested that Khloe had work done to her cheeks and her chin. However, Khloe maintains that her cheeks are hereditary. "Everyone's like, 'Are your cheeks real? People pay for those cheeks.' I've always been told that as a kid. I was like, 'Why would people pay for these big cheeks?'" Khloe said. "I love them," she added.