The Real Meaning Behind Demi Lovato's 'Anyone'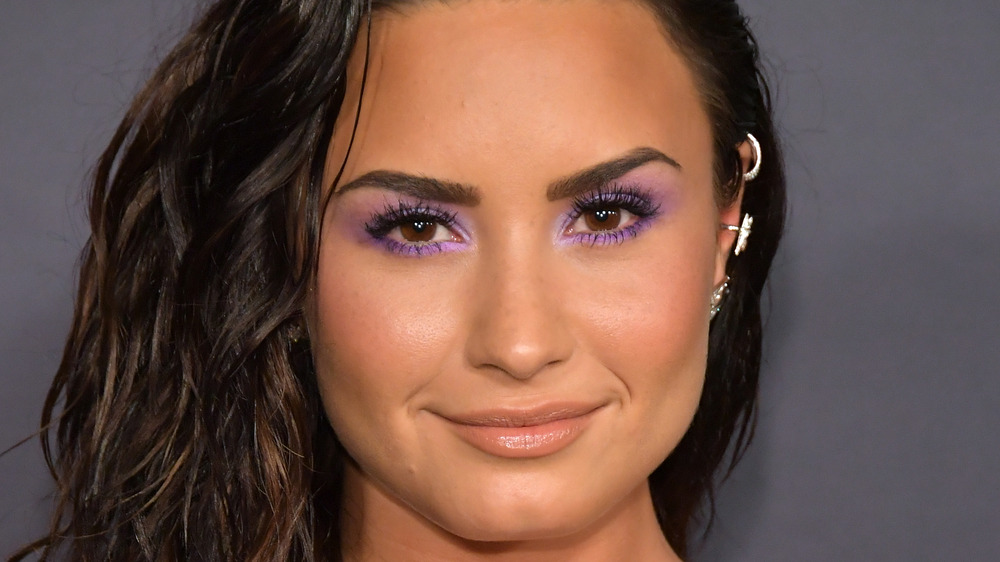 Neilson Barnard/Getty Images
The following article includes mentions of drug abuse.
Demi Lovato has done it again, this time with the drop of her album Dancing With the Devil ... The Art of Starting Over, which debuted on April 2, 2021. The project was an immense one, as it didn't just include an album but a four-part docuseries called Dancing With the Devil, which hit YouTube on March 23, 2021, per Vulture.
The overarching theme of this period of Lovato's work deals with addiction and looks back on her near-fatal overdose in 2018. Lovato has a powerful message about her addiction, sharing it with Entertainment Weekly on March 25, 2021. Specifically, Lovato explained why she's not holding back on this album. "If I'm painting a picture as an artist, telling my truth is so important to me," Lovato explained. "I don't censor my substance use in 'Dancing With the Devil.' I don't hold back from that, so I don't want to hold back from any other place in my authenticity, you know?"
"While I desperately hope that it doesn't trigger anybody, I also know how important it is for people that are going through those things to have an outlet to be able to listen to," Lovato said. For those wondering whether "Anyone" speaks to the theme of addiction, you've come to the right place.
Demi Lovato wrote 'Anyone' days before her hospitalization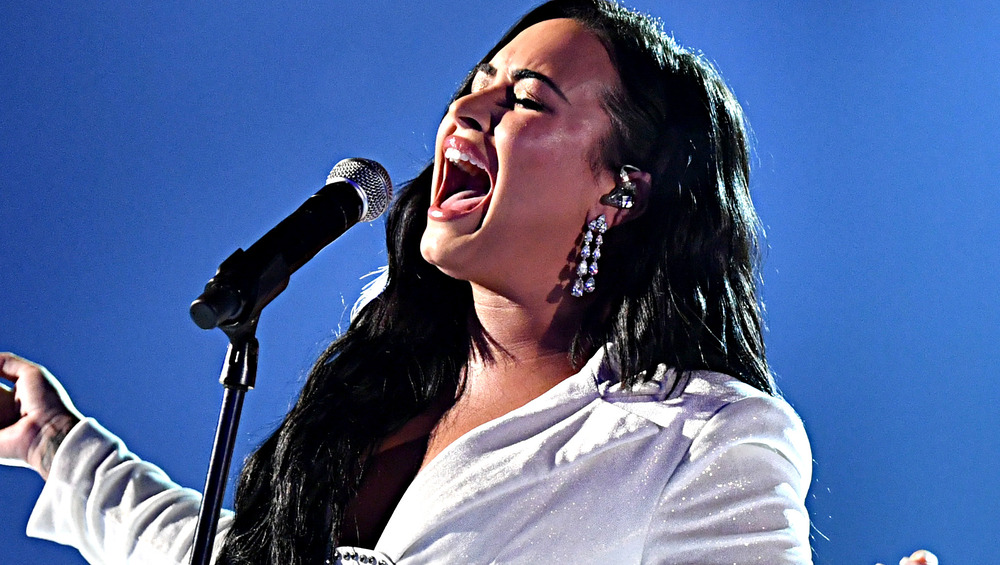 Emma Mcintyre/Getty Images
Demi Lovato's song "Anyone" is a painful track of loneliness and desperation. The opening verse is a message of fruitless conversations. "I tried to talk to my piano/ I tried to talk to my guitar/ Talked to my imagination/ Confided into alcohol... Tired of empty conversation/ 'Cause no one hears me anymore," Lovato sings, according to Genius.
Lovato goes dives deeper into a sense of isolation, singing, "I feel stupid when I sing/ Nobody's listening to me/ Nobody's listening." The chorus is, perhaps, the toughest part. "Anyone, please send me anyone/ Lord, is there anyone?/ I need someone, oh/ Anyone, please send me anyone/ Lord, is there anyone?/ I need someone." What makes the song even more heart-wrenching is that Lovato wrote the song only days before her 2018 hospitalization. Lovato spoke with Zane Lowe for Beats 1 on Jan. 24, 2020, and said, "This song was written and recorded actually very shortly before everything happened. So I recorded the vocals for it four days before. ... The lyrics took on a totally different meaning." 
She continued, "You kind of listen back to it and you kind of think, how did nobody listen to this song and think, 'Let's help this girl.'" Lovato added, "And I even listened back to it and I'm like, 'Gosh, I wish I could go back in time and help that version of myself.'" It's might not be easy listening, but it's honest.
If you or someone you know is struggling with substance abuse and mental health, please contact SAMHSA's 24-hour National Helpline at 1-800-662-HELP (4357).