The Real Meaning Behind Demi Lovato's 'Good Place'
Rich Fury/Getty Images
The following article contains mentions of drug abuse.
Demi Lovato's new album Dancing with the Devil...The Art of Starting Over dropped on April 2, 2021, and it's seriously good.
The singer is known for taking her fans inside her personal life with her music, and this album is no different. Lovato's album is the "emotionally raw" sidekick to her Dancing with the Devil documentary, which premiered on YouTube on March 23, 2021.
Lovato wanted parallels between the album and documentary. "If you listen to it track by track, if you follow the track listing, it's kind of actually like the non-official soundtrack to the documentary. Because it really does follow my life over the past couple of years," she explained, per Variety. "When we went through the track listing and kind of mapped out how it kind of coincided with my life's story, it made sense to add the more emotional stuff in the beginning and then transition into 'The Art of Starting Over.'"
Lovato's near-fatal overdose in July 2018 provided plenty of inspiration for the album. "I was left with brain damage, and I still deal with the effects of that today," she told the Associated Press. "I don't drive a car because I have blind spots in my vision." She continued, saying the aftershocks "are still there to remind me of what could happen if I ever get into a dark place again."
Of all the tracks on the album, we will definitely have "Good Place" on repeat until further notice. Let's take a deep dive into the meaning of the lyrics.
Demi Lovato goes deep in 'Good Place'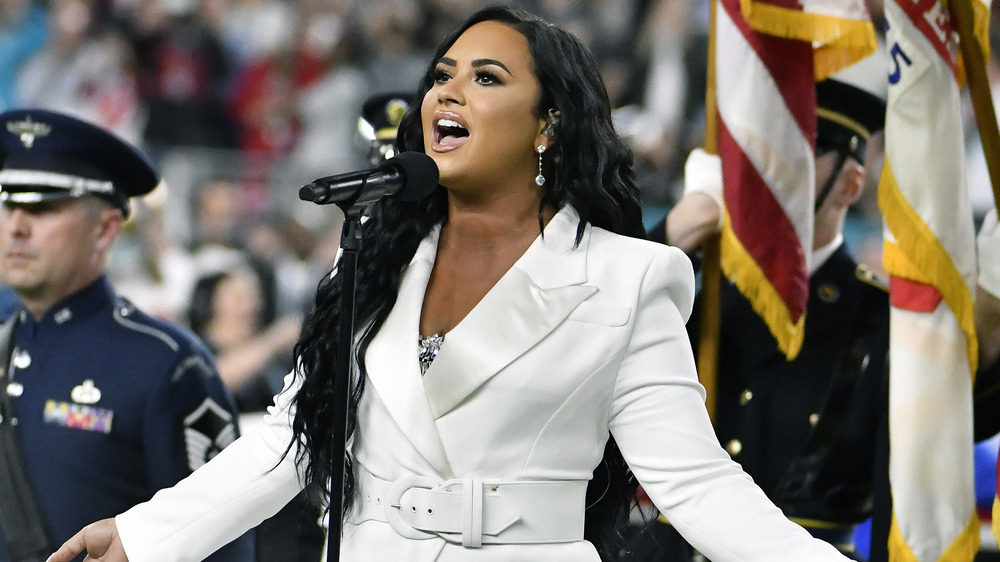 Focus On Sport/Getty Images
"Good Place" is the last track on Demi Lovato's new album. She jumps right into her journey and how she's come out stronger as she sings, "I've been called an emotional disaster / By myself and by so many others after / I had trials and tribulations mastered / Tune it out with a little bit of paint and plaster," per Genius.
She once "chose drugs over love," but after taking a hard look at herself and turning her life around, it's clear the singer is better than ever. "Now I'm in a good place / Took a while to feel this way / No longer have to save face / Reconciled with okay / And with a whole lot of work / whole lot of hurt / whole lot of grace / Now I'm in a good place."
Lovato is elated that her struggles are in the rearview mirror, but she has no regrets. "Everything had to happen in order for me to learn the lessons that I learned," she told the Associated Press. "I look back and sometimes I get sad when I think of the pain that I had to endure to overcome what I have. I'm so proud of the person that I am today. One of the main reasons I'm coming forward is so I never have to live that life again."
Fans are so happy to see Lovato thriving. One fan tweeted, "THANK U SO MUCH FOR THIS MASTERPIECE," and another wrote, "ALBUM OF THE YEAR." Their excitement is so real, and we are here for it!
If you or someone you know is struggling with substance abuse and mental health, please contact SAMHSA's 24-hour National Helpline at 1-800-662-HELP (4357).