Jamie Chung's SAG Awards Outfit Made A Strong Statement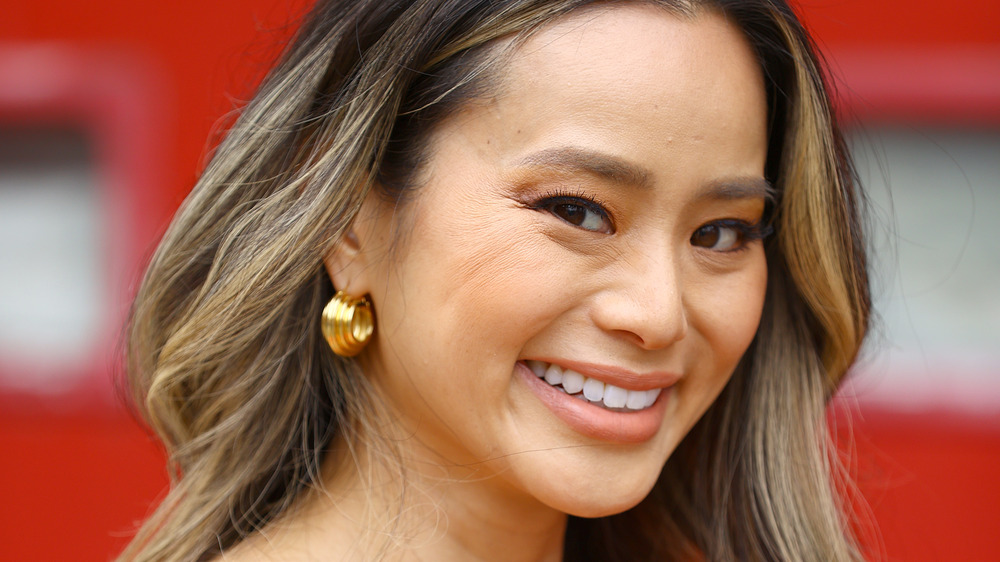 Dimitrios Kambouris/Getty Images
There's nothing more daring than wearing red on the red carpet — but Jamie Chung made more than just a fashion statement at the 2021 SAG Awards. The actor opted to wear the fiery color from head to toe for the annual award show's first virtual red carpet. The Lovecraft Country star sported a figure-hugging Oscar de la Renta gown, which featured a plunging neckline and ruffled sleeves that resembled a bed of roses. She paired the dress with strappy heels and natural hair and makeup. Yet, while the outfit was playful and pretty, it was Chung's crimson clutch bag that really got people talking.
Chung's custom Edie Parker purse carried more than just her lipstick, as it also held a powerful political message of "Stop Asian Hate." The purse was emblazoned with the trending phrase written across the front in capital letters. Chung explained her look on Instagram just hours before the event kicked off, telling fans how "proud" she is of her Korean culture following a rise of COVID-related hate crimes against Asian Americans, per BBC. The United Nations issued a report in August 2020 that revealed "an alarming level" of attacks against the Asian community in the U.S. in the past year and Chung used her platform to speak out against this unprecedented wave of crimes.
Jamie Chung wore red as a nod to her Korean heritage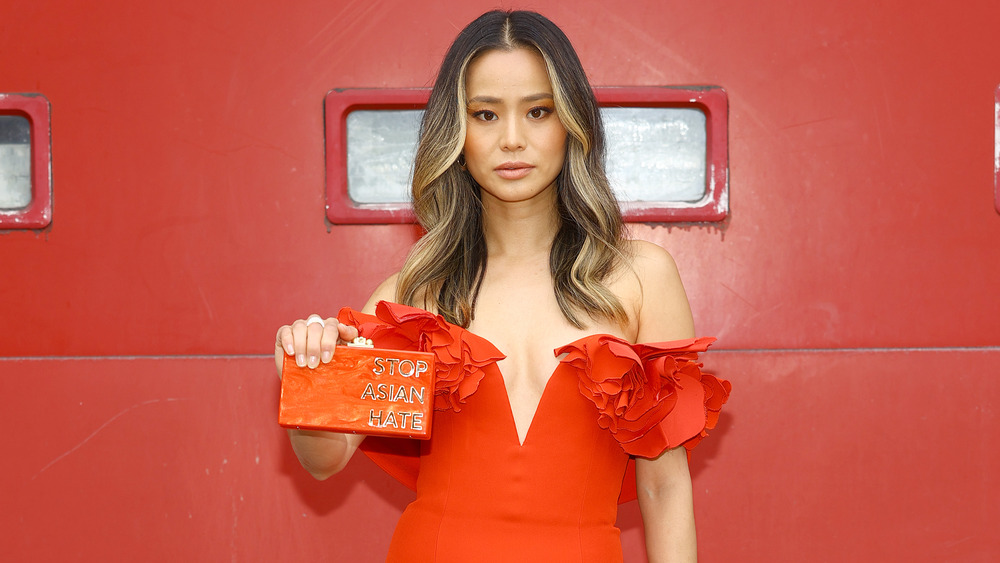 Dimitrios Kambouris/Getty Images
Both bold and beautiful, the San Francisco native paid homage to her Korean heritage when she wore all red at the 2021 SAG Awards. Jamie Chung gave insight into her outfit choice on Instagram, writing that, in Korea, the color symbolizes "creation, passion and power." Chung added, "In some Asian cultures, the color red symbolizes joy, luck and happiness. In Korean culture it symbolizes creation, passion and power. I'm so proud of my history and heritage." Chung's caption was accompanied by a collage of pictures of her standing in front of fire trucks and red walls.
The actor, who was nominated for her work in HBO's Lovecraft Country, has previously voiced her concerns for the Asian community amid a rise of racially motivated attacks. Following the horrific Atlanta spa shooting on March 16, 2021, which saw six Asian women killed by a white male, Chung tweeted: "Targeted, hunted down, 8 murdered. We do not feel safe. #StopAsianHate." Chung also opened up to PopSugar, imploring more Asian Americans to speak up despite a deeply embedded cultural mindset of keeping "quiet" to end the hateful cycle of discrimination. Chung said, "We're so conditioned to ... keep our heads down, not complain, not say anything or make waves. But you need to speak up. If someone has experienced violence plainly because they are Asian American, which is f**king terrifying, say something. Report it, make noise, tell other people."

If you or a loved one has experienced a hate crime, contact the VictimConnect Hotline by phone at 1-855-4-VICTIM or by chat for more information or assistance in locating services to help. If you or a loved one are in immediate danger, call 9-1-1.