Brooks Koepka's Net Worth: The Golfer Is Worth More Than You Think
Sam Greenwood/Getty Images
Golfer Brooks Koepka is relatively new to the American golf scene. Sportscasting claims no one had really heard of Koepka five years ago, but he is now one of the most promising new faces in the sport. Born in West Palm Beach, Fla., Koepka attended Florida State University, where he led the men's golf team and was even named the Atlantic Coast Conference (ACC) Men's Golfer of the Year in 2012. From college, Koepka went on to become a professional golfer, where he's seen 15 major wins, according to the PGA Tour. Koepka won seven international tournament victories, and he won the Professional Golfer's Association (PGA) tour eight times, as of March 2021.
However, Koepka's champion stats may soon change with the upcoming 2021 Masters Tournament, which runs from April 8-11 at the Augusta National Golf Club in August, Ga. After suffering from a kneecap dislocation and ligament damage in early March 2021, Koepka underwent surgery on March 16. The 30-year-old golfer told ESPN that he was hitting golf balls 10 days after surgery with the intent to participate in this year's Masters Tournament. "The goal was to play Augusta..." Koepka said. "If I knew I was going to finish second, I wouldn't have shown up." His his self-assurance and golfing prowess aside, how much is Koepka worth?
Brooks Koepka makes most of his money from winning... sort of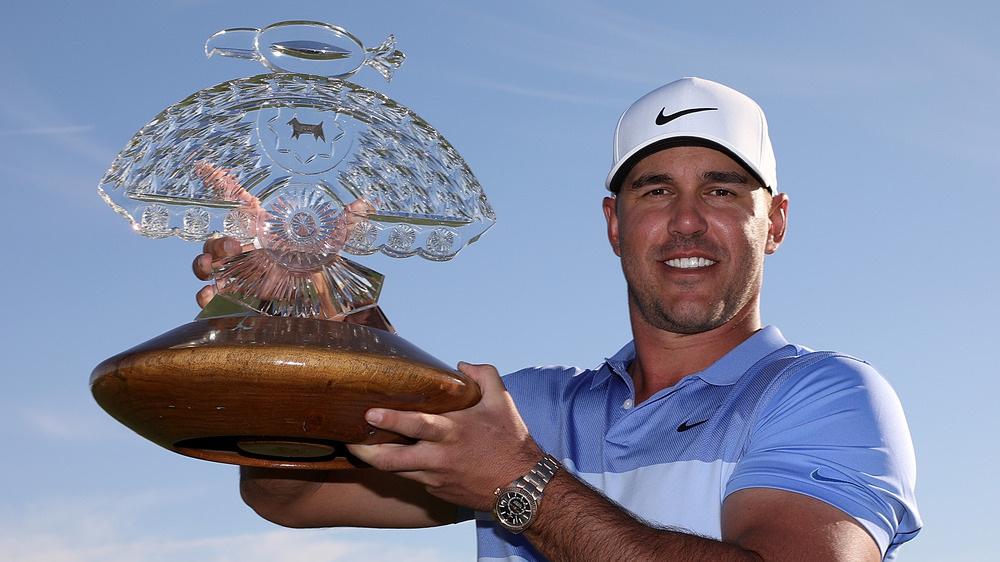 Christian Petersen/Getty Images
Brooks Koepka has won a lot of golf tournaments, and his compensation reflects that. PGA Tour reports Koepka's total career earnings to be $34,289,751, which has mostly been earned from winning championships and tournaments around the world since he entered the professional golf scene in 2012. Koepka's total net worth is estimated at $18 million, according to Celebrity Net Worth. But is Koepka's net worth calculation completely accurate? It actually might not be.
It's well-known that Koepka has endorsement deals with brands like Michelob Ultra and Nike. Fans across the globe can witness his love for the beer on social media and the golfer is always decked out in Nike gear every time he hits the green. But Koepka's earnings from those deals have not been disclosed. Why? Blake Smith, Koepka's agent, wants it that way. The sports agent insisted to The Palm Beach Post that Koepka was "one of the most highly compensated golfers in the world," but Smith's strategy is to keep his client's earnings private. This is supposedly why Koepka has not made Forbes' list of the world's highest paid athletes, unlike Koepka's professional golf colleagues Tiger Woods and Phil Mickelson, who both have earnings upwards of $90 million. Whether Koepka and his agent tell the public or not, he's making serious bank either way.