What Prince William Allegedly Accused Prince Harry Of
Richard Stonehouse/Getty Images
Prince William and Prince Harry are reportedly still at odds following Harry and Meghan Markle's viral interview with Oprah Winfrey that aired on March 7, 2021. In that interview, Harry told Oprah that his relationship with his only brother was simply "space" (via CBS). And while Harry admitted he will always love William, he also said that the two are just on "different paths." In the weeks after the interview aired, Harry has talked to William, however things haven't gone swimmingly, to say the least. This was revealed by Oprah's friend Gayle King on the March 16, 2021, episode of CBS This Morning. Gayle shared that she had spoken to Harry and Meghan and that the conversations that Harry had with his family were "not productive."
Flash forward a few weeks, and an insider echoed Gayle's comments, telling Us Weekly that "the conversation Harry and William had after the big interview didn't end well." The source also told the outlet that Harry and William have not seen one another in more than a year. However, there's apparently even more going on behind-the-scenes than the public is privy to. Keep reading to find out what William allegedly accused his brother of doing.
Prince William allegedly thinks Prince Harry put fame before family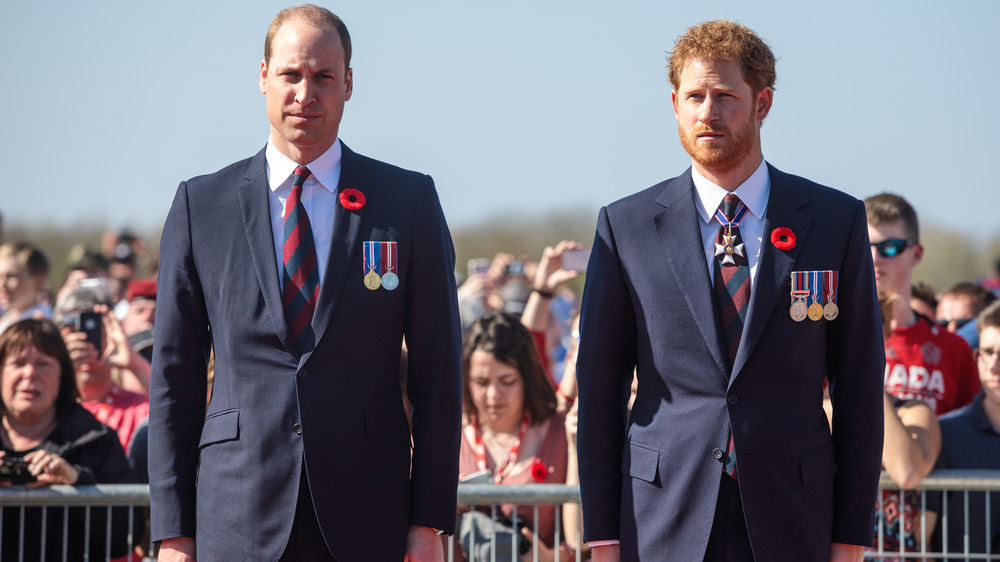 Jack Taylor/Getty Images
It's no surprise that Prince William isn't happy after hearing the claims that Prince Harry and Meghan Markle made during their interview with Oprah Winfrey. However, a source told Us Weekly that William feels as though his brother "has gotten too big for his boots since moving to California — that success and Hollywood have gone to his head." The source went on to say that William has "accused [Harry] of putting fame over family after the big interview."
Meanwhile, William and Harry are expected to reunite in July 2021 for the unveiling of a statue of their late mother, Princess Diana, according to the Telegraph. The new sculpture is set to be erected in the garden at Kensington Palace on what would have been Diana's 60th birthday. The two brothers have not confirmed whether they will both be in attendance for the event, though that was previously thought to be the plan. However, there are a couple of reasons that Harry may not make the trip across the pond in July, according to CheatSheet. The main reason is that Harry and Meghan are expecting their second child this summer, perhaps around the same time that Harry would need to travel. Additionally, if William has expressed his feelings about Harry putting fame before family, the growing rift between the two brothers may keep Harry from traveling, no matter how special the occasion may be.