This Aaron Rodgers Moment Sealed The Deal For Jeopardy! Fans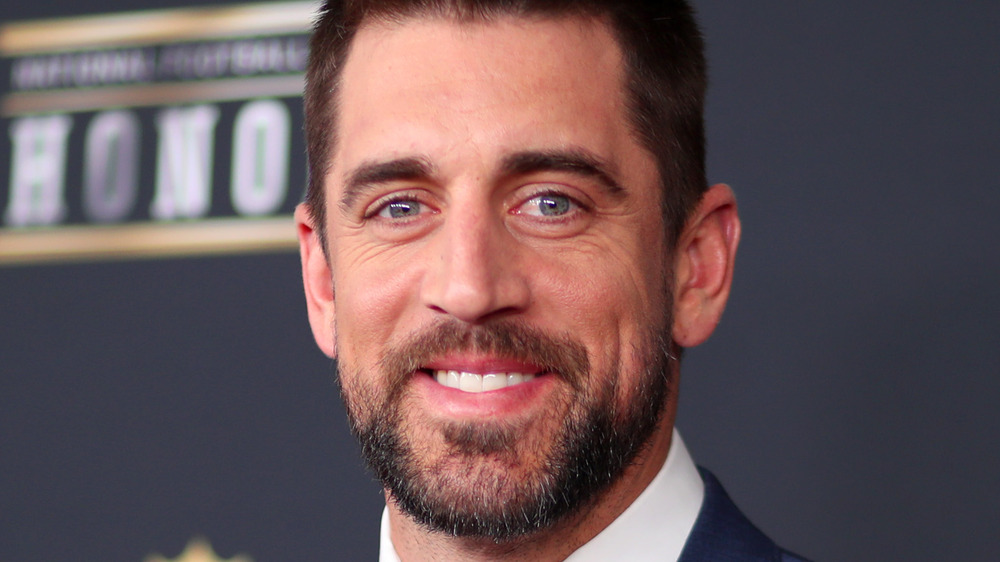 Christopher Polk/Getty Images
Fans are going crazy for NFL quarterback Aaron Rodgers' new temp gig. He's filling in as guest host of Jeopardy! in the wake of Alex Trebek's death. His stint started on Monday, April 5, 2021, and he's already pretty good at it, which, well, it just doesn't seem fair. He's one of the best quarterbacks in the NFL, he's handsome, he's pretty smart — he did go to UC Berkeley after all — and he was the winner of Celebrity Jeopardy! beating out former astronaut and current U.S. Senator Mark Kelly and Shark Tank's Kevin "Mr. Wonderful" O'Leary. Oh, and Rodgers also recently got engaged to actor Shailene Woodley. The guy truly has it all.
Rodgers has hinted that he'd like to be the full-time host of Jeopardy!, as reported by the Wall Street Journal, and the fans are all here for that after he dropped a semi-obscure reference to the popular Saturday Night Live parody skit of Jeopardy!. 
During an interview with The Ringer, Rodgers hinted at this, saying he planned to make his interactions with the contestants more fun. He said: "The set producer will highlight questions that they've prompted them on. But a lot of times when I read the fun facts I thought there was something way more interesting. And maybe it's just more interesting to me, but that's where I would go. I'd say, "Hey [redacted], I'm going to talk about you and Burt Reynolds," just to give them a little heads up ..."
Aaron Rodgers dropped a reference to "Turd Ferguson"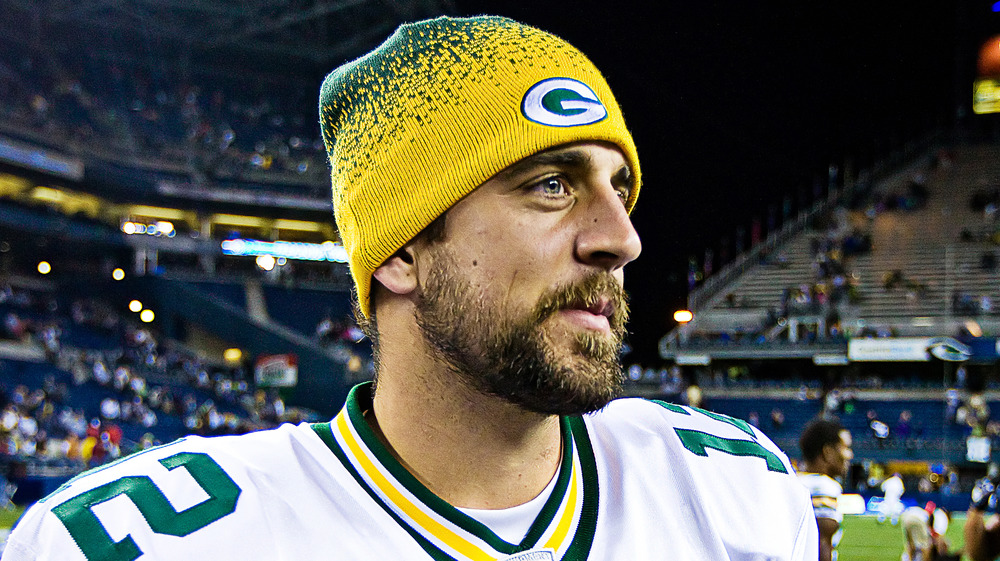 Shutterstock
On his second night hosting Jeopardy!, Aaron Rodgers dropped a reference to "Turd Ferguson," a character on the SNL Jeopardy! sketch featuring Norm Macdonald as "Burt Reynolds." Decider reported that during the interview with returning champ Brandon Deutsch on April 6, 2021, Rodgers said,"It says here when you were 4 months old Burt Reynolds — or was it Turd Ferguson — was holding you at some point?"
Dictionary.com clarifies the "Turd Ferguson" reference dates back to a 1999 episode of Saturday Night Live with Will Ferrell playing Alex Trebek and Macdonald portraying Reynolds. In the sketch, Trebek notices that Reynolds changed the name on his podium to Turd Ferguson. Macdonald said, "Yeah, that's right. Turd Ferguson. It's a funny name."
Later, Rodgers took to Twitter to post a video of Macdonald as Reynolds and captioned it, "It's a funny name." Macdonald retweeted Rodgers' shout-out and replied, "hahaha."
This wasn't the first time Rodgers used the "Turd Ferguson" reference on Jeopardy!. When he was in rehearsals for Celebrity Jeopardy! in 2015, Rodgers answered "Who is Turd Ferguson." After Rodgers won, he tweeted, "Had a blast on @Jeopardy checking off another bucket list item. Should have said turd ferguson on final jeopardy though."
As for former champ Deutsche, it turns out he sat next to Reynolds on a flight when he was an infant.
This incident sealed the deal for Jeopardy! fans. They started calling for Rodgers to be named the host, according to Yahoo.
Can Aaron Rodgers pull off a full-time NFL career and hosting Jeopardy?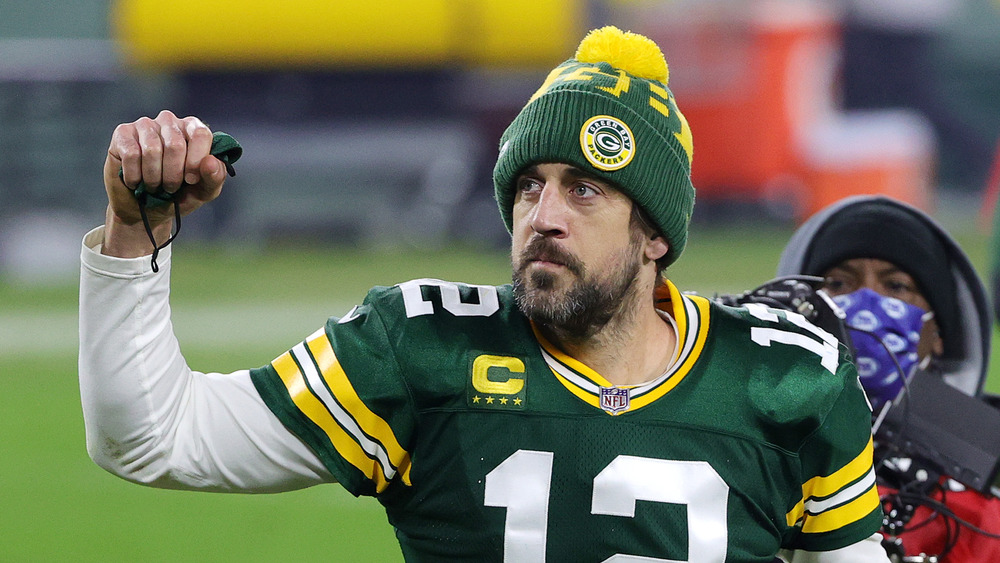 Stacy Revere/Getty Images
Hold onto your cheese hats, Packers fans, because your quarterback has his eyes set on another job: host of Jeopardy!, according to The Ringer.
During an appearance on Pat McAfee's show, he said "I would love to be the host of Jeopardy!, yes," as the Wall Street Journal reported. He went on to say, "I don't think I'd need to give up football to do it. They film 46 days a year. I worked 187 this year in Green Bay. That gives me ...178 days to do Jeopardy! So I feel like I could fit 46 into that 178 and make it work. It would be a dream job for sure, and I'm not shy at all about saying I want the job."
Jeopardy! viewers are also stoked about Rodgers' guest-hosting gig and plenty of them seem to be willing to accept him as the full-time host. One viewer claimed they're suddenly a "HUGE Jeopardy fan," confirming the power Rodgers holds. Another said they'd just picked up watching the show since Trebek's death and thought Rodgers did a good job. Yet another fan joked that if Rodgers doesn't take over full time, the show might go down the toilet — complete with toilet emoji. Plenty of other fans simply cheered on Rodgers as he settled into the show.
As of this writing, there's no word on who will get the full-time job, so we'll just have to wait to see what happens.