Whatever Happened To Richard Ramirez's Wife, Doreen Lioy?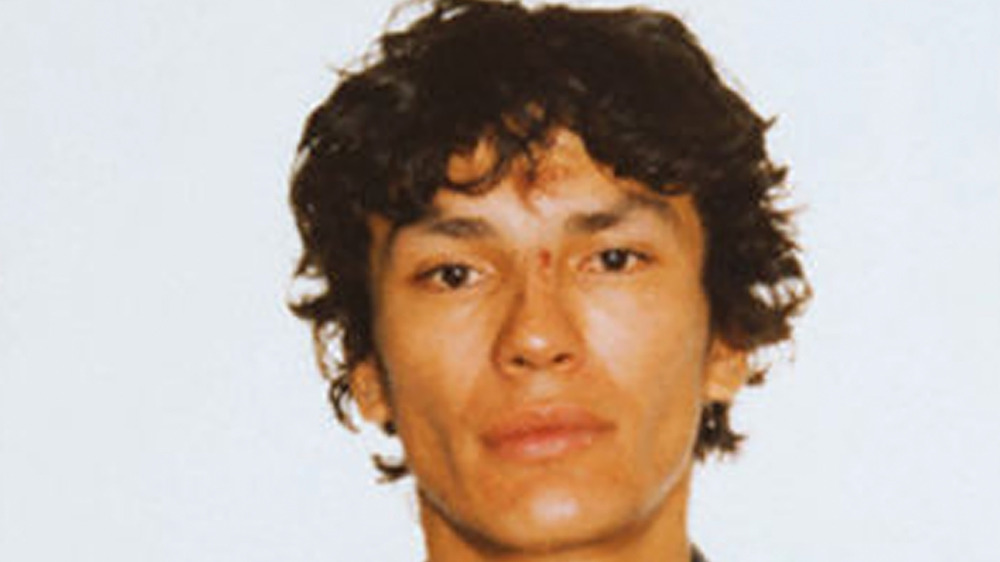 Michael Ochs Archives/Getty Images
Apparently, serial killers need love too. Richard Ramirez, infamously dubbed the "Night Stalker," and his wife Doreen Lioy have an unconventional love story. Per Marie Claire, the lovers got married in 1996 while Ramirez was living on death row in California's San Quentin State Prison after being convicted for a string of cases, including murders, sexual assaults, robberies, and more throughout Los Angeles and San Francisco in 1985.
Lioy began her relationship with Ramirez in 1985, per the San Francisco Gate. She wrote several letters to him while he was incarcerated and awaiting trial. Initially, as told by a Los Angeles Times reporter, Lioy reportedly visited Ramirez four times a week as their relationship progressed. Lioy was also disowned by her family for her relationship.
Ramirez proposed to Lioy in 1988, and the two wed six years later, which the latter told the San Francisco Examiner at the time. As reported by the publication, Lioy reportedly wore a short, white dress and gave him a platinum band. Lioy and Ramirez's marriage sparked outrage among the masses, despite the couple severing ties over a decade later. Four years later, Ramirez died of liver disease in June 2013 due to complications with B-cell Lymphoma, per El Paso Times. Keep scrolling to find out what happened to Doreen Lioy after Ramirez's death.
Doreen Lioy believed that Richard Ramirez was innocent
It's not every day that a person falls in love with a serial killer, but for Doreen Lioy, that was her reality. Lioy's admiration of Ramirez was puzzling to her family members and the media, but she saw a different side of the "Night Stalker." The former teen magazine editor told CNN in 1997, "He's kind, he's funny, he's charming. I think he's really a great person. He's my best friend; he's my buddy." As far as her opinion on her husband's crimes, Lioy had an unwavering belief in his innocence. "I just believe in him completely," she added. "In my opinion, there was far more evidence to convict O.J. Simpson, and we all know how that turned out." Despite admitting that her marriage to Ramirez was a "lonely lifestyle" due to her inability to start a family with him — since death row inmates aren't allowed conjugal visits — she was content as long as she could do one thing: "[be] with Richard."
This is why Doreen Lioy and Richard Ramirez allegedly separated
Marriages have their ups and downs — however, Doreen Lioy and Ramirez's eyebrow raising marriage was doomed from the very start. As mentioned above, the couple tied the knot while Ramirez was pending trial. Unfortunately, Lioy and Ramirez's romance reportedly fizzled out in 2009, per Marie Claire. At the time, DNA evidence linked Ramirez to the 1984 rape and murder of 9-year-old Mei Leung, which happened before he went on a killing spree as the "Night Stalker." It is believed that the evidence was an active factor in why Lioy parted ways from Ramirez.
After reports arose that Ramirez was Leung's murderer, Lioy refused to comment on her relationship with him. However, a clue of the couple's alleged separation came from a Daily Beast article published after Ramirez's death in 2013, which claims that his body wasn't claimed until weeks after. Per a spokesperson for the San Quentin State Prison, Ramirez did not allow any visits within his final years. 
Since Ramirez's death, Lioy has successfully stayed out of the public eye. She hasn't released a statement about his death, and her whereabouts are unknown, as of this writing. The only recent mention of her is in her father's 2019 obituary, in which she is listed as Doreen Ramirez.