How Motherhood Has Changed Mandy Moore's Life On Set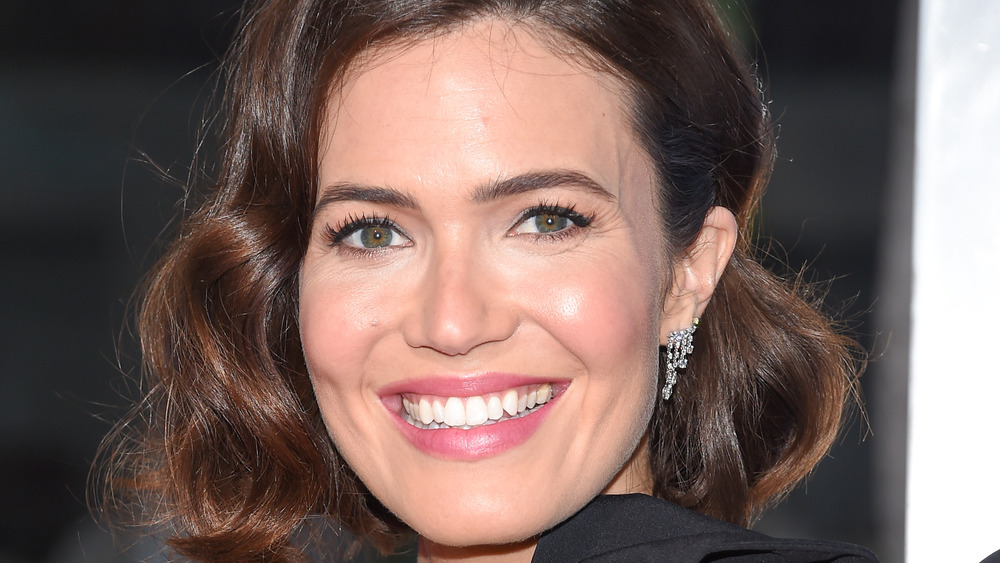 Shutterstock
Mandy Moore is a first-time mom as of Feb. 23, 2021, having welcomed son August "Gus" Harrison into the world alongside husband Taylor Goldsmith. Although new selfies show Moore already back at work, Moore's journey to working motherhood wasn't easy or smooth. 
The This Is Us star first revealed her pregnancy in a late September 2020 Instagram selfie, with Goldsmith cradling her brewing baby bump. Since, Moore had been frank about hardships she's encountered conceiving and carrying. In December 2020, the actor took to her Instagram story to ask followers also in their third trimester, "Is anyone else suddenly nauseous, exhausted, and weepy?... I feel like everything just turned on a dime," Moore captioned her video (via ET).
Although Moore's pregnancy worked out, she shared with Romper's January 2021 issue that she and Goldsmith were experiencing major fertility complications right before she found out she was pregnant with Gus. "We did ovulation tests, all that stuff," Moore disclosed, adding that she mentally prepared for conditions like endometriosis that could have affected her fertility. "I was fully prepared to go have surgery," Moore told Romper. "It was nice to have a plan and to know, Okay, well, this is why I haven't been pregnant yet."
Luckily, not only did mother and newborn both wind up healthy, but Moore has been back at work — a mere month after giving birth. Keep scrolling to find out what her recent Instagram shares reveal about her new life as an on-set mom.
Mandy Moore's life on set now comes with 'new and improved eye baggage' and more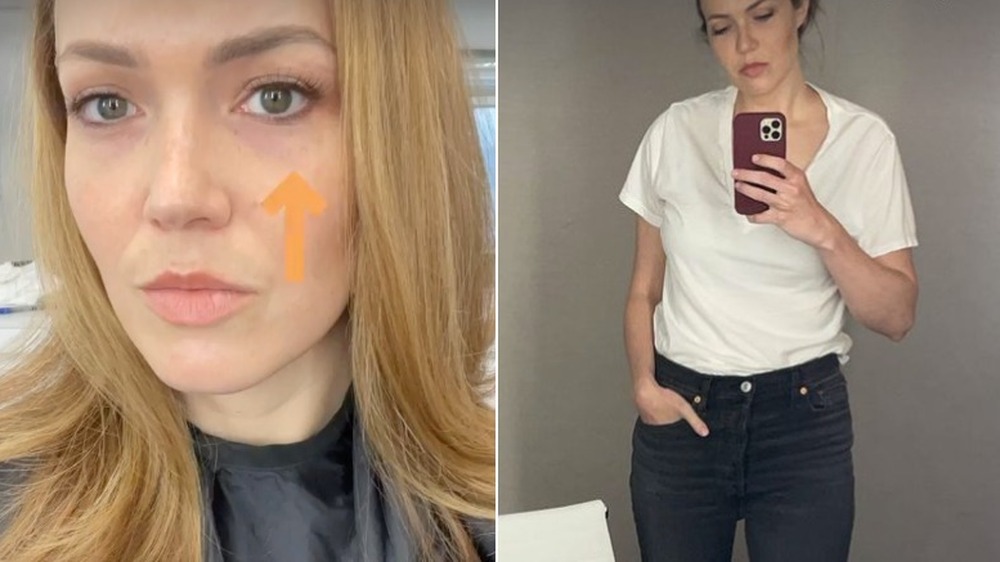 Mandy Moore/Instagram
"Mom is BACK at work!!!" read Mandy Moore's March 25, 2021 Instagram story caption (via Pop Culture), which showed her in a hair-and-makeup chair on the set of This Is Us. Not only did Moore return to working on her mega-hit family drama, she brought husband Taylor Goldsmith and their newborn son with her. While wearing her character's turtleneck sweater and skirt, Moore captioned another Instagram story, "Beck is back. So grateful to be able to ease back into this job I love so much (and to be able to bring my sweet hubby and baby with me)."
A few weeks later, on April 7, 2021, Moore once again took to her Instagram stories to show off more on-set selfies. In one, she included an orange arrow on her cheek that pointed to her "new and improved eye baggage," which fortunately "can be used at this age for Bec," she joked. Moore also shared another shot — this one complete with a breast pump and two bottles of breast milk in her dressing room — with the caption, "Things look a little different at work these days."
Things have sure come a long way for the actor and family since the newborn's first selfie just six weeks before these set-life Instagram shares. "Gus is here... He was punctual and arrived right on his due date, much to the delight of his parents," read Moore's Feb. 23 Instagram post welcoming her son.