The Real Reason Meghan Markle Won't Attend Prince Philip's Funeral
Shutterstock
The United Kingdom has been in mourning since Buckingham Palace announced Prince Philip's death on April 9, 2021. Queen Elizabeth II's 99-year-old husband, the Duke of Edinburgh, had been in the hospital recently. On April 10, the queen released a statement via The Royal Family's official Instagram account. The caption featured words from a speech she gave in 1997, reading, "He has, quite simply, been my strength and stay all these years, and I, and his whole family, and this and many other countries, owe him a debt greater than he would ever claim, or we shall ever know."
The royal family is currently in mourning and getting ready for the Duke of Edinburgh's funeral on April 17. CNN reported that the funeral will be "colorful and steeped in tradition, but low-key by royal standards" due to the ongoing COVID-19 pandemic. Prince Harry, the Duke of Sussex, and Prince Philip's grandson, currently lives in the United States and, according to People, will be heading back to the U.K. for the service. "The Duke of Sussex is planning to attend," a Buckingham Palace spokesperson said on April 10, per People. However, Prince Harry's wife, Meghan Markle, will not be attending — and here's why.
Meghan Markle won't attend Prince Philip's funeral for health reasons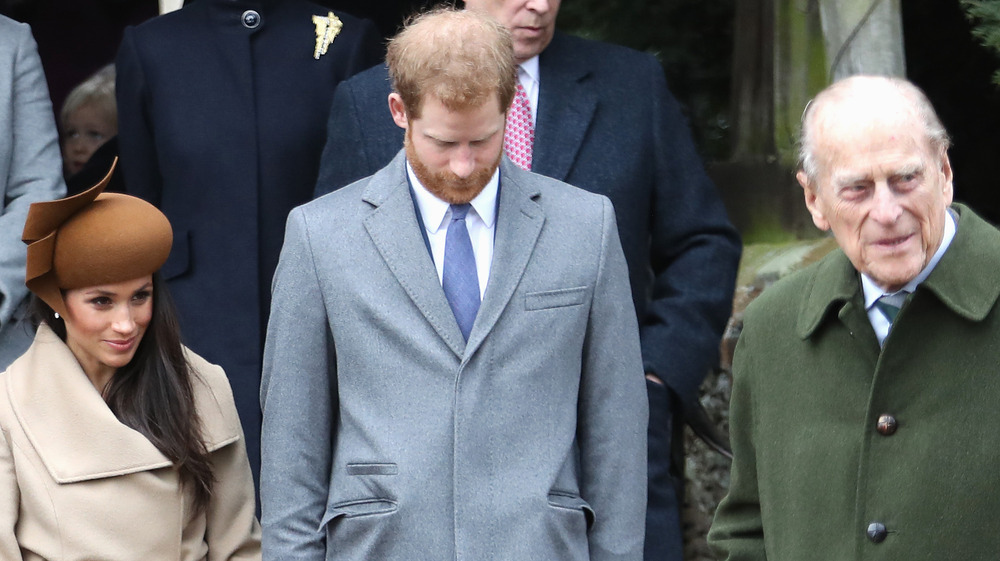 Chris Jackson/Getty Images
Despite any speculation otherwise, Meghan Markle, the Duchess of Sussex, won't be attending the late Prince Philip's funeral because she is pregnant and "has been advised by her physician not to travel," said a Buckingham Palace spokesperson on April 10, per People. Meghan and Prince Harry are expecting their second child, a baby girl, this spring.
According to CNN, Prince Philip's funeral will adhere to the U.K.'s strict COVID-19 guidelines, limiting funerals to only 30 people in attendance. People reported that attendees will mostly include the Duke of Edinburgh's immediate family. So, Meghan's absence from the funeral has nothing to do with the current tensions that had been publicly brewing between her, Prince Harry, and the rest of the British royal family in March 2021. 
Buckingham Palace started an investigation into claims that Megan, the Duchess of Sussex, allegedly mistreated staffers when the duke and duchess were senior members of the family. Since 2020, Prince Harry and Meghan have stepped back from those duties, relocated to the United States, and participated in a bombshell interview with Oprah Winfrey.
But for now, it seems like the royal family is pushing all of those tensions aside to honor Prince Philip's life.