The Real Reason J.Lo's Latest Photos Are Causing A Stir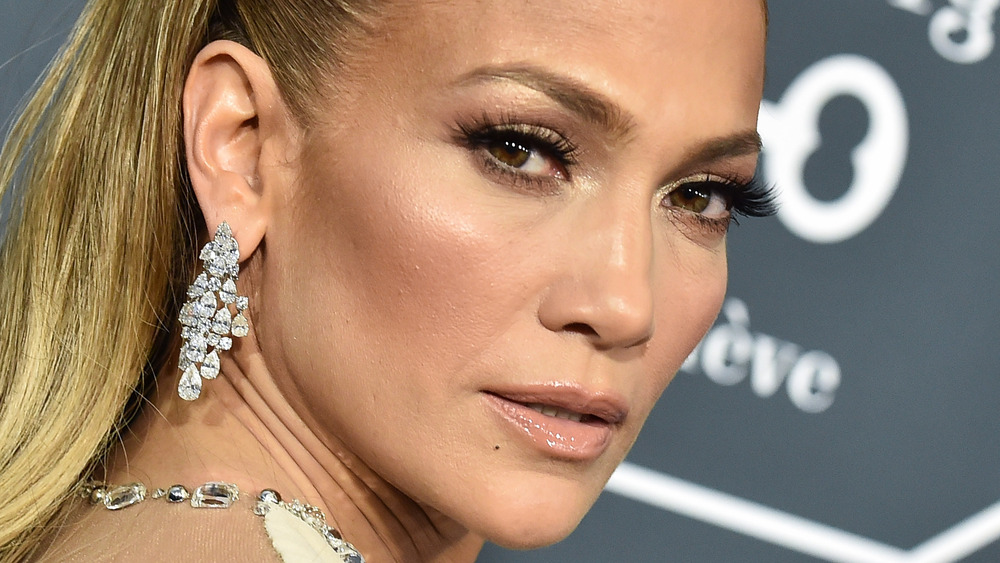 Shutterstock
Jennifer Lopez took to Instagram on April 10, 2021, to share a few new pictures of herself. In the first batch of photos, Lopez posed while sitting on some stairs. She was wearing a pair of cream-colored sweatpants, a white crop-top that looked like a sports bra, and white sneakers for the shots, in which she held a phone in her hand, and appeared to be taking selfies as the camera caught her from various angles. J-Lo wore her highlighted hair long past her shoulders, and accessorized with several pieces of jewelry, including stacked bracelets on both of her wrists and a couple of layered necklaces.
Lopez added the geotag for the Dominican Republic to the post, which makes sense since she has been in the Caribbean shooting her new film, Shotgun Wedding, for the past few weeks. "Keep calm and work on the weekend," she captioned the upload. However, there was something noticeably missing in the photos that J-Lo shared, and it's causing quite a stir. Keep reading to find out why Lopez's Instagram post really has people talking. 
Jennifer Lopez wasn't wearing her engagement ring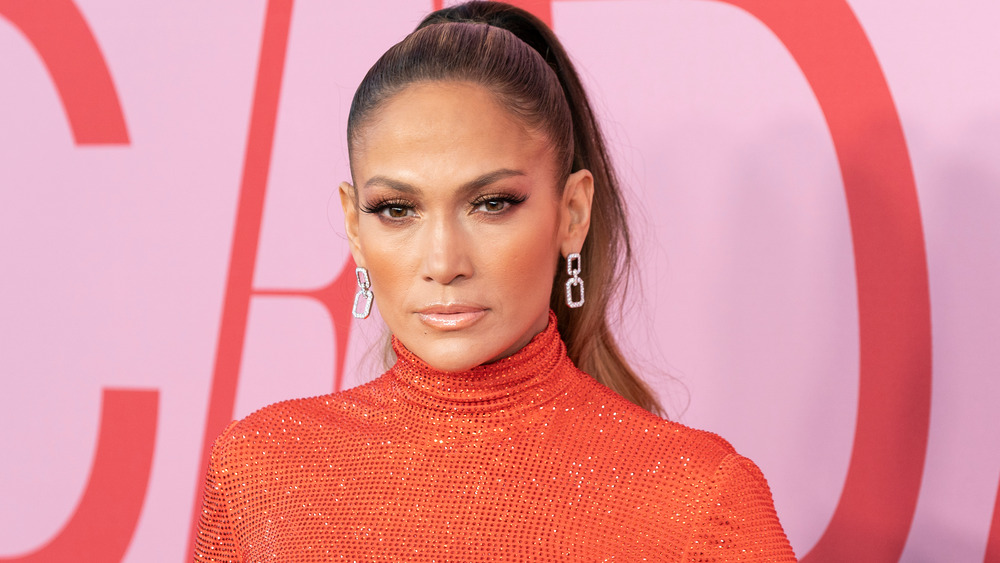 Shutterstock
While Jennifer Lopez looked decked out for her staircase photoshoot, the one thing that was missing from the shots that she posted on Instagram was her engagement ring. The "Waiting for Tonight" singer seemed to leave out the bauble, despite wearing other jewelry, including a different diamond-like ring on her right hand. According to the Daily Mail, the absence of Lopez's engagement ring has only increased the rumors that she and Alex Rodriguez have split.
In a subsequent Instagram post, Lopez shared a couple of photos that appeared to be taken after the photoshoot. She was in the backseat of a car, wearing the same outfit, and getting a little bit silly. Once again, there wasn't an engagement ring in sight. "[Peace] and [love] to my #JLovers this weekend," Lopez captioned the post. At the time of this writing, the post had more than 3.1 million likes, but the one person who didn't hit the like button? A-Rod.