Inside Charlyne Yi's Allegations Against James Franco And Seth Rogen
Presley Ann/Getty Images
An actor in The Disaster Artist has publicly denounced her former co-stars James Franco and Seth Rogen on Instagram in light of Sexual Assault Awareness Month. Charlyne Yi fired shots at the longtime friends and collaborators, calling Franco a "sexual predator" and Rogen an "enabler." Yi used her platform to share a series of explosive posts and Instagram Stories about the Hollywood heavyweights in support of women and children who Franco allegedly "preyed on" and "groomed."
In 2018, five women — four of which were Franco's students from his now-defunct acting school — accused him of being "sexually exploitative" to the Los Angeles Times. One of which claimed during a nude orgy scene, he "removed protective plastic guards covering other actress' vaginas while simulating oral sex on them." (At the time, Franco's attorney "disputed all of the women's allegations" to the Times.)
In one post, Yi explained that when quitting The Disaster Artist — which Franco also directed — she was allegedly "bribed" to stay with a bigger role. "When I tried to break legal contract & quit Disaster Artist because James Franco is a sexual predator, they tried to bribe me with a bigger acting role," she claimed. "They minimized & said Franco being a predator is so last year and that he changed... when I literally heard of him abusing new women that week."
As The Disaster Artist was released a year before the Los Angeles Times report, it's possible Yi's decision to leave the film could be related to an incident in which Franco asked a 17-year-old girl to meet up with him in a New York City hotel room, per Page Six.
Charlyne Yi said Seth Rogen should have held friend James Franco 'accountable'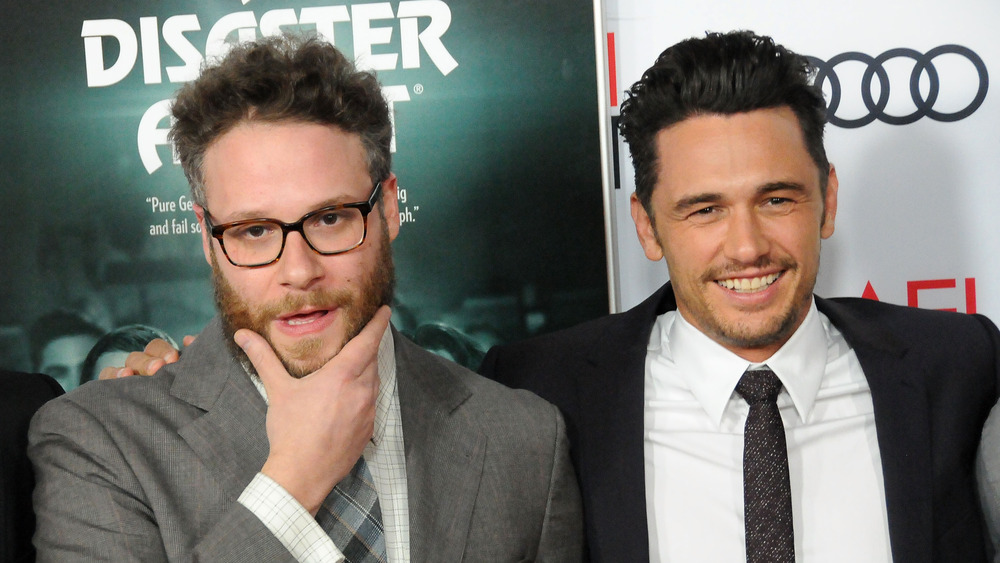 Barry King/Getty Images
Charlyne Yi, who played Seth Rogen's housemate in the 2007 comedy Knocked Up, slammed the comedian for allegedly "enabling" James Franco's sexual misconduct. Yi wrote on Instagram that, as Rogen was a producer of The Disaster Artist, he "definitely knows about the bribe and why I quit" and referred to him "normalizing" Franco's interactions with underage girls during an SNL skit.
"Enablers are just as toxic and are abusers too," she wrote. "White men saying it's not their responsibility when holding Franco accountable, or when holding Seth Rogen and enablers accountable. Then whose responsibility is it? The women who have PTSD from Franco? Or the future targets of abuse?"
Yi also recalled an incident in which one of Rogen's friends, who raises awareness about domestic abuse, asked her to share her "abuse story" as he believed "men must hold men accountable." However, when she referred him to Rogen's bystander behaviors, he ghosted her. "I asked him why he wasn't holding Seth accountable for enabling Franco, explaining their complicity is all connected. This was met with him ghosting me. That was last year. Yi concluded the post by writing: "Waiting for men (esp white men) to show up and do the work." 
If you or someone you know has been the victim of sexual assault, you can call the National Sexual Assault Hotline at 1-800-656-HOPE (4673) or visit RAINN.org for additional resources.