Why Seth Rogen Is Feuding With Ted Cruz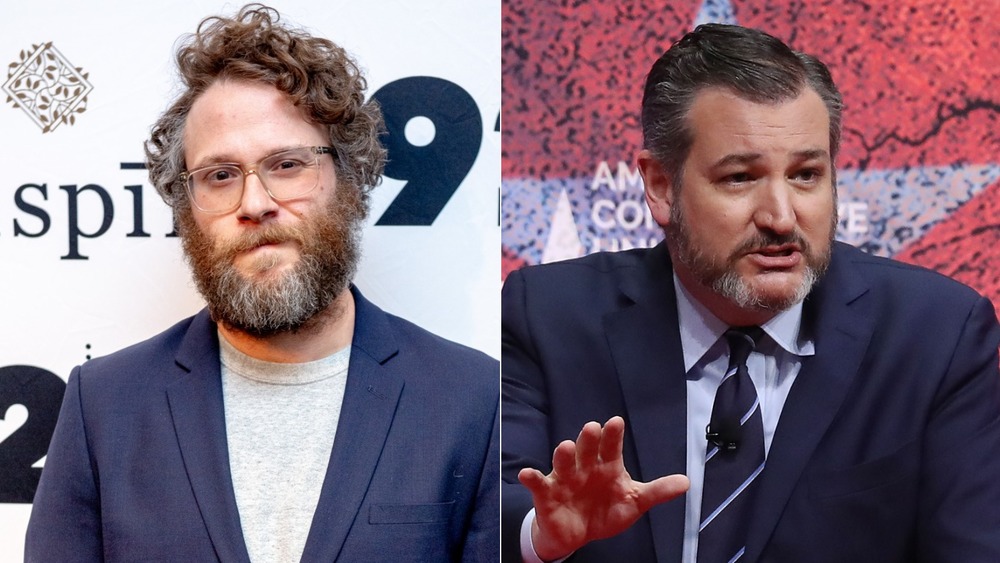 Roy Rochlin, Mark Wilson/Getty Images
The latest unlikely feud comes from comedian Seth Rogen and conservative politician Ted Cruz. Though we never imagined these two would come to blows, it makes a little more sense when you consider their vastly different political views. The feud exploded when Cruz took to Twitter to slam President Joe Biden for rejoining the Paris Climate Agreement on his first day in office. 
"By rejoining the Paris Climate Agreement, President Biden indicates he's more interested in the views of the citizens of Paris than in the jobs of the citizens of Pittsburgh. This agreement will do little to affect the climate and will harm the livelihoods of Americans," he tweeted hours after Biden's inauguration on Jan. 20, 2021. Donald Trump withdrew from the agreement in 2017, stating, "I was elected to represent the citizens of Pittsburgh, not Paris," per The New York Times. For the record, the Paris Climate Agreement aims to unite the world's nations in lowering rising temperatures due to climate change and is not intended to bring jobs to the French city. However, the name of the agreement comes from the two-week conference held in the city, in which almost 200 nations came together to fight climate change in 2015.
Noticing the flaw in Cruz's argument, many people took to Twitter to correct and/or slam his false rhetoric, including Rogen, who simply replied, "F**k off you fascist." That was far from the end of it, though. Keep scrolling for more details on Rogen and Cruz's Twitter feud.
There will be no pineapple express for Seth Rogan and Ted Cruz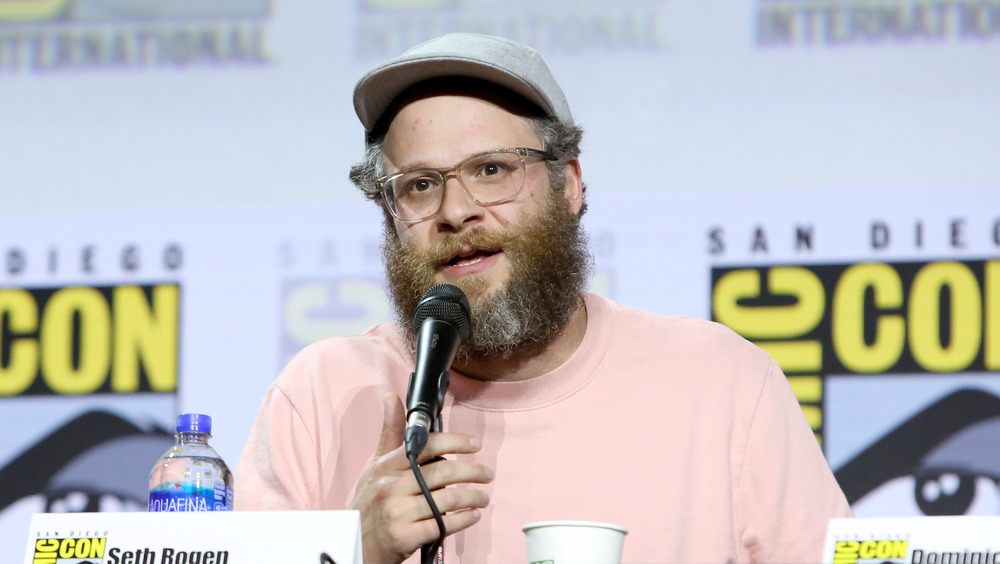 Jesse Grant/Getty Images
It looks like Ted Cruz didn't take Seth Rogen's remarks lightly. "Charming, civil, educated response. @Sethrogen If you're a rich, angry Hollywood celebrity, today's Dems are the party for you," Cruz replied, with a screenshot of Rogen's tweet. "If you're blue-collar, if you're a union member, if you work in energy or manufacturing ... not so much. #JobsMatter."
However, the argument didn't end there. "Haha get f***ed fascist," Rogen replied. "Go encourage a white supremacist insurrection again you f***ing clown." He later added, "If you're a white supremacist fascist who doesn't find it offensive when someone calls your wife ugly, Ted Cruz is the exact mother***er for you."
Following Rogen's accusations, he was slammed by the other side, with Republican strategist Blair Brandt writing, "People with opposing views are now fascists." In response, Rogen replied, "This stupid attitude might have been more effective before the GOP inspired their followers to attempt to forcibly overturn an election they know they lost by lying." 
The final blow came as Rogen retweeted a video of Pittsburgh's Allegheny County Executive Rich Fitzgerald bashing Cruz's remarks, to which he wrote, "Hey @tedcruz. Watch this and then go f******k yourself you clown. (This is way more fun now that I know he's for sure seeing my tweets)." There is no telling what will come next from these two, but it doesn't seem like making amends is coming any time soon.