Stars Protest Donald Trump's Presidency In The Big Apple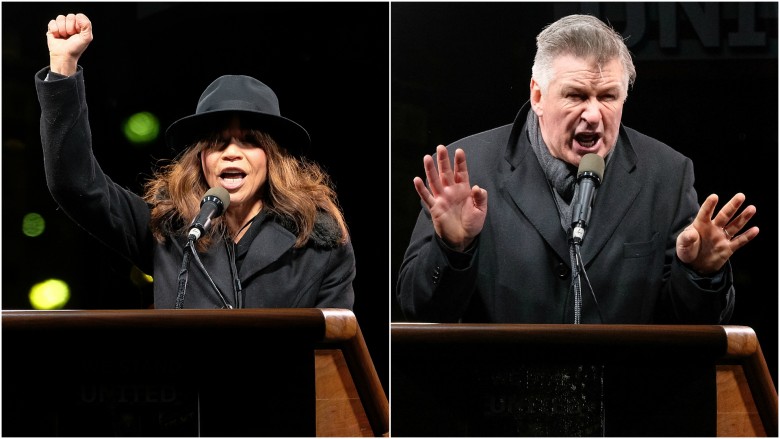 Getty Images
Stars took to the streets of New York City near Trump Tower to protest Donald Trump's inauguration as the 45th President of the United States.
Variety reported that actress Rosie Perez opened the New York event, telling her audience, "The world is watching, and we want to let them know our voices matters. [sic]" Actor Robert De Niro was up next, reciting tweets he believed Trump would write following the protest, including, "De Niro should give back his Oscar! The voting was rigged!"
Filmmaker Michael Moore told crowds in Midtown Manhattan, "As bad [as] we think it's going to be, it's going to be worse. But the good news is there's more of us than there are of them." He reportedly urged fellow protesters to call their congressional representatives and said comedy is a useful tool for angering the now-POTUS, adding, "We're all Muslim. We're all Mexican. We're all women. We're all American. Yes, and we are all queer too."
People reported that actor Alec Baldwin impersonated Trump before getting serious during his own speech to the crowd. "Donald Trump and Steve Bannon and Mike Pence and all these people that are part of the Trump Administration, they think that you are gonna lay down," Baldwin said. "The one thing they don't realize is that New Yorkers never lay down." Celebs Mark Ruffalo, Shailene Woodley, Julianne Moore, Marisa Tomei, Sally Field, Cynthia Nixon, and Cher were among other protesters at the event.
Not every celebrity is anti-Trump. Earlier this week, actor Scott Baio told Variety, "[Hollywood needs to] grow up. I was nervous for eight years with Obama. I had to suck it up and deal with it. Do the same, and maybe your country will be a better place than it was." He added, "[Trump is] a fighter, and he won't let anything slide. So many Republican nominees always feel like they want to stay above the fray, and they get maligned and crushed with negative publicity, and they don't do anything about it."
Baio even defended Trump's much-maligned Twitter habit, saying, "It got him where he is, and why not use every single tool that you have to get your agenda going? These young people out there, I hope they learn from Trump that hard work gets you what you want and what you need. It's not about going to safe spaces and wearing a safety-pin and hugging a puppy. The world is going to kick your a** when you get out of school, and you better be ready for it."