The Truth About Sylvester Stallone And Donald Trump's Relationship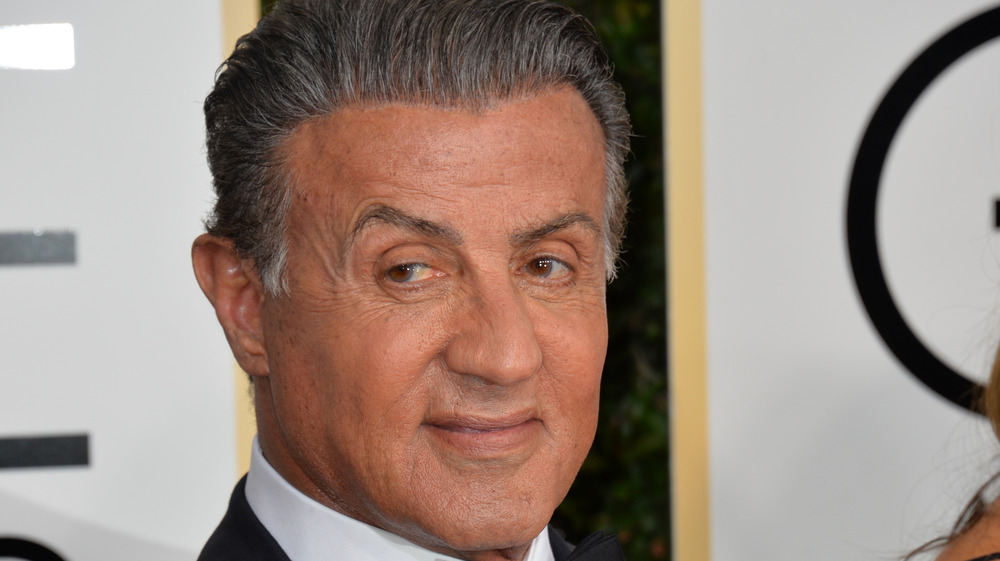 Shutterstock
There's no denying that former President Donald Trump is an incredibly polarizing figure. The twice-impeached president drew ire from countless celebrities during his 2016 election run, an anger that only intensified during his four years as president. But for all of the stars who opposed him, like John Legend and Chrissy Teigen, Taylor Swift, Alyssa Milano, and many more, Trump also drew support from various entertainers as well. Several celebs on the Trump train include Kid Rock, 50 Cent, Kirstie Alley, James Woods, and more. 
One name that is occasionally seen in the same sentence as Trump's is Sylvester Stallone's. But where exactly does the iconic Rocky star fall on the love-him-or-hate-him Trump spectrum? As it turns out, the actor and former president have had many discussions over the past four years. And it looks like their relationship is full of mutual admiration — or so it seems. Get all of the details below.
Sylvester Stallone just made this big pro-Trump move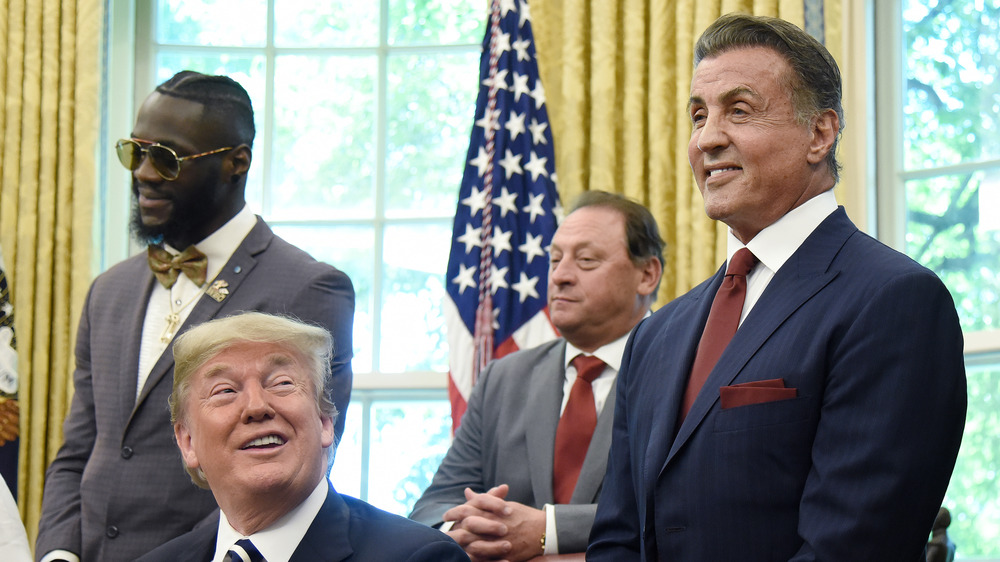 Bloomberg/Getty Images
Sylvester Stallone and Donald Trump have been mutual fans of each other for quite some time. In early 2016, as Trump's election campaign was shaping up, Stallone described Trump as a "bigger than life" personality. "I love Donald Trump," he told Variety.
After Trump was elected, he wanted Stallone to be the chairman of the National Endowment of the Arts. Per The Hill, Stallone said he was "flattered" to be considered, but ultimately declined. In December 2016, he sent Trump a gift to commemorate his presidential victory. As tweeted by Trump's social media manager, Stallone gifted him a framed photo and signed it: "To President Trump, a real champ! Greatest knockout in history." 
In 2019, Trump paid homage to Stallone's iconic film character when he photoshopped his head on a photo of Rocky Balboa, per The Guardian.
In December 2020, per Palm Beach Daily News, Stallone and his wife bought a $35 million mansion in Palm Beach, Florida, close to Trump's luxurious resort and golf club Mar-a-Lago. On April 7, 2021, a source told Page Six, "Sly just became a member of Mar-a-Lago." Per the publication, "[Stallone] was seen posing with some fellow guests for pics, all holding up their fists in a boxing pose." Insider reported that the fee to join Mar-a-Lago costs $200,000.
While Stallone and Trump appear to have a good relationship, the actor neglected to publicly endorse the former president during both his 2016 and 2020 campaigns, per The Hill.