The Truth About Donald Trump's Office At Mar-A-Lago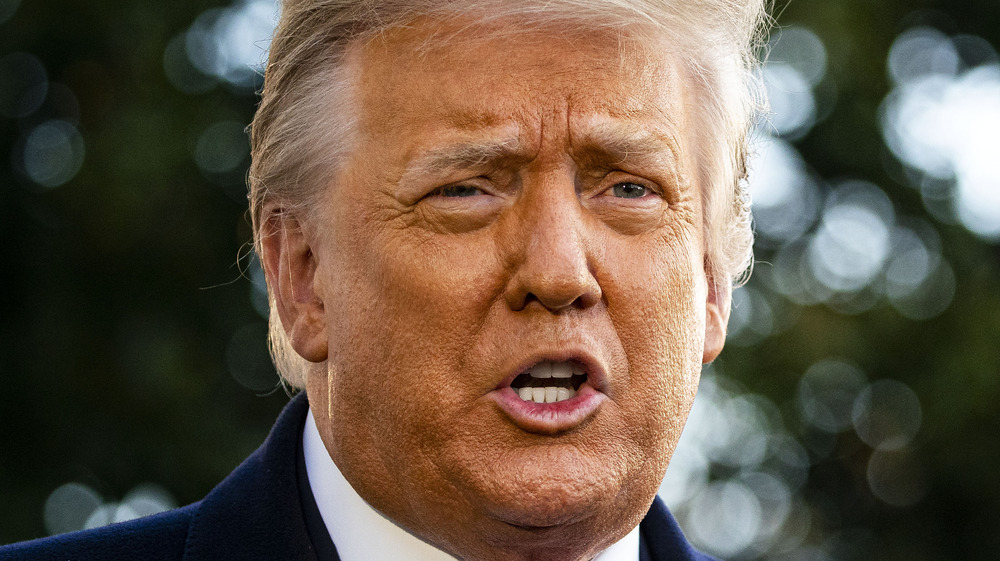 Bloomberg/Getty Images
Upon leaving the White House in January 2021, former President Donald Trump made his way down to Florida, where he set up shop at the Mar-a-Lago club in Palm Beach. Because of his widespread social media ban, which most notably includes Twitter, his once-favorite platform, things have been relatively quiet on the Trump-front since his presidential departure. Of course, Trump is still finding ways to get his opinions out there, though his life in Florida has been much more low-key than his presidency. 
Now, thanks to a tweet from Trump's senior advisor Stephen Miller, we've gotten an inside glimpse into Trump's office set-up in Mar-a-Lago. At first glance, it looks like a pretty typical office, and if anything, it somewhat resembles the Oval Office, especially the large, stately desk that takes center stage. Upon closer inspection, there are some interesting decor choices and presidential keepsakes scattered around the office — keep reading to learn more details.
Donald Trump's Mar-a-Lago office has some interesting decor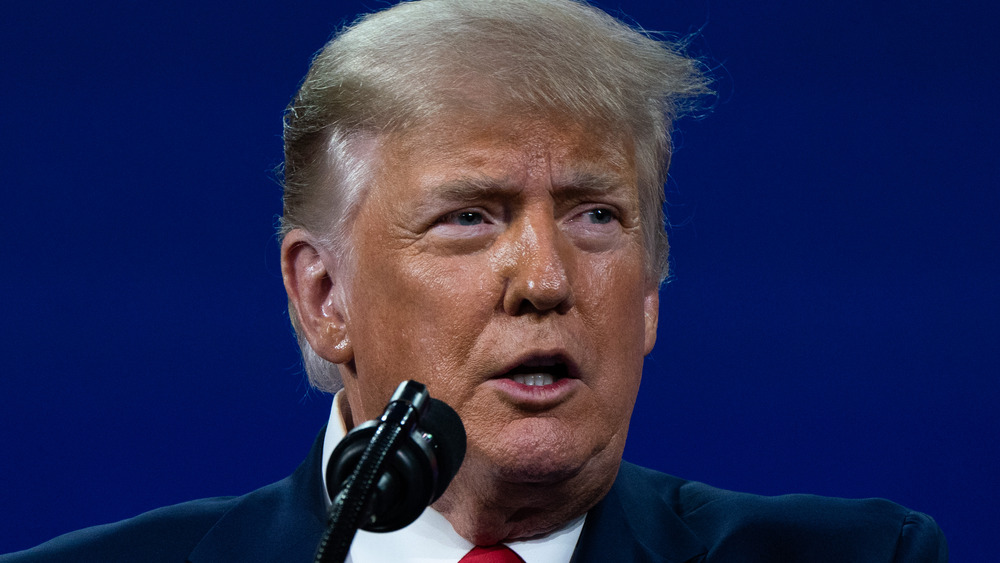 Bloomberg/Getty Images
Donald Trump has seemingly settled into his Mar-a-Lago office with ease, and thanks to a clear glimpse into the space, his decor choices are definitely raising some eyebrows. At first glance, we see a table with family pictures behind him, and a picture of Mount Rushmore (which Trump has expressed interest in being added to) hanging on the wall above. The former president also has a chunk of metal sitting on his desk, which, according to the New York Post, was used to build his infamous US-Mexico border wall.
In a more bizarre but relatively unsurprising choice, fans have also noticed a small statue on a table in the background, which appears to be of Trump himself. Perhaps the most normal thing is his reading glasses, which sit on his desk, though Trump has famously avoided wearing them in public.
The thing creating the most buzz is what appears to be a Diet Coke bottle that is partially hidden behind a phone. It's not surprising that Trump may be drinking Diet Coke (the New York Times reported that he drank up to 12 a day). It is a bit suspicious, however, following his call to boycott companies that have protested Georgia's restrictive new voting law, with Coca-Cola being one of those companies. 
In some ways, Trump's Mar-a-Lago office decor is a bit odd, but in other ways, it's exactly what you'd expect from the former president.