Are Donna And Alex From Black Ink Crew Still Together?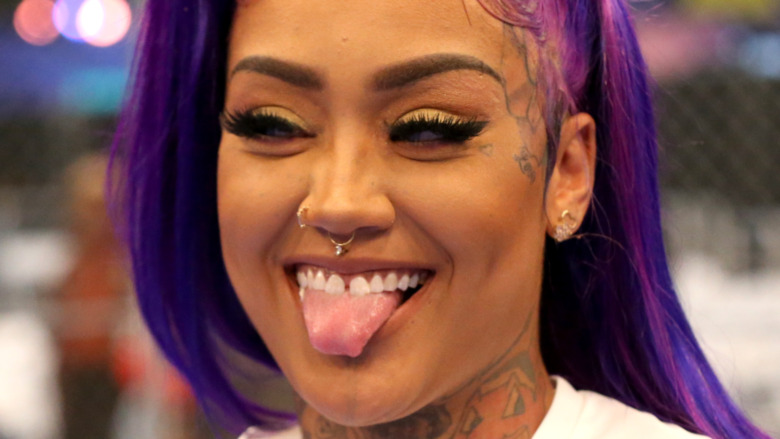 Bennett Raglin/Getty Images
There are some reality TV couples that are just meant to be, and Black Ink Crew's Donna Lombardi and Alex Robinson is one of them. The two met at the shop when Alex joined during Season 6 and their relationship was, well... hot from the start. 
It maybe should not have been, but the heart wants what the heart wants and Donna obviously wanted to hook up with the self-described "vagina slayer" in a bathroom, even though she was still dating Moe on the time. A video of the hookup went viral and, while it eventually led to Moe and Donna breaking up, it also presented the chance for her and Alex to grow closer as he stood by her side instead of slut-shaming her. The rest is "show-mance" history. 
In 2019, the couple got engaged, but when Alex made a random Instagram post addressed to his fiancée, some people assumed they were breaking up. So what's their deal these days? 
Donna and Alex put the brakes on their relationship
In July 2020, Alex Robinson posted a message to his Black Ink Crew co-star and girlfriend on Instagram, Donna Lombardi. It was an apology of sorts, hinting at some relationship drama to come. 
He wrote, via Atlanta Black Star, "I want To Sincerely Apologize To Donna For Not Being The Man That I Was When We First Started Dealing With Each Other. I've Been Dishonest, Lacced [sic] Communication Amongst Other Situations & I Just Wanna Say That I'm Sorry & I Will Be The Man That I'm Destined To Be & Give You The World That You Deserve. I Love You Big Mama." People assumed they had broken up, but then Donna responded with a heartfelt message telling him that she loved him and believed that they could be "everything." 
They did, however, also confirm that they were putting their engagement on hold as of November 2020, with Donna telling VH1, "We're still engaged. I just need... I need it to be reactivated. It's deactivated right now. It's still there, it just like needs like new batteries."
Still, both of them have been posting couple pics on Insta and they spent Valentine's Day together, so while they aren't walking down the aisle anytime soon, they are trying to make a relationship work.