The Truth About Terilisha From The Circle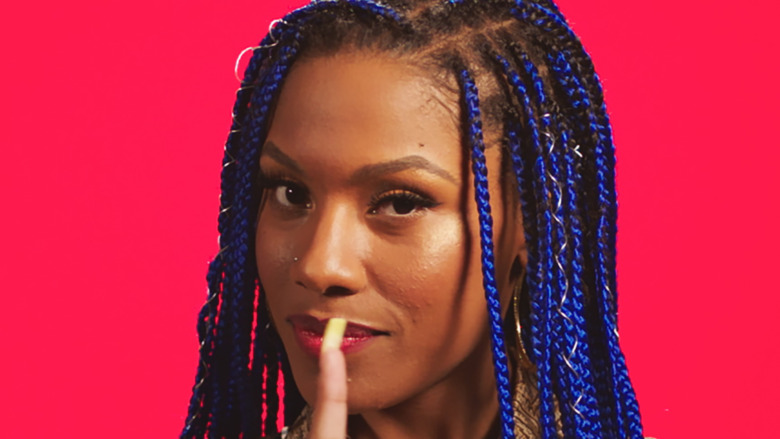 Courtesy of NETFLIX
The contestants on The Circle are supposed to catfish one another in order to get ahead, but it's rare that the contestants don't share some real information about themselves, at least to the viewers. When it comes to Terilisha, that might be just what's happening. According to her, she is a substitute teacher from Dallas, Texas who dabbles in music. But judging from her actual social media presence in the real world, that might not be the full story. 
She's a controversial contestant, albeit a successful one. Early on in the game, Terilisha was one of the top influencers and her feud with fellow contestant, Savannah, caused fans to staunchly pick sides. She told Entertainment Tonight that she doesn't regret her part in the feud at all. "I actually still agree with myself! I was like, 'Yeah! Right!' My mind was still in the same place," she said about watching the episode later. "It's interesting to see how it was team her versus team me, and interesting to watch how it was playing out in everyone else's Circle apartment." 
So what else does this math teacher have up her sleeve? 
Terilisha has been singing and acting since she was a teen
Although she claims she is a math teacher, The Circle's Terilisha's main career appears to actually be music, which is a far cry from singing "a little." According to her website, she began pursuing her music career when she was 17. She doesn't have a record contract but has independently released four singles: "Spotlight" in 2013, "N.A.S." in 2015, "Naughty Naughty" and "Giving You All My Love" in 2017. Her bio notes that her EP The Blue Heart has been streamed over 300,000 times. So, she's being a little cagey about how she really spends her time. She does teach math, but her passions seem to lie elsewhere. In addition to her singing career, she's also starred in a series called #Washed, which you can find on Amazon if you want to really go full-on #TeamTerilisha. 
Her Instagram is also totally focused on her career as a performing artist. In a caption for a picture of her signing autographs, she mentions how proud she is of her journey. "Realizing I actually touch people is a feeling I can't even describe. From being told I couldn't sing to now looking out into audiences of people singing my songs," she wrote. "Dreams do come true... just gotta believe in those dreams inside of you." 
Surely being on The Circle will bring her legions of more fans — it might just be the best publicity she could have if she really wants to get out of the classroom and on to the stage.