What A Psychic Just Told Teresa Giudice About Her Boyfriend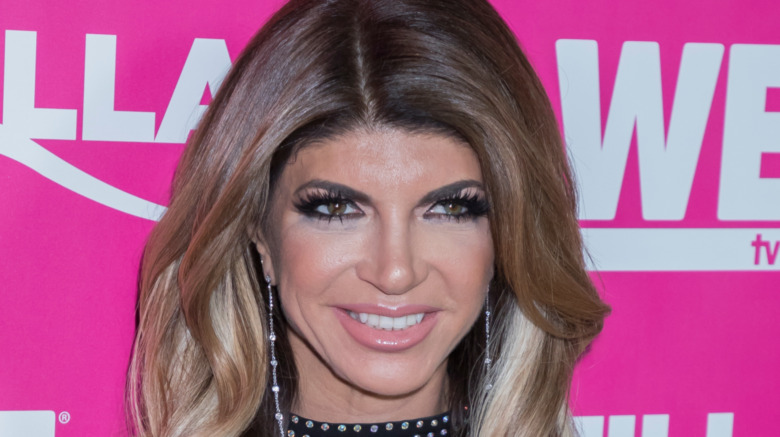 Shutterstock
Real Housewives of New Jersey star Teresa Giudice found love after moving on from her ex-husband. Teresa had been with Joe Giudice for 20 years — and had four children with him — but they ended things in December 2019. The reality show star began dating her new beau nearly a year after her marriage ended, as per InTouch. She posted a photo with her new man on Facebook in early November 2020, and people started to wonder who this new man in her life was. 
Teresa made the relationship official when she posted a photo of her boyfriend, Luis Ruelas, on Instagram on Dec. 22, 2020 with the caption, "The best thing that came out of 2020." On an episode of What Happens Live with Andy Cohen, the Housewives star said that Luis had extended an olive branch to her ex-husband. "He said he just wanted to talk to him and let him know that he's not trying to take his place or anything," Teresa revealed (via The Daily Dish).
The Garden State native also spoke about what attracted her to her new boyfriend. "Well, Louie is just more very open. He gets me to open up," she said on What Happens Live (via InTouch). Teresa was asked if she envisioned herself marrying Luis. "I feel it," she responded. "I really feel like he's my soulmate."
Keep reading to find out the otherworldly news Teresa received about her relationship.
Teresa Giudice's parents weigh in on her relationship
On an episode of The Real Housewives of New Jersey that aired Apr. 14, 2021, Teresa Giudice had a party set up so her and the other Housewives could have their fortune read by a psychic. Margaret Josephs had suspicions about Teresa being involved with a man before she took the relationship with Luis Ruelas public.
During the psychic reading, the medium gave Teresa news that pertained to her boyfriend and her deceased parents. "I want to tell you that your parents are so happy for you, Teresa," the medium said (via People). "Love is in the air, and that they're embracing the relationship, so they're giving you the green light on that." Teresa seemed elated and everyone began cheering. The reality TV star's mother Antonia Gorga passed in 2017 and her father, Giacinto Gorga, died in April 2020 just over a year before the episode aired.
Margaret found the news amusing. "Even the psychic says Teresa is getting it," she said in the episode. "Seriously, it's out everywhere, even in the universe." Not all the Housewives received good news from the psychic. According to E!, Dolores Catania sat down to get information about her relationship with David Principe. The psychic told Dolores that her grandparents had a message for the reality show star. "Your grandmother is saying you like a challenge and that the man has to chase you," the medium revealed. "He's not chasing you the way you should be chased."