The Truth About Selena Gomez's New Tattoo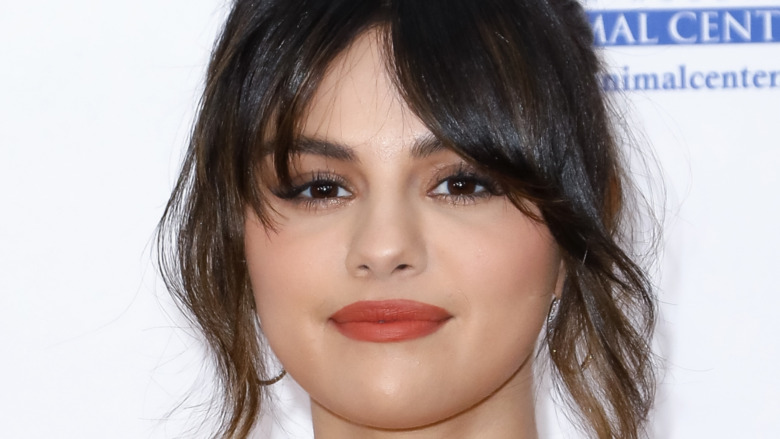 Tibrina Hobson/Getty Images
Selena Gomez was just inked yet again on April 15, 2021, by go-to celebrity tattoo artist Keith Scott "Bang Bang" McCurdy. It is far from the first time the in-demand ink master tattooed Gomez. In January 2020, he inked the word "Rare" on her neck in a cursive script, which nods to her album's lead single of the same name (via Page Six). The song features the lyrics, "It feels like you don't care / Why don't you recognize I'm so rare?" In 2014, Bang Bang also inscribed a line of Arabic script on Gomez's back, which translates to "love yourself first," and promotes the power of self-love, according to the outlet.
But this time, Gomez's new ink seems to have a different message than the previous work done by Bang Bang. So, what piece of body art did she get this time? And what is the meaning behind the tattoo? Get the answers below.
Is Selena Gomez's latest tattoo a nod to her faith?
On April 15, 2021, Bang Bang tatted a simple black cross below Selena Gomez's collarbone, posting the fresh ink in an Instagram video. "We [heart] @selenagomez," he captioned the footage, which showed Gomez pulling her mask from her face to admire the artwork, laughing.
The black cross tattoo seems to be a tribute to Gomez's faith, which she has spoken about openly. "I'm very, very spiritual," she said in an April 2021 interview with Vogue. "I believe in God, but I'm not religious. I've been a Christian for a while now. ... I love being able to have my faith, and believe in what I believe in, and that truly is what gets me through."
The Revelación singer has been candid about her connection to religion, and talked about the role that faith has played during difficult times, such as her kidney transplant in 2017. "You don't necessarily even need to believe to know that there's something above you that's bigger than you," the star told Vogue. "You're throwing your hands up, going, 'I actually have no idea what is next.'" Gomez has documented her faith with several delicate tattoos, including one of her favorite Bible verses and a pair of praying hands with a rosary, per Page Six. 
While the tattoo seems to have a relatively straight-forward connotation, we're waiting to hear whether there's an even deeper meaning behind the design.