SNL Writer Suspended For Barron Trump Tweet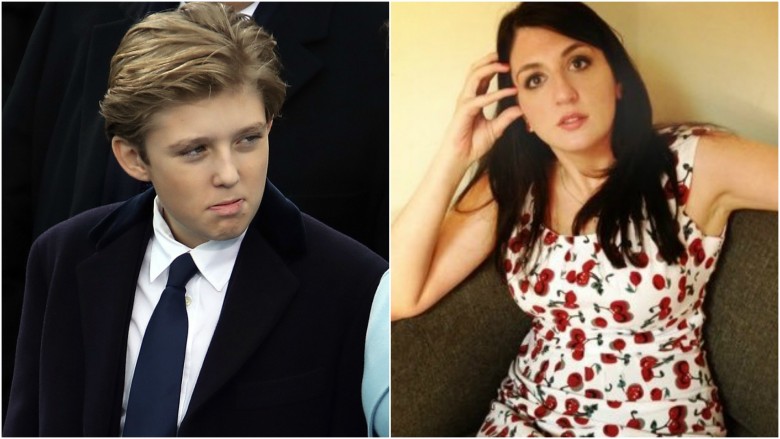 Getty Images
A Saturday Night Live writer is under major fire after taking aim at Donald Trump's youngest son, Barron. In a since-deleted tweet from Inauguration Day (Jan. 20, 2017), Katie Rich, a writer for the NBC sketch comedy's "Weekend Update" segment since 2013, wrote, "Barron will be this country's first homeschool shooter." The New York Post reported that Rich's tweet stayed online for roughly three hours before she deleted it, but the damage was done.
Twitter responses to her post included (via the New York Post): "Wow who thinks insulting kids is funny? Weak." Another quipped, "Nothing speaks [sic] 'tolerance' more than bullying a 10yr old boy with ignorant rants..." and another accused Rich of essentially calling Barron "a mass murderer," asking the network, "...why is this hate tolerated?"
It wasn't just random social media users who gave their two cents. Chelsea Clinton, who faced mockery while her father, former President Bill Clinton, was in office, wrote on Facebook, "Barron Trump deserves the chance every child does—to be a kid..." Even Monica Lewinsky, who became infamous as a White House intern for her relationship with President Clinton, and who was the butt of many an SNL joke, chimed in. "All children need to be protected from bullying + mockery. (incl #barrontrump). Let's be better than this," she tweeted.
The New York Times reported that petitions calling for Rich's dismissal amassed more than 80,000 signatures as of Jan. 23, 2017. As the backlash grew, Rich, 33, made her Twitter account private temporarily—and erased every tweet she'd ever written. When her account was made public again, the only tweet left was an apology. "I sincerely apologize for the insensitive tweet," she wrote. "I deeply regret my actions & offensive words. It was inexcusable & I'm so sorry."
Some have supported the comedian, including the Second City improv troupe, where she got her start in comedy, the Chicago Tribune reported. According to The Wrap, one of Rich's loudest supporters was Community (2009-15) creator Dan Harmon, who even personally replied to some of her detractors and offered her a job in Los Angeles. Lewinsky came to her defense as well, tweeting, "Online mobs are not the answer either. @katiemaryrich has apologized. Comedy is an imperfect science. (Trust me!)"
Regardless, Rich's name reportedly wasn't in the credits of the Saturday, Jan. 21, 2017 episode of SNL. According to Deadline, she's been suspended from the series indefinitely.