Who Is Prince Philipp Of Hohenlohe-Langenburg?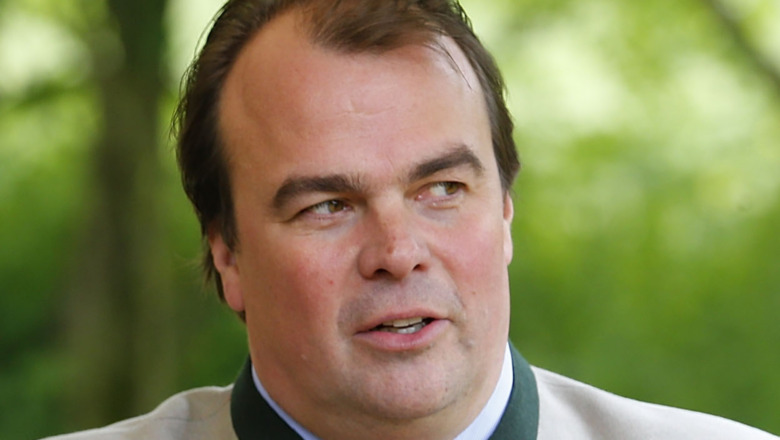 Thomas Niedermueller/Getty Images
Prince Philip had a tragic childhood. Born into Danish-Greek royalty, his family was forced to flee Greece following a military uprising when he was still a baby and, according to Vogue, he may have been smuggled out of the country in an orange crate! What many don't realize, however, is that Prince Philip was German on his mother's side. She was Princess Alice of Battenberg and when it came time for the prince's four older sisters to marry, they were all paired with members of the German aristocracy.
According to Tatler, the Duke of Edinburgh's eldest sister, Princess Margarita, married Prince of Hohenlohe-Langenburg, a great-grandson of Queen Victoria, and they had five surviving children: Prince Kraft, Princess Beatrix, Prince Georg Andreas, Prince Rupprecht, and Prince Albrecht. Meanwhile, his second sister, Princess Theodora, married Berthold, Margrave of Baden, and they had three children. His third sister, Princess Cecilie married Georg Donatus, Grand Duke of Hesse, and they had two sons, but the family died tragically in a plane crash in 1937. Last but not least, the youngest sister, Princess Sophie, married Prince Christoph of Hesse and they had five children.
So who is Prince Philipp of Hohenlohe-Langenburg? He's one of Prince Kraft's three children, making him the grandson of Prince Philip's eldest sister, Princess Margarita. That, in turn, makes him the great-nephew of the late Duke of Edinburgh. Per The Sun, Prince Philipp is married to Saskia Binder, they have three children — Max Leopold, Gustav, and Marita — and live in Germany.
Prince Philipp shared a special bond with his great-uncle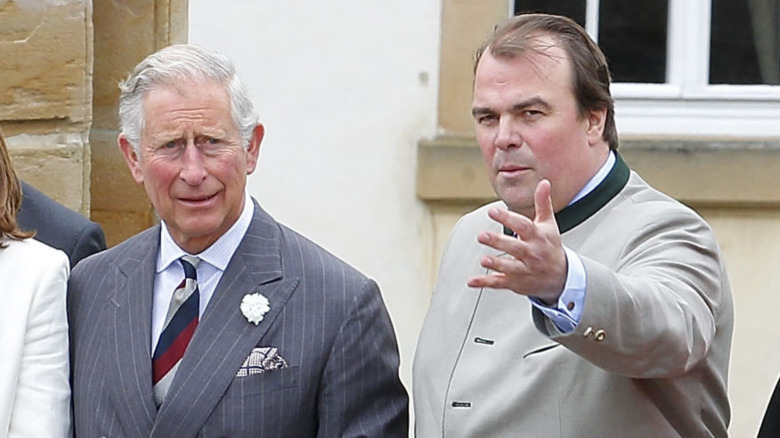 Thomas Niedermueller/Getty Images
Prince Philipp shared a great bond with Prince Philip, which went far beyond their similar names! According to The Telegraph, the pair had a strong relationship. In addition to sharing a passion for environmentalism, the Duke of Edinburgh actually visited Philipp's official residence, Langenburg Castle in Germany, on numerous occasions. As Philipp once told royal author Robert Hardman, per The Sun, the visits were always memorable. "It was such a joy having a conversation with him," he enthused, noting, "His memory was extraordinary. He could remember playing hide-and-seek in the castle when he was a boy, and he always enjoyed talking to the local people." Philipp added, "He could switch from German to English and back, whether he was talking about Winston Churchill or the local wildlife."
Following the prince's death, Philipp shared a touching tribute on Instagram, writing, per Yahoo! News, that "Prince Philip was a true gentleman with a great sense of humour, an incredible sense of duty and a wide range of interests." Noting that "he was very familiar with us in Langenburg," Philipp added, "An era is coming to an end and the world is losing a great personality." 
As The Sun reports, the German royal also met Prince Charles in 2013 when he invited him to visit Germany and meet new members of his father's family.
Prince Philipp received a special honor following Prince Philip's death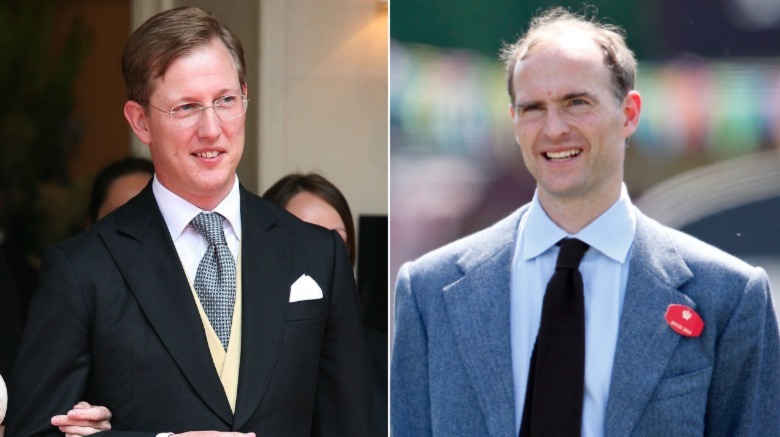 Marc Piasecki, Max Mumby/indigo/Getty Images
Due in part to COVID-19 protocols and in part to Prince Philip's wishes, the royal funeral taking place at Windsor Castle on April 17, 2021 was forced to downsize to a guest list of just 30. Among the select few invited was Prince Philipp of Hohenlohe-Langenburg. Calling it "an incredible honour," per The Telegraph, Philip's great-nephew said in a statement, "We are all extremely touched and privileged to be included on behalf of the wider family."
But Philipp wasn't the only German family member invited to attend the service. In addition to Philipp, the mourners will also include Philip's other German great-nephew, Bernhard, Hereditary Prince of Baden, who is the grandson of the duke's second sister, Princess Theodora. He is currently the head of the House of Baden. The third and final German relative in attendance will be Prince Donatus, Landgrave of Hesse, who is related to Philip by marriage. Donatus' father, Moritz, Landgrave of Hesse, is the son of Prince Philipp, Landgrave of Hesse, who was the brother-in-law of Philip's youngest sister, Princess Sophie. Per The Telegraph, Donatus is a descendant of Queen Victoria but rather than holding a career in public service, he runs a winery in Germany called Prinz von Hessen.