How Many Titles Did Prince Philip Really Have?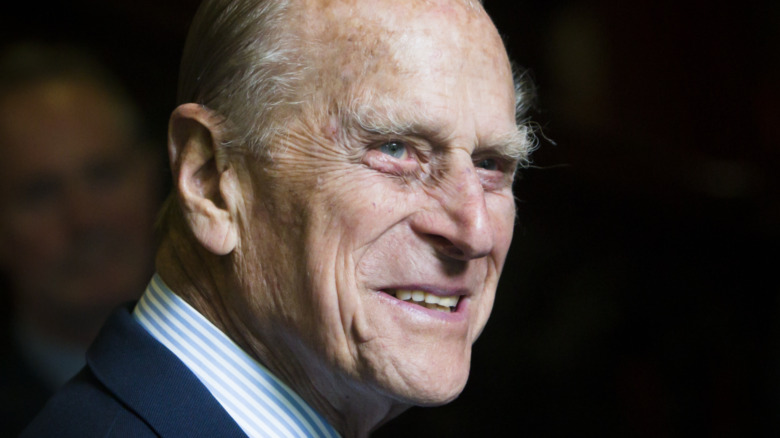 Wpa Pool/Getty Images
On April 9, 2021, Prince Philip, the Duke of Edinburgh and husband of Queen Elizabeth II died, and on April 17, 2021, he was laid to rest in the Royal Vault at St. George's Chapel at Windsor Castle, per the BBC. Reportedly, many parts of the funeral service, dubbed "Operation Forth Bridge," had been overseen by the prince himself, from the type of coffin he'd be buried in, to the Land Rover used to transport his body on the trip from London to Windsor Castle (one part of his wishes that had to be changed, due to the coronavirus pandemic). He even chose which of his numerous medals would be displayed on the altar in St. George's Chapel. Philip had medals from more than 50 countries, just one of the ways his service to the United Kingdom and the queen have been recognized throughout the years. 
But the prince didn't just collect medals throughout his life — he also collected titles. Although he was known as a prince and the Duke of Edinburgh to most people, his actual collection of titles was much longer than that. As part of the funeral service, Prince Philip's full title will be read by the Garter of Arms, whose duty is to advise "the monarch on matters of flag-flying, ceremony and heraldry," per the BBC. But just what did all those titles mean?
Prince Philip's full title is 133 words long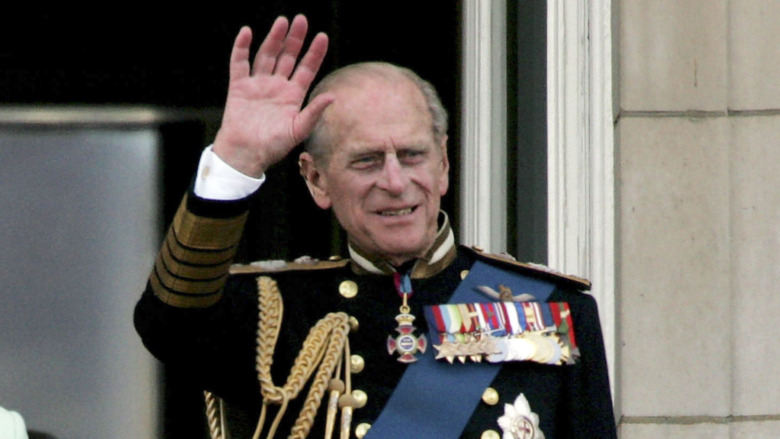 Daniel Berehulak/Getty Images
Thomas Woodcock, the Garter King of Arms, will announce the prince's title when his coffin is lowered into the Royal Vault. His full title is 133 words long.
When Philip married then-Princess Elizabeth in 1947, he was bestowed three titles by King George VI: the Duke of Edinburgh, the Earl of Merioneth, and Baron Greenwich, reported Harper's Bazaar. George also gave Philip the title of Knight of the Order of the Garter, per the Daily Mail. When Elizabeth became queen, she made Philip a Knight of the Thistle, the "highest honour in Scotland."
Although a prince of Greece and Denmark, Philip had to give up his titles and allegiances when he married Elizabeth, so he was known solely as a duke. That changed in 1957 when Philip was given the title of a British prince by Letters Patent issued by Elizabeth. When he turned 47, he was appointed to the Order of Merit, "an honour given to individuals of great achievement in the fields of the arts, learning, literature and science." 
For his 90th birthday, the queen made Philip Lord High Admiral, "the titular head of the Royal Navy," as recognition for the military career he gave up for her when she became queen. He is also Grand Master and First and Principal Knight of the Order of the British Empire, an honor "to recognise public service throughout the Empire and Commonwealth."