Kate Middleton's Outfit For Prince Philip's Funeral Explained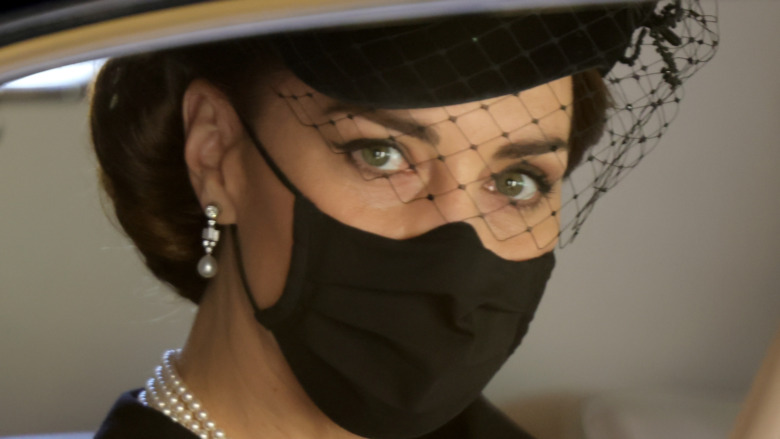 Chris Jackson/Getty Images
As the Duchess of Cambridge is a royal fashion icon, it's arguably no surprise her wardrobe choice for the funeral was a stylish nod to the queen. Claudia Joseph, the author of How to Dress Like a Princess, once said of Kate to Vanity Fair, "Kate is a global fashion phenomenon, cleverly juggling designer outfits we can all lust over with clothes we can pick up on the High Street."
For the funeral on April 17, 2021, held at St. George's Chapel, Kate chose an elegant and respectful ensemble, showing up to the event wearing all black. Similar to other mourners, the mom-of-three appeared sad and reserved throughout the services. Kate and Prince Philip reportedly had a special bond, so one can imagine his death has been a great loss.
With that all in mind, how did Kate honor the late Prince Philip at his funeral? We reveal the sweet detail here.
Kate Middleton honored Prince Philip's love for the queen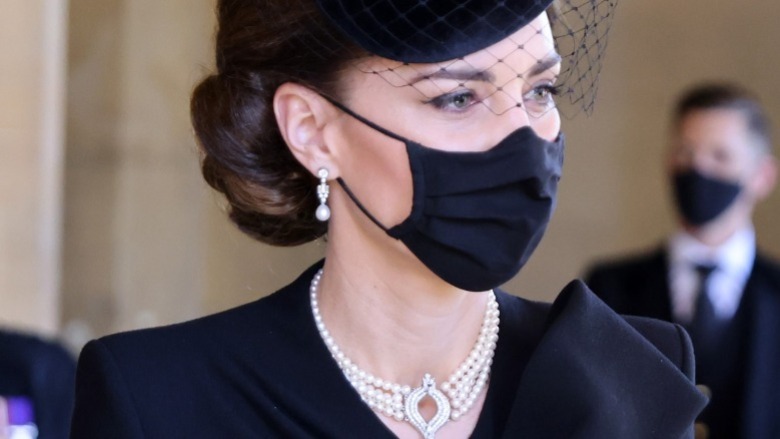 Chris Jackson/Getty Images
Kate Middleton's outfit for Prince Philip's funeral paid tribute to Queen Elizabeth II and Princess Diana. Kate looked elegant in a black Rouland Mouret dress. According to the Daily Mail, the Duchess of Cambridge wore the Queen's pearls, a small black hat with a lace veil, and a black face mask to Prince Philip's funeral. The outlet also noted she wore a "Japanese Pearl choker necklace from Her Majesty's collection," which had been previously worn by her late mother-in-law Princess Diana.
As for the specific nod to the queen and Prince Philip? "Kate has previously worn the necklace to Queen Elizabeth and Prince Philip's 70th wedding anniversary dinner four years ago," as InStyle noted. How sweet.
Of course, it's well-known Kate valued her relationship with the couple, a point referenced in Prince William's tribute to his grandfather. The Duke of Cambridge posted on Instagram: "I will always be grateful that my wife had so many years to get to know my grandfather and for the kindness he showed her."