Everyone's Talking About Kate Middleton's Latest Look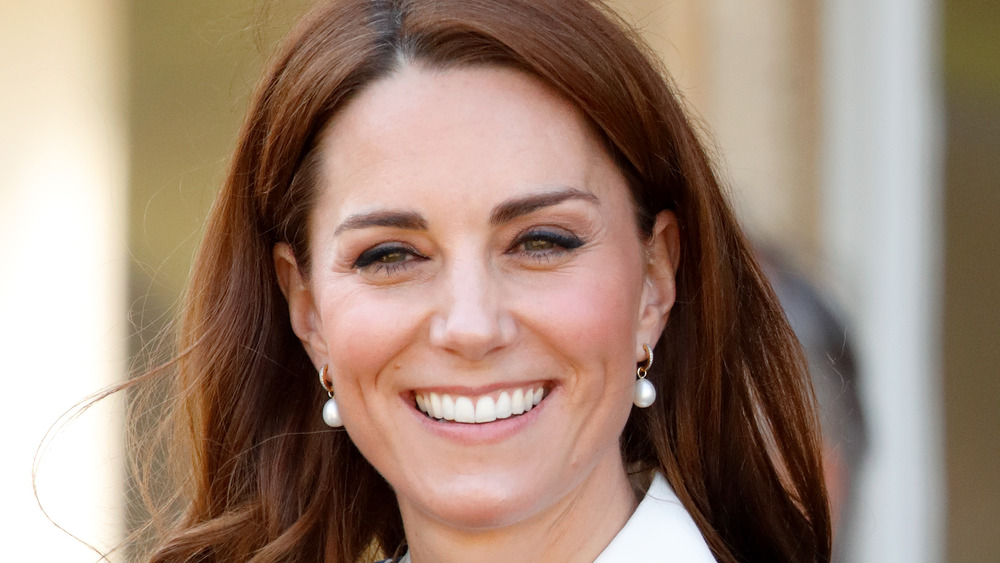 Max Mumby/indigo/Getty Images
If you've noticed the fact that Kate Middleton never removes her coat in public and may have worn earrings with a hidden meaning, then you're proof of the fact that there are "royal watchers all over the globe closely following the choices made by the likes of the Duchess of Cambridge," according to Hello! That's because she is the kind of fashion icon that has "an unquestionable influence on how people dress" and "style their hair."
Author of How to Dress Like a Princess: The Secrets of Kate's Wardrobe, Claudia Joseph, told Vanity Fair, "Kate is a global fashion phenomenon, cleverly juggling designer outfits we can all lust over with clothes we can pick up on the High Street." If you're not quite sure what that means, Be Beautiful explained that "as opposed to couture, high street fashion... literally means the clothes that you could buy on your average UK high street. These include high street brands that mass-produce clothes catering to a larger target audience, are affordable (larger price bracket), and aren't very occasion specific."
Indeed, while Kate has been known to wear expensive outfits (and even inappropriate outfits), in March 2021, the royal had people talking about the fact that she was "support[ing] the high street," per the Daily Mail, in a buzz-worthy ensemble.
Kate Middleton stunned in high street fashion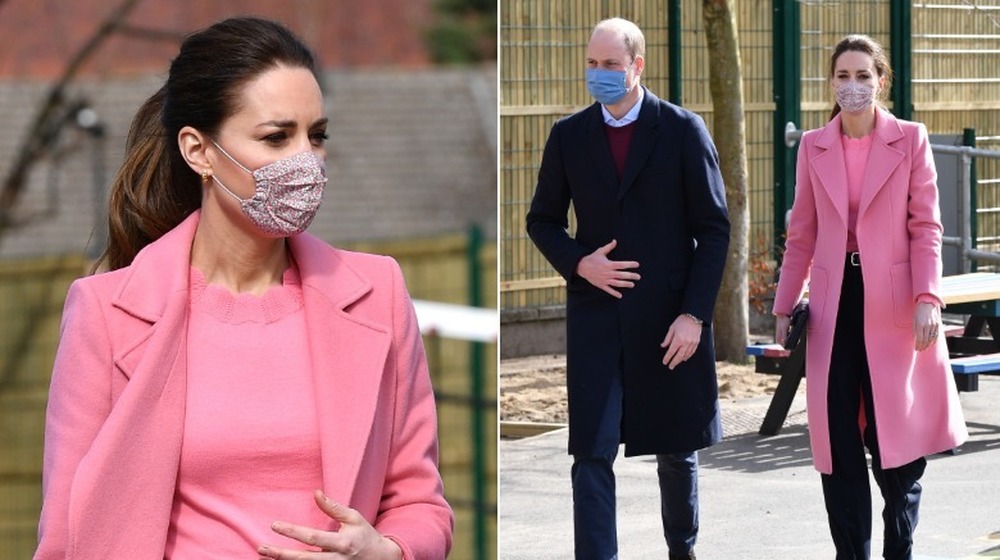 Wpa Pool/Getty Images (2)
Those who are into imitating Kate Middleton's style will definitely be interested in one particular outfit that she wore in March 2021. While popping by an east London school for a children's mental health program, which marked her first in-person event of 2021, according to the Daily Mail, the duchess wore a pink scalloped Boden "jumper" (or sweater) that would only cost shoppers £65 (or just over $90 U.S.) if they want one for themselves. Her Jigsaw pants were a little pricier, costing £130 (just under $182 U.S.), while she would have paid £389 (almost $554 U.S.) for her Max and Co. coat.
Kate accessorized her look with a black handbag as well as a matching belt and shoes and a pink-ish patterned mask. To finish off her look, the duchess pulled her hair up into a ponytail and went for understated makeup that seemed to play off of the colors that she was wearing.
While you might have been focused on her sweet pink sweater and beautiful blush-colored coat, you might also recognize her pants. The Daily Mail pointed out that they "have become a fast favorite in her wardrobe," which is likely why she's been spotted in them on a few occasions. And there's no denying that they looked fabulous once again with the pink sweater and coat. We're sure her style-savvy admirers couldn't agree more!