The Moment At Prince Philip's Funeral That Broke The Internet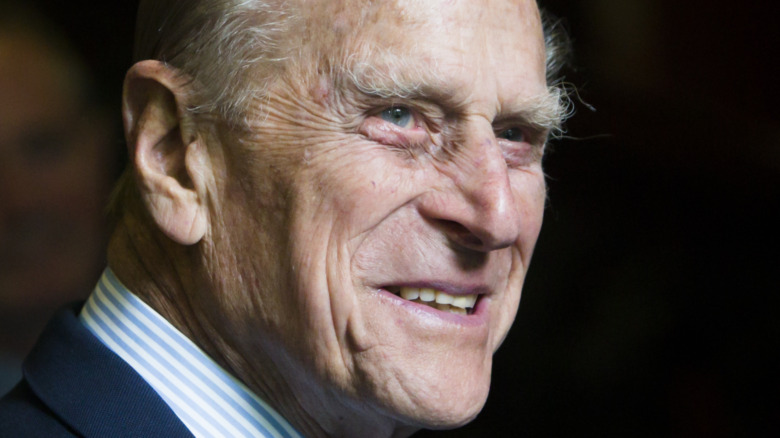 Wpa Pool/Getty Images
Prince Philip's funeral was held on April 17, at St. George's Chapel on the grounds of Windsor Castle. The Duke of Edinburgh died on April 9, at the age of 99. His life was remembered by his loved ones, including his wife, Queen Elizabeth, his four children, Prince Charles, Prince Andrew, Prince Edward, and Princess Anne, as well as his eight grandchildren, all of whom were in attendance at the funeral service held in his honor. Other family members and close friends were not able to attend the funeral due to restrictions put in place because of the coronavirus pandemic. The funeral was streamed on various networks around the globe, and was made available to millions of people who wished to watch.
The funeral progressed as expected, and Philip's casket was lowered in the royal vault as his family exited the chapel. However, it's what happened at the end of the funeral — once the family was outside the chapel — that broke the internet. Read on to find out what that moment was.
Prince William and Prince Harry walked together back to the castle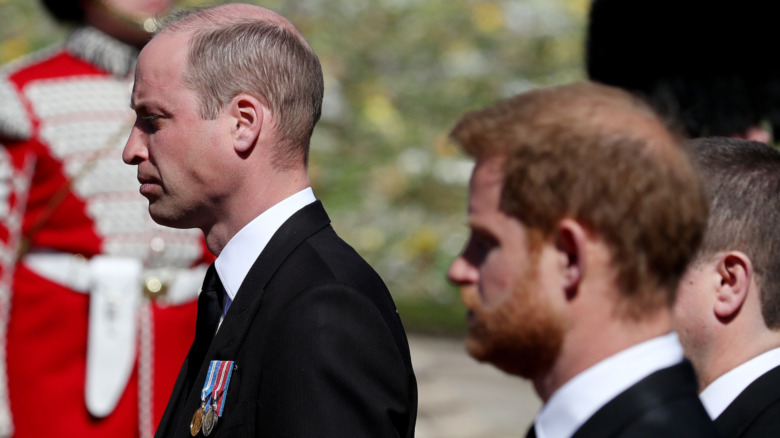 Wpa Pool/Getty Images
At the funeral's conclusion, the attendees filed out of the chapel, many heading across the property to nearby Windsor Castle. During this time, Prince William and his brother, Prince Harry, who have been at odds for quite some time, were seen walking together and chatting with one another, according to CNN. The two brothers looked very comfortable as they made conversation, though it is unknown what they might have been talking about. 
The brothers seemed to naturally gravitate toward one another, perhaps able to put their differences aside in a time of grief as they mourned their grandfather. At one point, the Duke of Cambridge and the Duke of Sussex were joined by Kate Middleton, but she trailed a bit behind, allowing the brothers to share a moment. The closeness between William and Harry was completely different from what royal watchers witnessed at the start of the funeral. The brothers walked behind their grandfather's casket apart from one another, and sat fairly far apart inside the chapel during the service as well. Nevertheless, William and Harry came together, giving hope to the idea that their rift may soon be mended.