Prince Charles Couldn't Contain His Emotions At Prince Philip's Funeral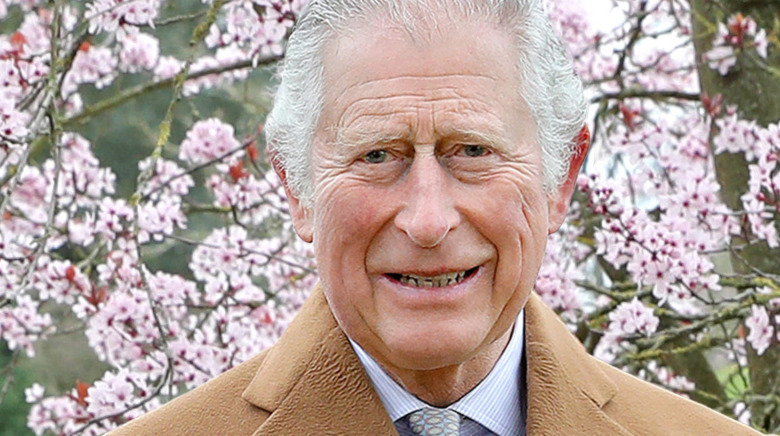 Chris Jackson/Getty Images
On April 9, 2021, Prince Philip, the Duke of Edinburgh and husband of Queen Elizabeth II died, and on April 17, 2021, he was laid to rest in the Royal Vault at St. George's Chapel at Windsor Castle, per the BBC. Before he entered St. George's Chapel and the funeral service commenced, Philip was carried in a procession throughout the grounds of Windsor Castle, traveling in a bespoke Land Rover and followed by a select few members of the royal family and his household. Due to restrictions imposed on the funeral due to the coronavirus pandemic, only representatives of the royal family were able to walk behind him. These included Prince Charles, Princess Anne, Prince Andrew, Prince Edward, Prince William, Prince Harry, Anne's husband Vice Admiral Timothy Laurence, and Princess Margaret's son, Viscount David Linley. 
The procession seemed to perfectly honor Philip's military service and his quirky personality, his coffin covered in his personal flag, which was "split into quarters" and represented the most important parts of his life, per Hello! The coffin also held Philip's naval cap and ceremonial sword, indicative of his service in the Royal Navy, reported The New York Times. Charles and Anne formed the first line to walk behind him, and Charles could be seen getting emotional throughout the event.
Prince Charles had tears in his eyes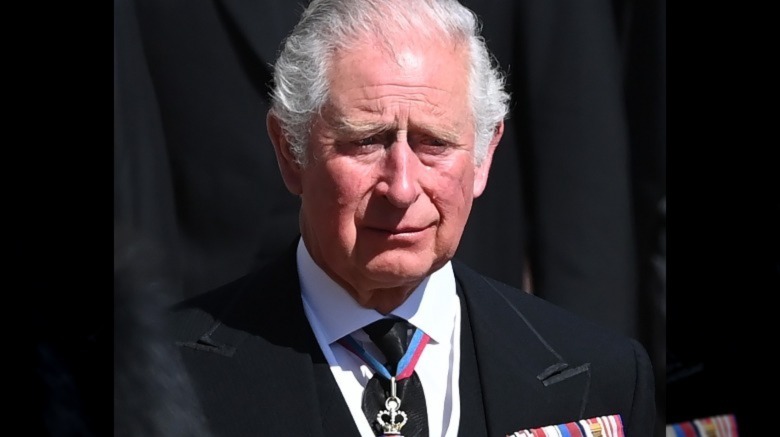 Leon Neal/WPA Pool/Getty Images
As Prince Charles followed his father's coffin around the grounds of Windsor Castle and into St. George's Chapel itself, it was clear he was having a difficult time containing his emotions. He had tears in his eyes and could be seen wiping them away as he entered into the church. The Daily Mail reported he was still showing emotion as he took a seat next to his wife, Camilla, the Duchess of Cornwall, and across from his grieving mother, Queen Elizabeth II.
The prince's emotional response to his father's death isn't that surprising to those familiar with their relationship, as the father and son had grown close in the later years, with Charles being "one of the first ... to be seen visiting his father ... [in the] hospital," reported the Independent. Initially, however, Philip and Charles reportedly had tension with one another. 
Royal biographer Penny Junor, who wrote Charles, claimed the late prince "had a very difficult relationship with Charles," via the Independent, adding "They didn't speak to each other as normal father and son." Philip himself claimed their disagreements had to do with their different personalities. "Charles is a romantic," he told royal biographer Gyles Brandreth in 2016, via the Independent. "That means we do see things differently and because I don't see things as a romantic would, I am unfeeling."
That relationship definitely seems to have improved these last years, however, and it's nice Charles was able to put his father to rest in a beautiful ceremony.