The Truth About Prince Philip's Relationship With Prince Charles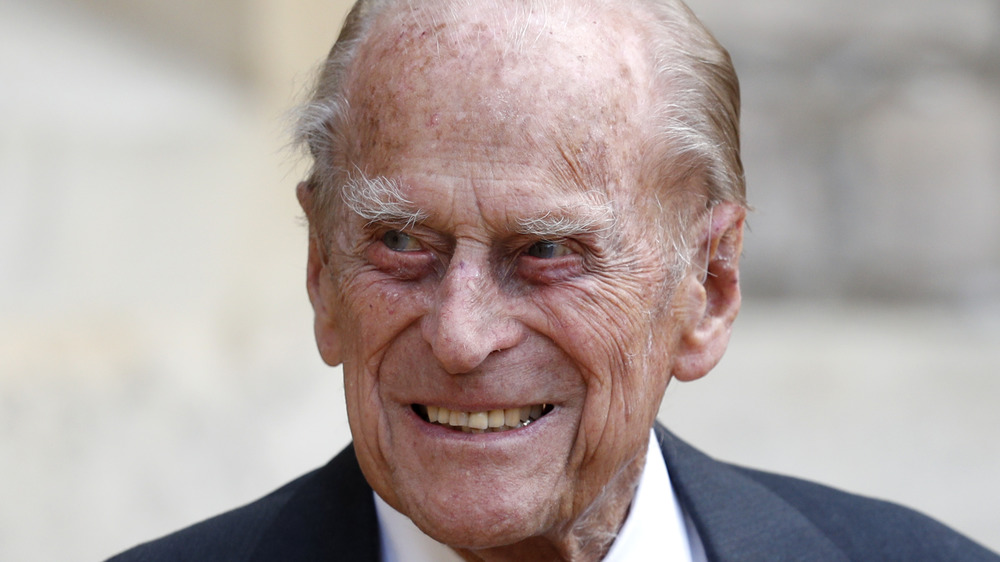 Wpa Pool/Getty Images
We may receive a commission on purchases made from links.
Prince Philip was admitted to the King Edward VII Hospital in London on Feb. 16, 2021. At 99 years old, people were unsurprisingly concerned about the prince's admittance. However, in a statement to the public, the palace announced that the husband of Queen Elizabeth II's trip to the hospital was out of safety. "The Duke's admission is a precautionary measure, on the advice of His Royal Highness's Doctor, after feeling unwell," the statement read, as reported by CNN. "The Duke is expected to remain in hospital for a few days of observation and rest." CNN noted the duke was able to walk himself into the hospital and was not admitted due to coronavirus-related concerns. 
Prince Philip married into the royal family, and therefore was able to retire from public service in 2017. Next in line to the throne is his son Prince Charles. The royal family has been in the spotlight over the last few years mostly due to Meghan Markle and Prince Harry's tumultuous time in the spotlight and subsequent distancing from the royal family, plus the popularity of royal-based shows like The Crown, which detailed Prince Charles' marriage and divorce to Princess Diana and his affair with current wife Camilla Parker Bowles. With that in mind, it brings into question the true relationships between the members of the royal family behind closed doors. Keep reading to take a look into the truth about Prince Philip's relationship with Prince Charles.
Prince Philip's relationship with Prince Charles has always been strained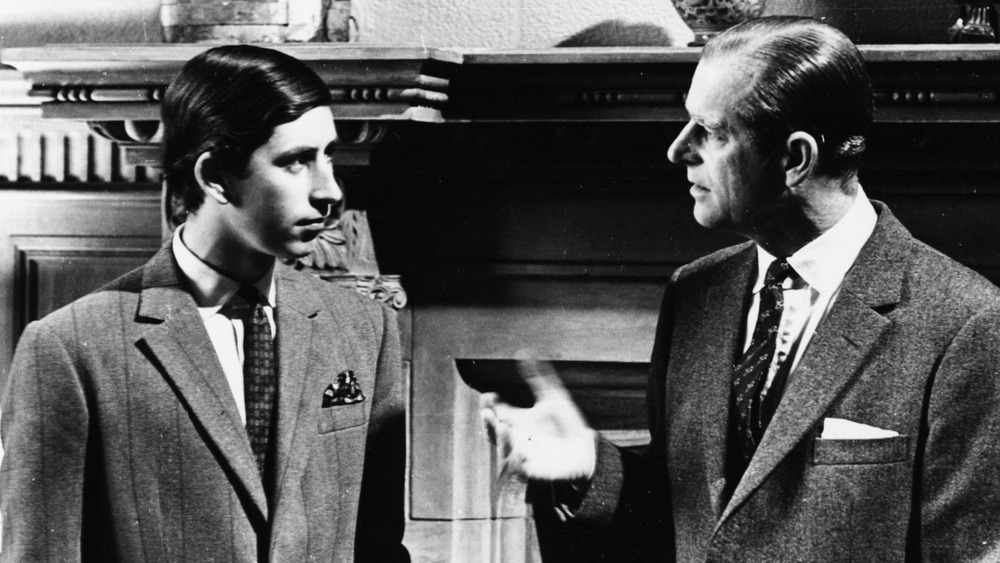 Central Press/Getty Images
Prince Philip and Prince Charles are two very different people, which has put a strain on their relationship for years. The 2001 book Diana: Story of a Princess (via CheatSheet) says that Prince Philip is "bluff, outspoken, hearty, tough and something of a bully," and had "no patience with his eldest son's soul-searching." The book alleged that Prince Charles often never felt good enough for his father. "Sensitivity is not one of the qualities he expects in a man, and although he undoubtedly has great affection for Prince Charles, he has spent a lifetime criticizing him and quietly undermining his self-esteem," the book continued. 
Prince Philip made a concession that he and his son do not see eye-to-eye in a 2004 interview, as reported by Express. "Charles is a romantic – and I am a pragmatist," he said. "That means we do see things differently. And because I don't see things as a romantic would, I am unfeeling."
Despite their differences, though, it does seem that Prince Charles could count on his father during important times.
Prince Philip offered Prince Charles some head-turning advice ahead of his wedding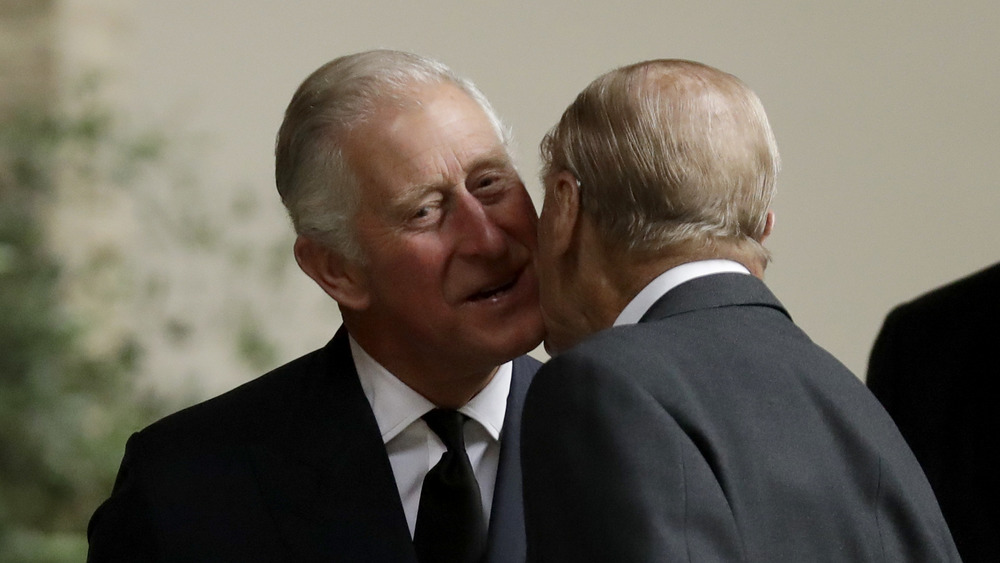 Wpa Pool/Getty Images
The advice may be shocking, but it is advice, nonetheless. According to E! News, Princess Diana had revealed to her voice coach the words Prince Philip shared with his son before their union. "My father-in-law said to my husband, 'If your marriage doesn't work out, you can always go back to her after five years,'" she said. The "her" Prince Philip referred to is Camilla Parker Bowles, whom his son still had feelings for before tying the knot with the Princess of Wales. 
Body language expert Nicole Moore told The List in 2020 that Prince Philip's relationship with Prince Charles seemingly softened over the years. After watching a video clip of the Duke of Edinburgh at his son's controversial wedding to Parker Bowles in 2005, Moore said one "can clearly see that Prince Phillip is smiling and happy as he watches the couple. At this point," she continued, "both father and son are older and it's possible that as the years passed, the tension between the two faded and more mutual respect grew."