Inside Princess Diana's Relationship With Camilla Parker Bowles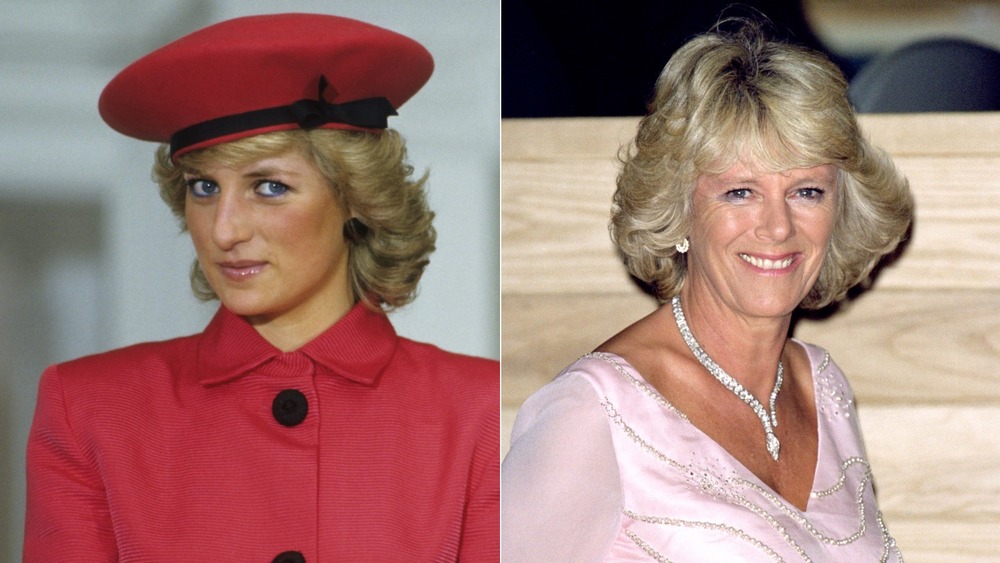 Georges De Keerle, Antony Jones/Getty Images
In the fourth season of The Crown, one of the most memorable scenes comes shortly before the wedding of Princess Diana and Prince Charles. Diana goes to lunch with Camilla Parker Bowles, Charles' former flame who is now married to another man. Camilla invites Diana to lunch under the guise of giving her advice about living with Charles, but is mostly just staking a claim to the prince, letting Diana know that she is perfectly fine with sharing.
Believe it or not, this legendary lunch meeting did actually happen, even if it didn't go down exactly as The Crown portrayed it. In the 1992 book Diana: Her True Story — In Her Own Words, Diana remembered it (via Town & Country) like this: "She said: You are not going to hunt, are you?' I said: 'On what?' She said: 'Horse. You are not going to hunt when you go and live at Highgrove are you?' I said: 'No.' She said: 'I just wanted to know,' and I thought as far as she was concerned that was her communication route. Still too immature to understand all the messages coming my way."
Subtext-laden lunches aside, Diana and Camilla crossed paths plenty of other times, including a direct confrontation in 1989. Before that, though, the two actually started out on fairly good terms, with royal biographer Penny Juror writing (via Daily Mail) that Camilla originally found Diana "very sweet and funny." Keep reading to find out how the relationship between Diana and Camilla went south.
Diana felt Camilla was a third person in her marriage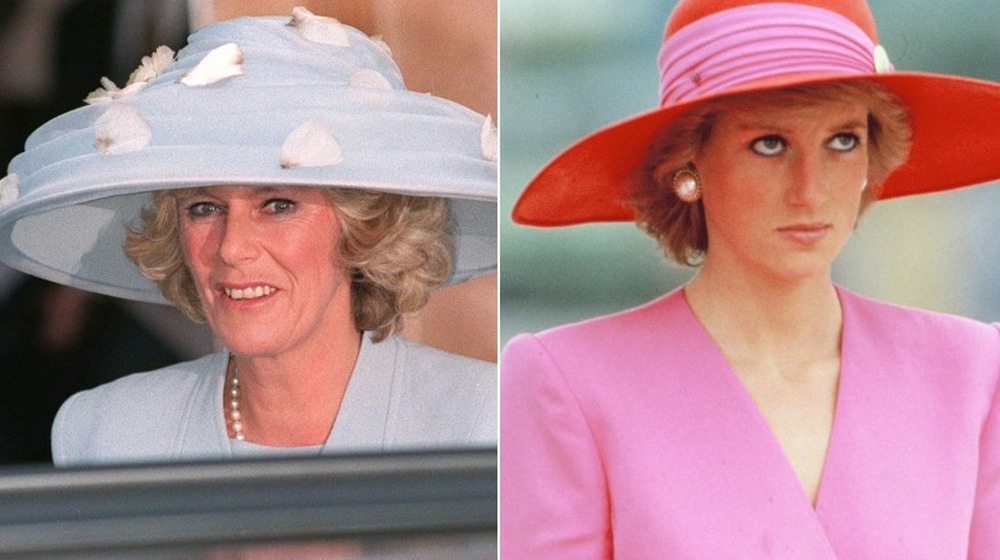 Uk Press, Georges De Keerle/Getty Images
Princess Diana nearly called off her wedding with Prince Charles just two days before she was supposed to walk down the aisle. Why? Because she found a bracelet that Charles intended to give to Camilla Parker Bowles, according to Elle. The wedding went on, however, and Camilla was there with her husband.
The marriage of Charles and Diana started out alright, but, by the mid-1980s, they were both having affairs: Diana with James Hewitt, and Charles with — you guessed it — Camilla. This came to a head in February 1989, when Diana confronted Camilla at a party, telling her she knew about the affair. Camilla responded by saying Diana has everything in the world; what more could she possibly want? "I want my husband," Diana responded, according to CBS News. "I'm sorry I'm in the way, and it must be hell for both of you. But I do know what's going on. Don't treat me like an idiot," the princess added.
By 1992, Charles and Diana's marriage had officially hit the fan, with both of their affairs making their way to the tabloids. The two separated by the end of the year, and divorced in 1996. It was in 1995, however, that Diana gave her most famous comment about Charles' relationship with Camilla. "There were three of us in this marriage," she told the BBC's Martin Bashir (via Elle). "So it was a bit crowded."