Royal Expert Reveals The Meaning Behind Camilla's Subtle Gesture To Prince Charles At The Funeral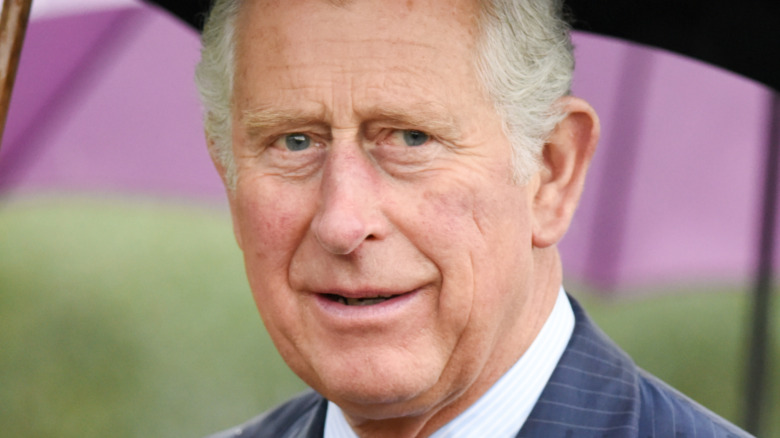 Shutterstock
On April 9, Prince Philip, the Duke of Edinburgh and husband of Queen Elizabeth II, died, and on April 17, he was laid to rest in the Royal Vault at St. George's Chapel at Windsor Castle, per the BBC. While many watched on television to mourn the prince's death, none could be affected as his own family. Philip was reportedly a noticeable influence on his children (Prince Charles, Princess Anne, Prince Andrew, and Prince Edward), the Independent wrote, enjoying a unique relationship with each of them. Each child had their special way of interacting with the prince, but Charles' bond may have been the most intense due to his status as the eldest son and heir apparent. That may be evidenced by Charles' reportedly strained relationship with his father when he was younger and their closer relationship as they both aged.
However, no matter how they felt about each other, Philip's death seemed to profoundly affect Charles, who had difficulty holding back his emotions during the funeral. While he was undoubtedly mourning his father, royal expert Kinsey Schofield, founder of ToDiForDaily, indicated to Nicki Swift that he might also be thinking of the future. Thankfully, it seems he has Camilla on his side — here's what Schofield had to say about her support of Charles on such a sad day.
Camilla's body language indicated support, expert says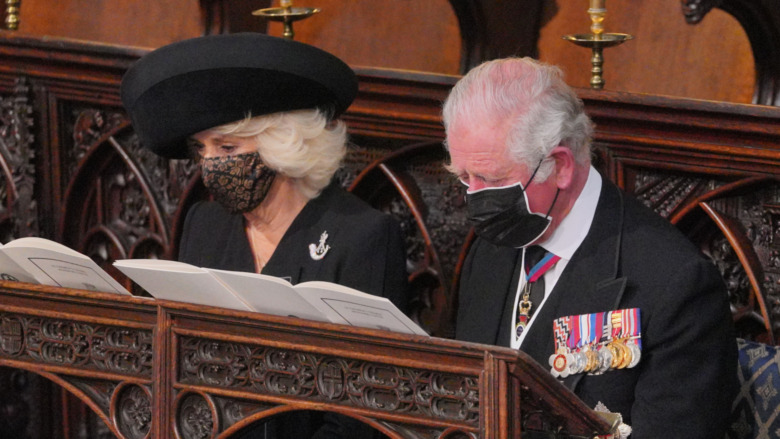 Wpa Pool/Getty Images
When Prince Charles entered St. George's Chapel for his father's funeral service, he had tears in his eyes. Due to coronavirus restrictions, members of the royal family got separated by household inside the chapel. That meant Charles only had Camilla by his side. As royal expert, Kinsey Schofield, founder of ToDiForDaily, exclusively told Nicki Swift, "Throughout the service we have seen Camilla, Duchess of Cornwall, peek over at Prince Charles and lean into him to show her support. While subtle, still much more affection that we've seen from others."
Schofield went on to say that she thought the support important, since the death of Charles' father is most likely making him consider the death of his mother, Queen Elizabeth II, and the time when he will become king. "Camilla is demonstrating that she will be there for Prince Charles and support him through not only mourning the loss of his father, but the inevitable transfer of power." That analysis of Camilla's body language is confirmed by body language expert Blanca Cobb, who told Nicki, "Camilla moved a little closer to Charles as a way to provide emotional support. A moment of tenderness during a difficult time."
It's nice to see that Charles has the emotional support he needs from Camilla. It's safe to say that when Elizabeth eventually dies, the transfer of power will be difficult for all involved, but more so for Charles, who will need strong and caring people by his side. He seems to have that with Camilla.