Body Language Experts Reveals How Harry Stood Out At Prince Philip's Funeral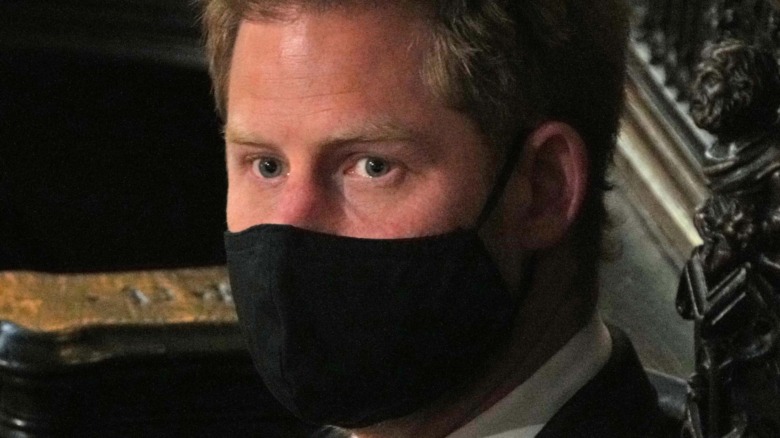 Wpa Pool/Getty Images
Funerals and weddings bring families together and often highlight family dysfunction. Prince Harry has been at the center of family drama over the past year. But after Harry and Meghan Markle's interview with Oprah Winfrey, his family feud went nuclear. It's no surprise that Harry was a bit nervous at Prince Philip's funeral on April 17, 2021.
The Oprah sit-down was a public airing of plenty of the royal family's dirty laundry. The interview was received negatively in the U.K., with Harry and Meghan receiving a tidal wave of criticism for taking their story public. In light of Prince Philip's death, many wonder if Meghan and Harry will try to mend fences with the royal family. The loss of her husband of more than 70 years is a devastating blow to Queen Elizabeth, who is very special to the young prince.
Harry's body language at the funeral spoke volumes. We spoke to body language experts who will translate for you, so keep scrolling!
Prince Harry knows the world is watching him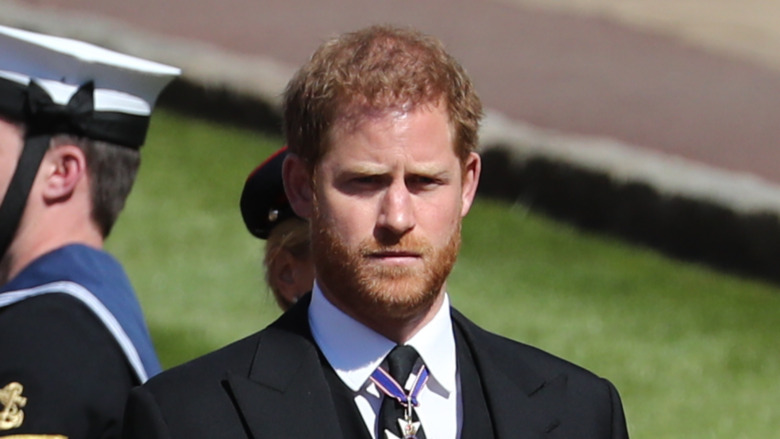 Wpa Pool/Getty Images
Body language expert Lauren Cohen spoke to Nicki Swift and translated Prince Harry's body language during Prince Philip's funeral. Cohen said, "Prince Harry is uncomfortable and knows the world is watching. While today is about Prince Philip, who dedicated his life to service and had extraordinary military service, Prince Harry and the others are there dressed as civilians knowing it is all because of Prince Harry's questionable choices."
The younger prince was also more emotional than his older brother, Prince William. The body language expert said Harry was "respectful," noting, "Prince Harry looked around a bit more than Prince William or the others who were more dutifully always facing forward. Prince Harry moved his fingers, which shows nerves, discomfort, and was an act of self-soothing."
During the funeral service, Cohen revealed that Harry "projects that he is uncomfortable, confined, and nervous." After the service, Harry's body language shifted. Cohen said, "Once they exit and are all walking, we see Prince Harry in between Prince William and Kate. They're chatting and hopefully reflecting briefly and sharing some grief and emotions."
Overall, Cohen said Prince Harry's body language reflects that he wants to blend in; he does not seek attention; he wants to honor his grandfather. Cohen said Harry's "body language showed some discomfort and stress," but his actions reflected a "desire to reconnect with his brother and country."
Finally, Cohen said Harry "appears most comfortable today while walking in between Prince William and Kate."
Prince Harry seemed more 'human' compared to his family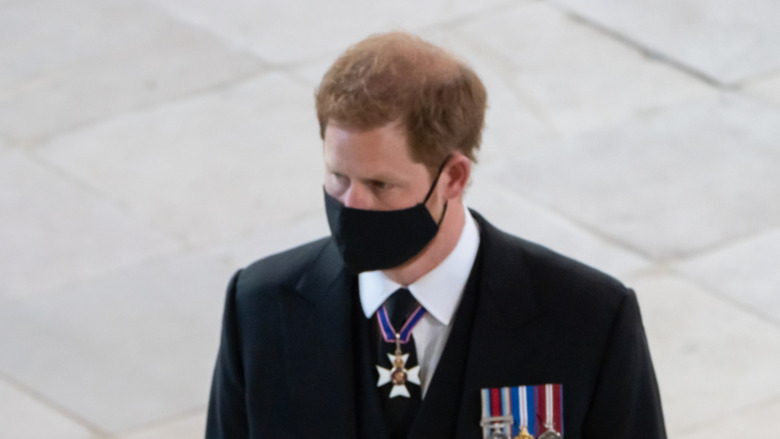 Wpa Pool/Getty Images
Body language expert Deborah Ostreicher talked to Nicki Swift, weighing in about Prince Harry's body language at the funeral. Ostreicher said that Harry seemed more "human" compared to other members of the royal family.
According to her, "Harry seemed a bit distracted throughout, playing with his suit jacket, looking around, or playing with the funeral program. Whereas everyone else managed to look straight ahead, expressionless, hardly moving any part of their bodies unless completely necessary." Ostreicher noted that members of the royal family are public figures. Ostreicher said, "One must consider how much the royal family has to think about at such a ceremony. Not only must they deal with their own personal feelings with the world watching, but they have to put on a performance. Every step is choreographed."
Prince Philip and his wife, Queen Elizabeth, place the highest priority on their duties to the British people. The funeral reflected Philip's respect of duty, and Ostreicher noted that the royal family had no "opportunity to look into each other's eyes or share a consoling glance...share a hug."
But the body language expert recognized a change in Harry once he saw his brother. According to Ostreicher, "As soon as the formalities were over, it was clear that Harry immediately joined up with William and Kate, in what looked like a very friendly way. The brothers then paired off together and proceeded to chat and walk together."