The Inappropriate Scene At Prince Philip's Funeral You Didn't See On TV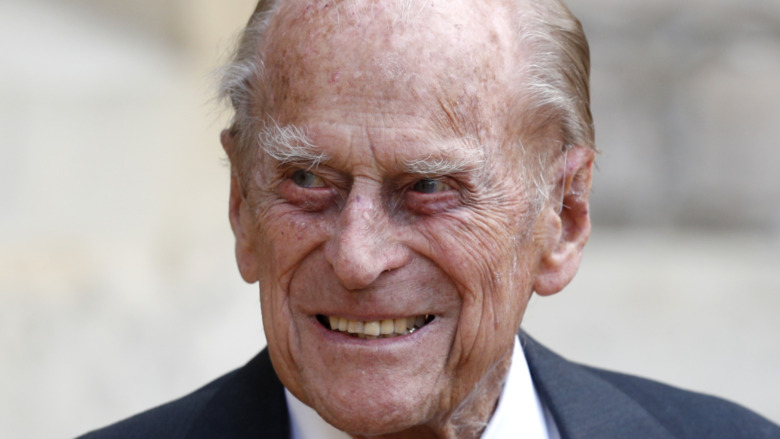 Wpa Pool/Getty Images
Prince Philip's funeral was always going to be a bit, well, different. After all, he had been planning it from as far back as at least 2013 when he informed the powers-that-be that he wouldn't lie in state for a full funeral, per The Sunday Times. He also arranged that his body would be carried in a wool coffin in a customized Land Rover. As the head of the United Kingdom's armed forces mused, per BBC, the funeral had the Duke of Edinburgh's "fingerprints all over it," reflecting "his wide interests and his attention to detail." Military precision, you could say.
But nothing could have prepared Prince Philip for what went down at his funeral on April 17. It seems as if someone tried to one-up him at his final ceremonial burial, which definitely raised eyebrows during a solemn moment. The question is whether anybody found the inappropriate scene amusing. Keep reading to find out how the person in question tried to interrupt the event. 
How a streaker tried to steal the show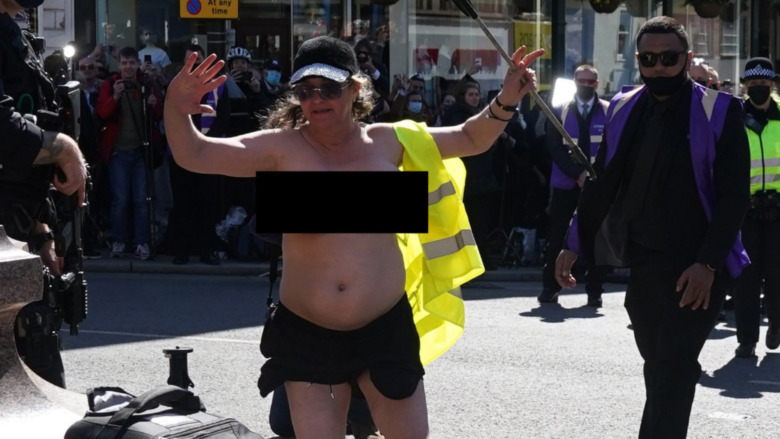 Christopher Furlong/Getty Images
Before Prince Philip's was laid to rest in the Royal Vault at St. George's Chapel, the Dean of Windsor ordered a minute of silence in remembrance of Queen Elizabeth's consort of more than 73 years. A somber quiet hung over crown and country as everyone remembered the Duke of Edinburgh. However, the moment was rudely interrupted when a topless protester streaked her way in front of a crowd gathered near Windsor Castle, per Wales Online. 
Yes, the lady in question felt that this was the perfect opportunity to champion her cause. She ran onto the road screaming, "Save the planet!" as the crowd began to applaud following the 60 seconds of reflection. The protester was also feeling particularly frisky as she jumped onto a statue of Queen Victoria. Of course, it wasn't long before the cops removed her from the scene.
One cannot help but wonder whether Prince Philip would chuckle if he knew that a topless woman had attempted to steal the spotlight at his funeral. Although he was a known environmentalist, he may have preferred that she came fully clothed.