How The Queen Left A Secret Message For Prince Philip At His Funeral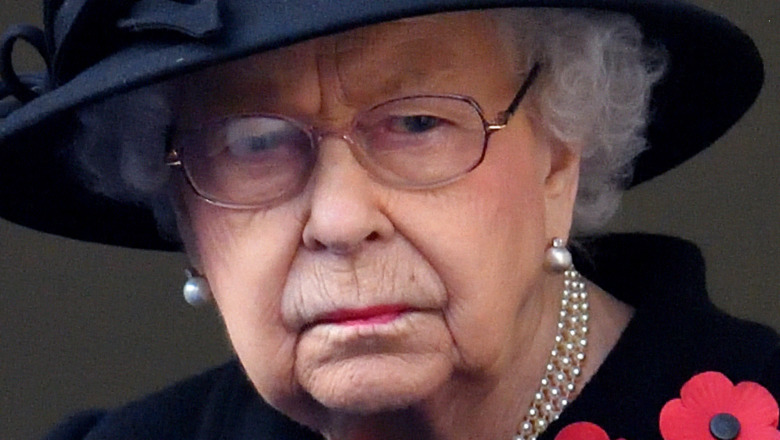 Pool/max Mumby/Getty Images
On April 9, Prince Philip, the Duke of Edinburgh and husband of Queen Elizabeth II died, and on April 17, he was laid to rest in the Royal Vault at St. George's Chapel at Windsor Castle, per the BBC. The funeral was years in the making, with Philip overseeing most of the details. He described what kind of coffin he wanted, which medals (of his many) that would be displayed on the altar of St. George's Chapel, and even how he'd be transported during the procession (via a bespoke Land Rover). He even had a name for his funeral plans, "Operation Forth Bridge," and made sure the event would be as frill-free as possible. He supposedly shared his plans for a low-key funeral with his wife, Queen Elizabeth II, telling her "Just stick me in the back of a Land Rover and drive me to Windsor." 
Although most of the prince's funeral plans went off without a hitch, the coronavirus pandemic did require a few changes to be made, notably, he wouldn't lie in state and wouldn't have a procession from London to Windsor Castle, reported The New York Times. Nevertheless, the funeral seemed to take his wishes into great consideration. However, the queen being the queen, she added her own special touches to the event.
Queen Elizabeth II focused on the flowers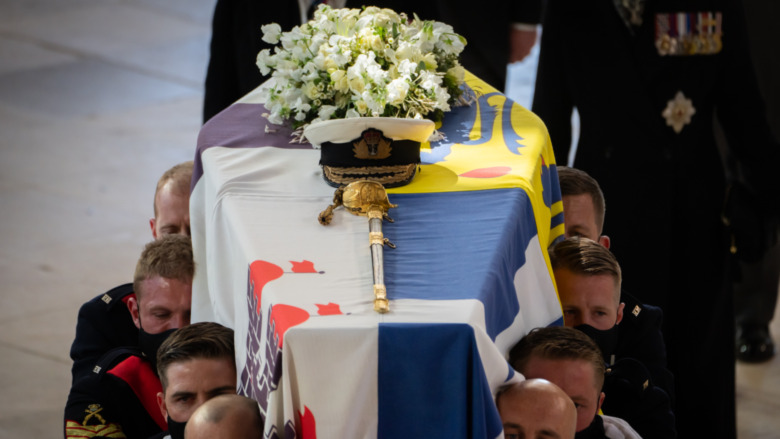 Wpa Pool/Getty Images
When Prince Philip got driven around the grounds of Windsor Castle as part of his funeral procession, his coffin was adorned with a few different things. It was draped with his personal standard, a flag that represented many important aspects of his life, like his Danish and Greek heritage, his service as the Duke of Edinburgh, and his family name, reported Hello! The flag was then topped with a naval hat and ceremonial sword, signifying his service in the Royal Navy.
Alongside those items sat a wreath, made up of white flowers hand-selected by the queen, Hello! wrote. According to the publication, the flowers represent the royal couple's 74 years of marriage. The wreath included "white lilies, small white roses, white freesia, white wax flower, white sweet peas and jasmine," which all hold a special meaning.
White lilies are a traditional flower found at funerals and weddings, as they "represent rebirth," Hello! noted. The white roses, on the other hand, have two meanings. White roses are "a sign of respect or remembrance," but they can also be a tribute to Philip's birth month, as roses are the flower of June. Jasmine is a symbol of purity, and sweet peas can signify "a departure or thank you." Finally, the white wax flowers indicate "a lasting love or a love that endures time and trials."
Queen Elizabeth II also called back to their courtship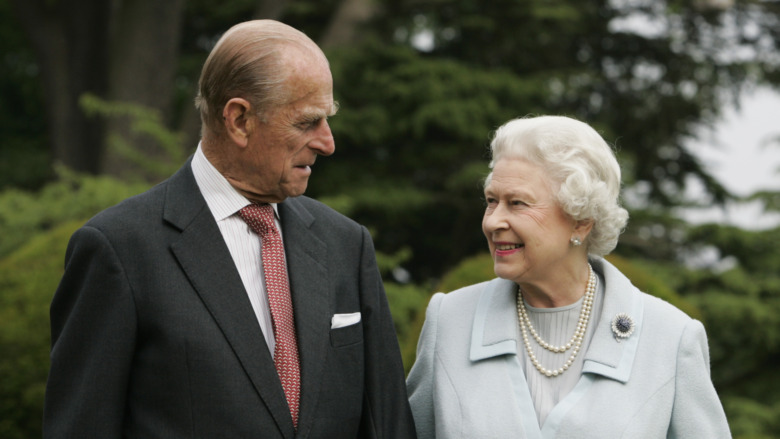 Tim Graham/Getty Images
Alongside the wreath, Queen Elizabeth II included a note it's fair to assume she wrote by herself, E! News reported. Eagle-eyed viewers noticed the queen's official stationary peeking out from the wreath, and it reportedly had the words "I love you." If the queen really did write a note for her late husband, it would be the perfect end to their long marriage, as it's a callback to its beginning and their courtship.
As reported by TODAY, Elizabeth met Philip when she was just 13 years old (he was 18 years old at the time). Although they seemed keen for one another, Philip was about to enter into his service in the Royal Navy, and World War II ensured he would be shipped overseas. However, they were undeterred, and they continued their courtship via letters. Upon his return to London, Philip immediately proposed.
Including one last letter with the wreath made of flowers that the queen picked herself and held special meaning about their life together is perhaps the perfect way to commemorate Elizabeth and Philip's enduring relationship.