The Real Meaning Behind 'Austin' By Blake Shelton
Shutterstock
Since debuting in 2001, Blake Shelton has become a country music legend and cemented himself as one of the most watchable personalities on television. The country crooner has revealed so much about himself throughout the years that viewers might know more about him than his fiance Gwen Stefani does.
Shelton has navigated his career by being an open book, and it worked to his advantage when he first hit the scene. Shelton released his debut single "Austin" in 2001 and it became a No. 1 country hit that propelled him into country superstardom, per CMT. The song explores the regret of ending a relationship prematurely with lyrics like, "She left without leaving a number / Said, she needed to clear her mind / He figured she'd gone back to Austin / Cuz she talked about it all the time" (via Genius).
Obviously "Austin" was not a one-hit wonder for Shelton, but what prompted him to get into his feels so early on in his career? Find out below.
Blake Shelton's 'Austin' is about getting second chances in relationships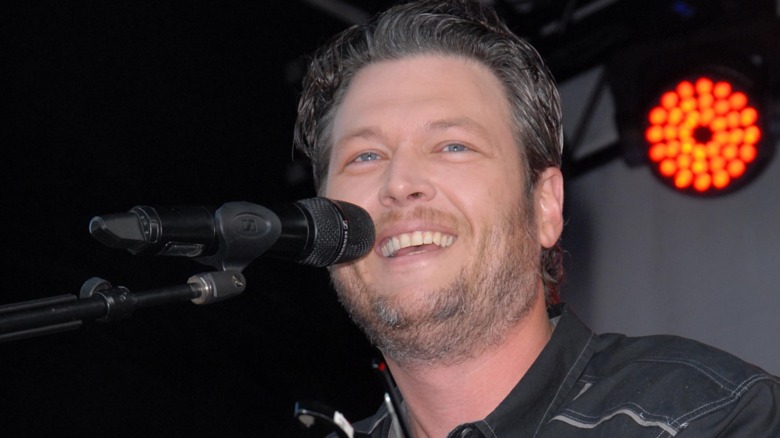 Shutterstock
Written by Kristi Manna and David Kent, Blake Shelton's "Austin" is a passionate ballad about giving relationships a second chance. Singing from the boy's perspective, Shelton realizes his mistake in the song and wants to repair the relationship he had with his girlfriend after they broke up. This sentiment is communicated in the last two lines of the chorus, "And P.S. if this is Austin / I still love you."
Shelton identified with the song's message, telling The Country Daily in 2001, "I've had girlfriends I've gotten back together with after we'd broken up, and it never worked out, but 'Austin' relates to all of those situations, whether it works out or not. It's really about second chances." 
Manna and Kent wrote the song after the former heard about a fellow songwriter breaking up with his girlfriend. The girlfriend moved to Austin, Texas, where it also inspired the song name. Per CMT, Shelton initially thought the song was too emotional until his producer Bobby Braddock told him that lots of women liked it and convinced his A&R to send the single to radio stations, which changed Shelton's life forever.