The Real Meaning Behind Prince's 'Purple Rain'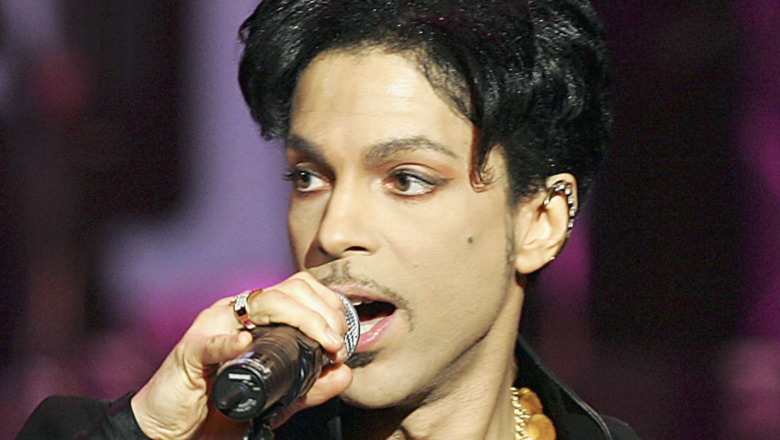 Kevin Winter/Getty Images
Prince and his band The Revolution were at the height of their powers in 1984 when the musical icon starred in his own film and released a chart-smashing album. And both of these massive successes were named after possibly his most idiosyncratic song, the apocalyptic "Purple Rain."
Surprisingly, the 1984 power ballad was supposed to be a country song and a collaboration with Fleetwood Mac's Stevie Nicks at first, per NME. The singer-songwriter later described how she turned down the opportunity to work with Prince, explaining, "I listened to it and I just got scared. I called him back and said, 'I can't do it. I wish I could. It's too much for me.'"
Left to his own devices, Prince created a track that was originally 11 minutes long. He was worried, however, that its chord structure sounded too much like Journey's "Faithfully." In the end, he called Jonathan Cain, the keyboardist for Journey, who reassured him that it wasn't too similar since the songs only shared a couple of chords.
According to Louder Sound, the song was first introduced to the world at a benefit concert in Minneapolis, while the band was taking a break from shooting the film Purple Rain. "Prince was very excited," The Revolution's drummer Bobby Z recalled. "He was saying, 'We're going to make history.'" 
Keyboardist Lisa Coleman described how the memory still gave her chills. "I could see the faces and wide eyes in the front," she said. "It was like a kid seeing Santa Claus."
The song 'Purple Rain' became a standout hit from the 1984 film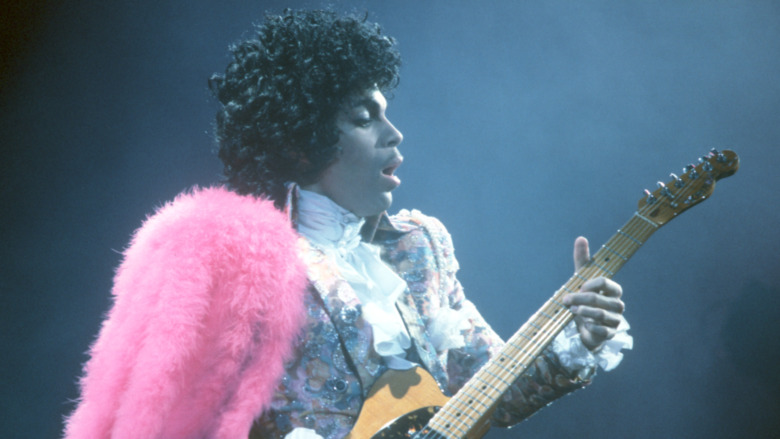 Michael Ochs Archives/Getty Images
Lisa Coleman also told Louder Sound that the song was a breakthrough success for their band.
"We had struggled for a couple of years, trying to write one song for a Black music station, and one for a rock station," she revealed. "But 'Purple Rain' the song was played on every kind of radio station, from country to Americana to rock ballad. And it's just so perfect that it came from Prince, who nobody knew what to make of. Are you serious? Who is this guy?"
The lyrics proved just as confusing as Prince's own presence as a musician. In the context of the movie Purple Rain, according to NME, each verse addresses a different group of people in his character The Kid's life. His pleas of "I never meant to cause you any sorrow / I never meant to cause you any pain" and the invitation "Let me guide you to the purple rain" (via Genius) are directed to his parents, Apollonia, and his bandmates.
'Purple Rain' was the last song Prince ever performed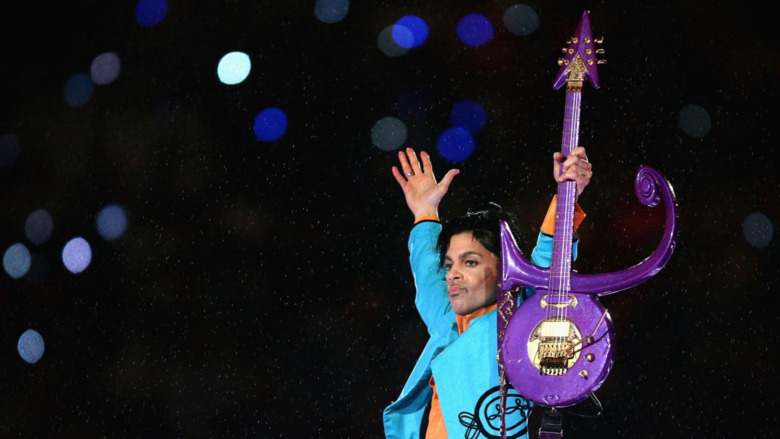 Jonathan Daniel/Getty Images
Per NME, Lisa Coleman has claimed that the song symbolizes "a new beginning. Purple, the sky at dawn; rain, the cleansing factor."
Prince's own explanation draws parallels with Judgement Day, according to NME: "When there's blood in the sky... red and blue = purple," he stated. "Purple rain pertains to the end of the world and being with the one you love and letting your faith/god guide you through the purple rain." 
He later performed it in a torrential downpour at the Super Bowl in 2007, in one of the most iconic halftime shows of all time. "Purple Rain" also ended up being the last song Prince would ever perform live, after he ended a 2016 concert in Atlanta with the track. And it remains a fan favorite today.
"You've got pleading in the vocals. You've got agility and spins and pirouettes in the guitar solo. And then the strings pull your heartstrings," Bobby Z explained to Louder Sound. "'Purple Rain' is like a 'Stairway To Heaven.' It's non-religious, but people feel reverent about it."